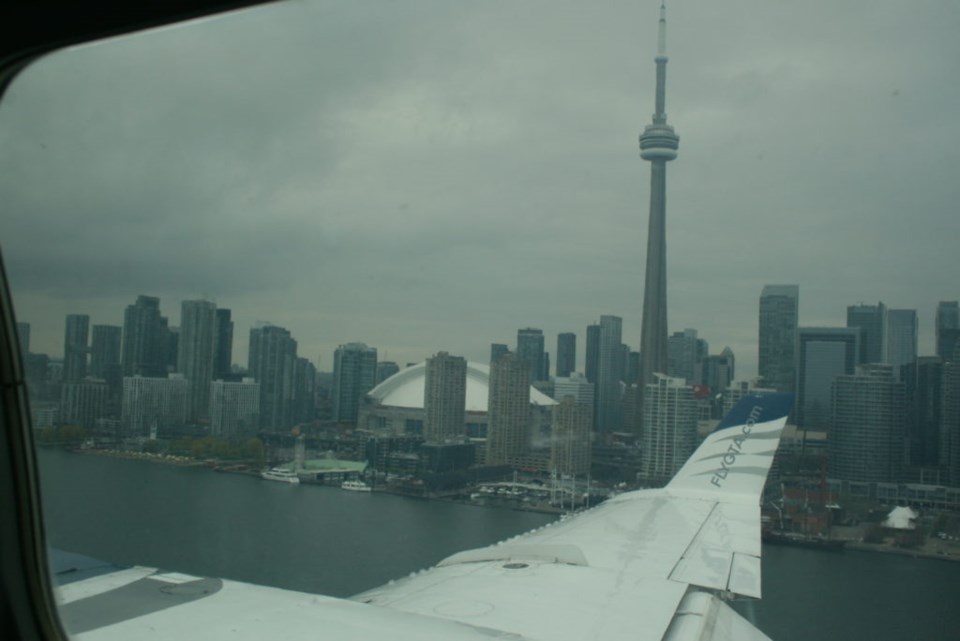 FlyGTA began offering flight service between the Niagara District and Billy Bishop Airports on a daily basis almost three years ago.
Time has flown since September, 2016, as have the FlyGTA planes, and as CEO Chris Nowrouzi explains, the venture is a huge success.
Sitting in Nowrouzi's new office at the Toronto Island airport, it's hard not to be impressed by the vision and positivity of the not-yet-30-year-old.
Nowrouzi is a certified pilot and aircraft mechanic. With QEW traffic between Toronto and Niagara getting slower and slower every year, he saw an opportunity. Nowrouzi decided to turn his passion into a business venture. As you might imagine, many naysayers warned him it was a pie-in-the-sky idea.
"We were a smaller organization, we had an idea, and we were trying to put it together. Getting off the ground at the beginning was kind of challenging. We're one of the most heavily-regulated industries in the world, as you can imagine, and it was time-consuming".
Nevertheless, he began talks with the Niagara District Airport management. Once approved, the service began with one flight each way. Nowrouzi and his team followed a course of slow expansion, eventually arriving to where it is today, with a total of 12 scheduled flights between the two destinations most days.
The success of the Niagara venture has allowed FlyGTA to expand its service. They now offer flights out of Billy Bishop to Barrie, the Bruce Peninsula, Muskoka and Waterloo.
Imagine you own a cottage in the Muskokas. How long would it take you to get from Niagara to your cottage on a long weekend Friday? With FlyGTA, you could combine a 14-minute flight from Niagara to Toronto, with another 30 minute flight from Toronto to Muskoka. Add on a short drive to your cottage, and you could conceivably be there in just over an hour.
Back to the original service. On a cloudy Friday in mid-May, this reporter decided to hop on a 7:30 a.m. flight to experience it himself.
The day began with a 30-minute delay. As explained by Niagara District Airport CEO Daniel Pilon, the delay came from FlyGTA's end. Pilon says the island location of that airport means weather delays out of Toronto are much more common than they are out of Niagara.
The 30 minutes turned into 45 minutes. Finally, those booked on the 7:30 a.m. were able to board the regularly-scheduled 9 a.m. flight to the big city.
Admittedly, the hour-and-a-half delay was an annoyance. However, have you tried to drive to Toronto at 7:30 a.m. on a Friday? Or decided to take a GO train to that destination? A similar trip on the GO train would take more than two hours. Even with the flight delay, this day's trip was faster than that.
It took 16 minutes to hop across the lake that day. First Officer Samee explained that was a little longer than usual, due to a traffic pattern delay approaching the island. The comfortable trip was in an eight-seat Piper Panther, operated by Samee, along with Kevin, the Captain. Fascinatingly, FlyGTA's aircraft reach an altitude of only 1,500 feet on this route. As Nowrouzi explains, the brief flight would not give the crew enough time to climb to those altitudes to which one would be accustomed during longer voyages. As well, the low altitude means FlyGTA avoids Pearson airspace, making it unnecessary for them to communicate with that much larger airport (though Nowrouzi assures me they do listen in).
Christine Sauriol from Niagara-on-the-Lake was on this flight. She is a frequent flyer with the service, who began working at a Toronto bank in summer, 2017. For her, the commute is just about an hour door-to-door. "This is actually a nice bonus when I considered going back to work, because if I had to commute by car, I don't think I would continue to work downtown."
At $198 for the round trip, including airport fees and HST, the flights are not cheap. As Sauriol says, though, it's a "convenience cost" that makes her life much more enjoyable.
Once on the island, travellers can take the 853-foot tunnel from Billy Bishop to the mainland, which brings commuters such as Sauriol to the foot of Bathurst Street. The journey through the tunnel takes only six minutes.
The flight back to Niagara turned out to be four minutes faster. There were six passengers on this flight. Doug Fusek has been a FlyGTA customer from the beginning. He works for Ford Canada out of his home office in St. Catharines. His job often takes him to Eastern Canada. "I prefer flying out of Billy Bishop than I do Pearson", says Fusek. He connects with Porter Airlines on the island for those trips out East. As for the cost, he says, "if I have to be away for a few days, it's actually less expensive to take this flight than it is to park my car at Billy Bishop."
All but one of the passengers on both flights were regular commuters. Calista, from Niagara Falls, flies once every couple of weeks for her job at Trans Union. And Pilon asked if I had met John, a dental surgeon who has a practice in Ridgeway but lives in a condo in downtown Toronto. He was, indeed, on the flight from Toronto, part of his daily routine. That's right, daily.
Pilon says that for frequent fliers such as John, FlyGTA offers a "membership" discount on the $198 price. And on the odd occasion when the weather forces cancellation after cancellation, Nowrouzi's company will book a limo to ensure they get to Niagara.
The relationship between the Toronto company and the Niagara District Airport is mutually beneficial.
Having Nowrouzi and company as a partner has been huge for the airport, says Pilon. "It's been massive to see a partner have such success with growth. It's significant with respect to the potential that the facility has to offer. And it means a lot to the local businesses, who are the ones driving the success of FlyGTA during the shoulder seasons."
Pilon says the success of scheduled flights out of the local airport proves that "regular air travel out of this facility has the potential to really be something that can work."
The Niagara District Airport's current structure has St. Catharines, Niagara-on-the-Lake and Niagara Falls all sharing ownership. There has been a suggestion that the airport be uploaded to regional ownership, which Nowrouzi feels would lend itself to further growth.
FlyGTA plays a key role in the future of the local airport, he says. "Because of what we've been doing, next year they'll be able to apply for some major funding for infrastructure and equipment growth." That is money that wouldn't be available were it not for the success of the commuter flights.
Nowrouzi, though, is looking beyond commuters for the future. FlyGTA has branched out into tourism-oriented packages, shuttling Toronto residents into the Niagara Region for wine tours and dining packages. They also offer sightseeing tours of Toronto, and private bookings to Montreal, New York City, Chicago, Las Vegas and other destinations.
Closer to home, he is in early talks with a developer of a luxury condo/hotel in Niagara Falls. He hopes to sign a deal whereby owners of the units will have access to FlyGTA as their go-to method of travel to and from the big city.
Looking further ahead, you can expect to see the FlyGTA counter at Niagara District expanded to include an on-site travel agency, with the potential to offer regular flights into the northern U.S. as well as destinations in Canada.
The sky's the limit for FlyGTA, and that's a good thing for the future of the Niagara District Airport.