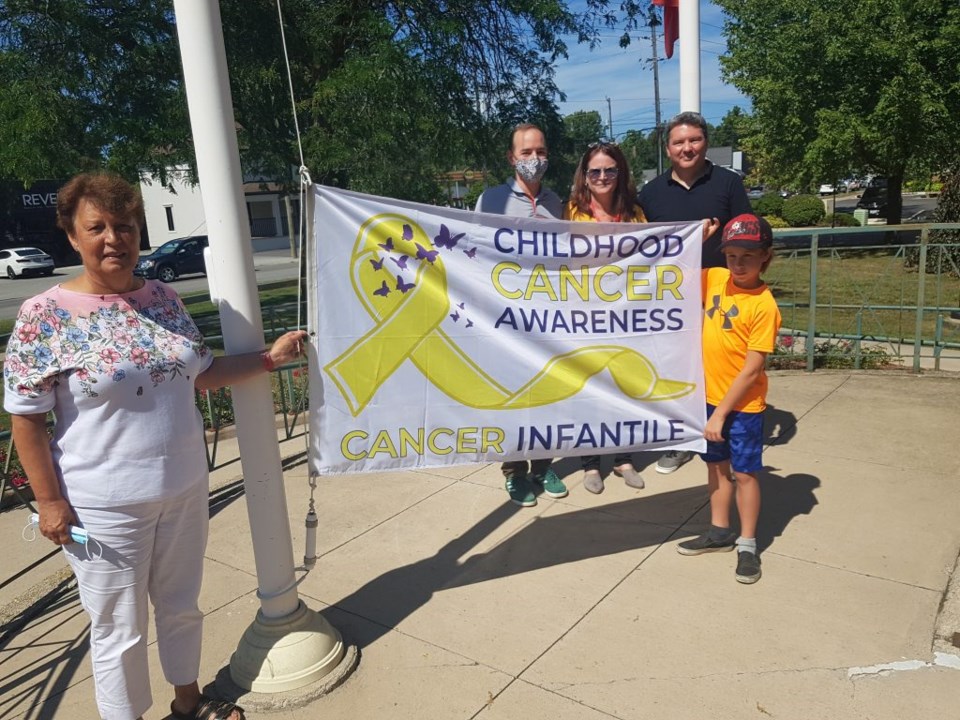 Patti and John Bauer don't miss an opportunity to raise awareness and funding to help find a cure for childhood cancer.
They know only too well the pain of watching a much-loved child battle cancer, only to lose that child to cancer.
Their goal is to help save children and their families from the heartbreak they have experienced, by helping to fund better treatment protocols, and ultimately find a cure for childhood cancer.
It's been a decade since their beautiful daughter Miranda, just 16, was diagnosed with stage 4 alveolar rhabdomyosarcomas, an aggressive form of cancer. The protocol used to treat Miranda was the first breakthrough in 30 years, her mother Patti told a small crowd gathered at the town hall in Virgil Monday.
For the first time, at the request of Patti, who recently became a staff member at the town, a flag was raised at the town hall to recognize September as the month for awareness of childhood cancer.
"We are doing these flag-raisings in five communities to raise awareness for children who are diagnosed with cancer, who are fighting cancer, or who cancer has stolen from this world," said Patti. "Our Miranda is one who was stolen."
She was an amazing daughter, says Patti, "a doting big sister, granddaughter, and best friend. Her favourite things in the world were her brother, her dog, and butterflies."
Just as Patti started to speak, a monarch butterfly flitted around the crowd, a reminder, she says, of Miranda, and the message of all that is important to her family now that she's gone.
And as she finishes speaking, she explains the beautiful, intricate tattoo on her arm, of Miranda, a butterfly, and the tears that have been shed since her death.
While Miranda was being treated at Sick Kids in Toronto, she learned that just four per cent of research funds raised goes to children's cancer research, and she decided to do something about it.
She hosted a fundraiser in June 2012, and raised more than $10,000, which was donated to research to cure children's cancer.
As a patient ambassador, she was in a 'You got it' media campaign, and appeared in TV commercials and photos in the downtown subway stations.
Miranda, says her mom, designed T-shirts to use for that year's Rally for Kids with Cancer in Toronto, "and we still sell them today, along with other fundraising swag," with all the funds raised from selling these items going to a designated and monitored, named research fund at Sick Kids, called Remember Miranda T8294.
In 2013, Miranda received the Spirit Award for her efforts, and her plaque hangs in Donor Hall at Sick Kids.
"But all of this wasn't enough for her to beat cancer. We lost our girl . . . the world lost our girl March 27, 2013. She was 17 years, six months and five days old."
"We will not let her efforts die with her," says Patti. "We still raise funds for research in her memory, and now we also raise flags to raise awareness for the month of September. We are trying to make a world where childhood cancer doesn't destroy families, where children are not given harsh, toxic, dangerous treatments, where childhood cancer will be obliterated."
There has been almost $145,000 deposited to Miranda's fund to date, Patti says, despite the fact that an annual fundraiser has not been held during COVID. Patti and John have continued what Miranda started, raising funds exclusively for research, and having to be creative during the pandemic. A recent raffle, extensively promoted on social media, raised about $10,000, and the family anticipates being able to hold their annual event at John Michael in Thorold by next April, if all goes well with the lifting of pandemic capacity restrictions. Past events have attracted between 250 and 400 people, says Patti.
She encourages people to visit the mirandasmiraclesfun.com website, and to become monthly donors to the Hospital for Sick Children.
Also at the Virgil flag raising, wearing one of the T-shirts designed by Miranda, was Christine van Rijn-Davis, and her nine-year-old son Miller.
The Davis family of NOTL lost their little Claire Bear, Claire Marguerite Davis, in September, 2010. She was just two months old, the youngest patient her McMaster Hospital doctor had seen lose her life in childhood, says Christine, as Miller, nine, clung to a little wooden box with Claire's photo on it — his mother likes to keep the box close by, so Claire can be with her family.
Christine, a teacher, taught Miranda in elementary school, then met Patti after she had lost her daughter.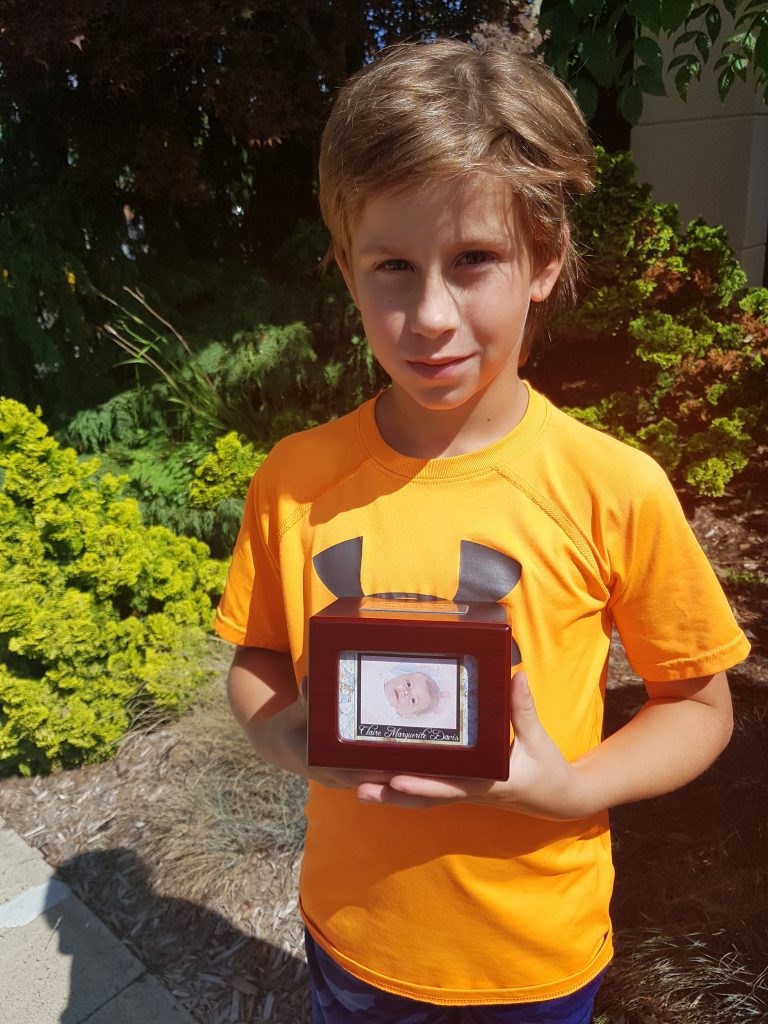 Christine says although September is childhood cancer awareness month, and also the month of the Terry Fox Run, "it's not something that's talked about in schools, or when we talk about Terry Fox," she says. He died of osteosarcoma at 18. Osteosarcoma is a childhood cancer, adds Christine, and he was really just a child, running as he did to stop the suffering of the children he had met at the hospital when he was undergoing treatment for his own cancer.
Christine and Patti both expressed appreciation to the town of NOTL for the flag-raising, to remind people of the need to fund research to cure childhood cancer, and said they hoped it would become an annual event.
Lord Mayor Betty Disero assured them it would.
"This month, and throughout the year, it is important to take time to honour the children currently battling cancer, the families who love them, the survivors of childhood cancer, and those who lost their lives to childhood cancer," she said.
"It's also important to remember the clinicians and caregivers treating children, and the researchers working to conquer childhood cancer," said Disero.
"Our community supports you, and all those who are working so hard to find cures to childhood cancer."