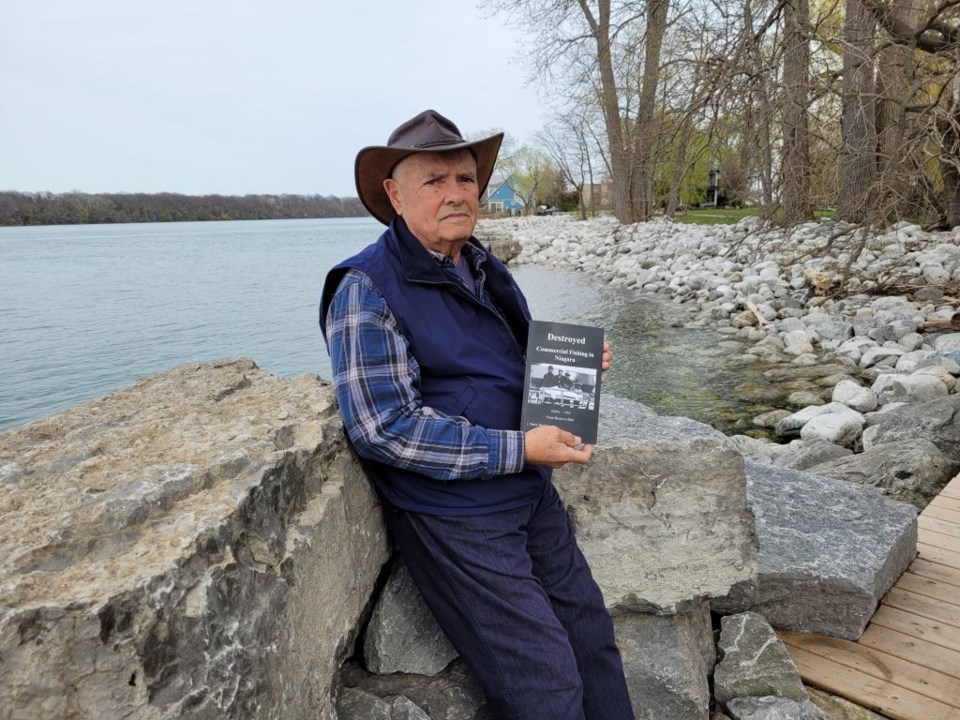 There are some in town who can remember when there was a fishing industry, when fish caught locally was still sold, but not what the industry was like at its peak, when it supported and sustained many Niagara families.
Terry Boulton has some memories of his father and others going out daily in boats, bringing home an ever-diminishing quantity of fish, until there were simply no more. His second book to feature waterfront activity, Destroyed — Commercial Fishing in Niagara, has recently been released, and chronicles the rise and fall of that industry. It incorporates his limited memories of his early years, as a child, and recent conversations with others with similar recollections, but it is much more based on a decade of extensive research.
Boulton, born in 1943, is a retired high school English teacher, and a great source of stories of all kinds regarding earlier days in NOTL, especially of the waterfront.
During his research of the fishing industry, which was also an opportunity to learn more about his own family history, he came across many reports of smuggling in the area and how NOTL became embroiled in the American prohibition. His attention was briefly diverted, and in 2021, he published Smuggling on the Lower Niagara River, 1920 to 1933.
And then he returned to his research, "day after day after day," a gruelling experience of searching through microfiche, mostly at the St. Catharines library, for information about the ebb and flow of commercial fishing in Niagara, how it came to an end, and why, he concludes, it will never be revived.
He calls it a labour of love, undertaken because if he hadn't written about it, that important part of local history would have been lost.
He relies heavily on the writings of Elizabeth Ascher, best known locally for her work helping the Polish soldiers who suffered from influenza while in Niagara training for the First World War. Ascher was also a "Niagara-
on-the-Lake correspondent" for the St. Catharines Standard for 37 years, described in her obituary as one of the best they had.
Boulton also read the columns of Joe Masters, author of Niagara Reminiscences, which were published in the Niagara Advance, then an independent local newspaper that was first published in 1919. Masters was Ascher's younger brother.
However, Boulton discovered, as he thought he was finished his research, that John W. Kerr, the Ontario fishing industry overseer from 1864 to 1888, had kept a daily journal of his work. Boulton went back to Kerr's writings to add to and clarify some of the points he had made in his own book.
As part of his preface, Boulton explains the spelling of his family name, which is also reflected in the name of the waterfront his family owned, Boulton's Beach.
Two brothers named Bolton, he explains, Charles and John (Jack), worked together in the mid to late 1800s, and were business partners. When John's wife died and he remarried, the partnership was dissolved, although the brothers continued to work together. John assumed the Boulton spelling in 1879 to differentiate their businesses, and from then on was referred to by that spelling.
Boulton writes of those who had first-hand knowledge of the early days of the local fishing industry, up to the 1850s and beyond, describing the quantities of fish, including salmon, trout, whitefish and herring, as surprising, and apparently inexhaustible — whitefish so much so they were destroyed in great numbers, considered a nuisance.
By the late 1880s and beyond, the salmon. whitefish and lake herring were by and large gone in many parts of Lake Ontario, but not so — yet — in Niagara. Boulton writes of successful fishing carried out by nets, so important to the industry; the regulations developed to govern commercial fishing, which were often ignored; and the resulting overfishing, as local men were intent on feeding their families.
In the early 1900s, engines were added to boats which had previously relied on sail or oar, allowing men to travel further for fish, and return the same day.
He recalls his memories of passing by the Department of National Defence rifle range. Not wanting to go too far out, his father ignored the buoys marking the danger zone, and he was told to lie down in the boat for safety, on the far side of the engine block, as soldiers fired their weapons out into the lake, bullets flying over his head.
He also remembers being awakened early in the morning by his father, going to his grandfather's house to meet with other fishermen, and heading out to the lake to set their nets while it was still dark. He would be home in time to go to Parliament Oak, the King Street school he watched being built as a small child.
There were days, he recalls, when his dad picked him up at Parliament Oak to head out on the lake — including during Hurricane Hazel, in 1954.
He was often called on to help with turning the net reels, which released the nets into the water, and also knocking eel off the transom of the boat.
He writes of the dangers of the industry, chiefly due to bad weather; of the fish peddlers before the arrival of the railroad in 1854, which opened up the ability to sell more fish commercially; the growth of fish markets; the accompanying prosperous times; and the resulting conflicts and turmoil over regulations set to control the industry, fishermen often flouting the law, and the lack of enforcement.
Overfishing continued right up to the 1950s, by his father as well as other locals desperate to pursue the only livelihood they knew, to feed their families, and in doing so, he writes, causing the extinction of most species in Lake Ontario, and destroying their way of life forever.
Boulton tells the poignant story of his father, whom he describes as a kind, gentle man and a wonderful father, buying a new, expensive boat in 1951, as "a last ditch effort to continue to fish." But by those days, the fish were gone, commercial fishing was finished, and he recalls growing up poor, while his father tried to eke out a living as a mechanic.
He also remembers the day he watched his father burn his fishing nets in the backyard. It became the young Boulton's job to pick up the lead weights that remained after the nets were destroyed, while having no understanding of the magnitude or the reasoning behind what he had just witnessed, he says.
He and Ruth now live in their beautiful retirement home on Delatre Street, with a perfect view of the Toronto skyline. Boulton purposely continues to use the original spelling of the street, named after Col. Delatre, at one time the president of the former current Harbour and Dock Company, which was such an important part of the Dock Area story. In recent years the town has changed the street signs to Delater, he points out.
From the anchoring breakwall that shores up the waterfront upon which their home is built, he can point in one direction toward The Whale Inn or The Elliott House at the corner of King and Delatre Streets, and in the opposite direction to Ball Street, a stretch of waterfront which once belonged to his family. The portion that is now municipally-owned, he traded to the town, keeping a portion of what he refers to as Boulton's Beach — commonly referred to as Balls Beach by the general public — on which he was able to build his home. Those names, Balls Beach and Boulton Beach, he suspects, "are purely anecdotal, the name Balls Beach having been introduced when the Ball family moved to town."
Ball Street, he adds, was named after a director of the Niagara Harbour and Dock Company. "I don't believe there was ever such a thing as documentation of either name associated with the waterfront in question."
Local lore, Boulton says, "introduced the name Ball, to what had or has been Boulton property, since 1881."
Boulton is a man of many stories to tell, not just those related in his two books of waterfront activity, but about his knowledge of the town, going back decades, and the people who have made it what it is. He chooses to steer clear of the limelight, focusing on research and writing his stories, so we can only hope there are more books to come — although both he and Ruth laugh when asked, and say an emphatic no to that.
Destroyed — Commercial Fishing in Niagara, which Boulton describes as an "anecdotal account" based on stories and reports as told by locals, presents a fascinating look at an important era in the town's history. It is available now at Simpson's Apothecary on King Street, at The Scottish Shop on Queen Street, and at the NOTL Museum on Castlereigh Street, or call him at 905-468-3765 to purchase a copy.
He is holding a book-signing at the museum on Friday, May 27, from 2 to 4 p.m.