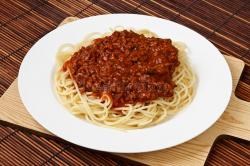 The Queenston Volunteer Firefighters Association spaghetti dinner is about so much more than a cheap and cheerful meal, says organizer Rob Copeland. The group's president says the fundraising event is about people.
"This goes out to the community, gets people more involved, and makes it feel like a community should feel," says Copeland. "Hopefully we'll have nice weather, and people will come out and see each other for the first time after a long, cold winter."
He continues, with emphasis, "The big thing about the spaghetti dinner is not just the idea of fundraising, but also that the firehall is a place where people can go for help, and where we put on events that get the community involved."
Copeland says they typically expect around 200 people to attend the event, which started in 1996. It helps to fund a number of local community organizations such as Newark Neighbours, Red Roof Retreat, Niagara district firefighters, minor league sports, youth orchestras, schools, and KidSport Niagara.
"The proceeds go into a general fund, which is distributed as needed or requested," says Copeland. "We keep it as local as possible; we distribute what we can."
Proceeds come from the spaghetti dinner, which costs $10 for adults and $5 for kids 12 and under, and also from business-card-sized ads placed on the placemats at the dinner. The food is all-you-can-eat, and includes salad, as well as desserts provided by Erinn Lockard from Sweets & Swirls Cafe. Takeout is available as well.
There are also door prizes available, provided by Queenston resident Graham Keene from his Canadian Tire store in St. Catharines.
The annual event takes place May 3, from 5 p.m. to 7:30 p.m. at the Queenston firehall. Any questions can be directed toward Copeland, at 905-262-4661, or [email protected].