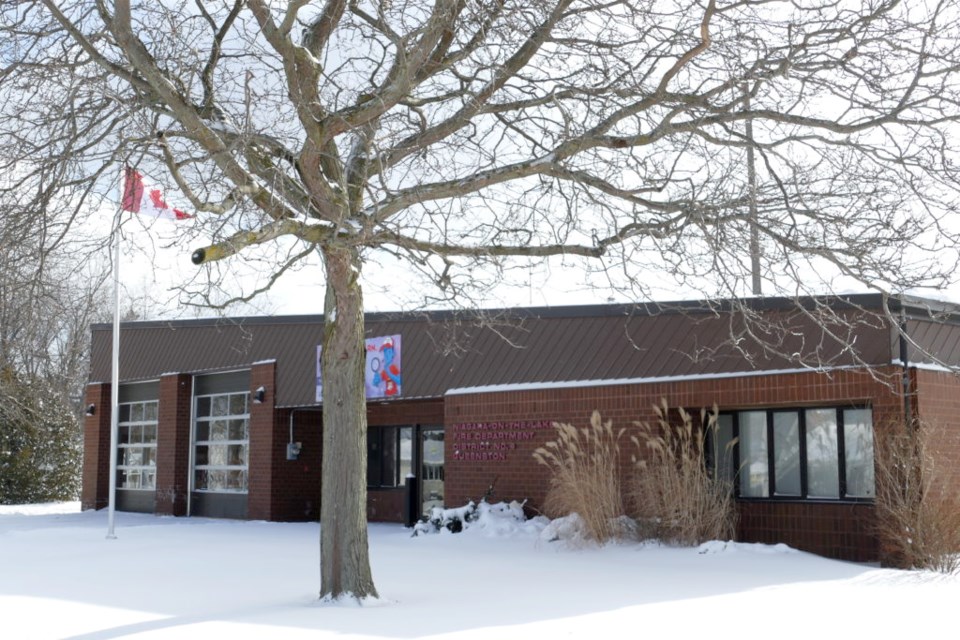 Rob Copeland, a 30-year volunteer Queenston firefighter and resident of the village, is concerned about the future of his station.
It's nothing new to him — it's been an ongoing discussion for more than 40 years, he said, and has resurfaced recently. He's just not sure why information about the oldest station in Niagara-on-the-Lake was requested by council at this time
A report by Fire Chief Rob Grimwood on the subject of the viability of the station will be presented to council Monday.
He looked as far back as 1971 at its history and included everything he could find relating to the station since then, he said.
He presents it "without analysis," and should council want want that level of detail or recommendations for the future, another staff report would be required, he said.
He said his sense in dealing with the request from council was that it was not tied to the budget — it came about because he had mentioned during orientation meetings for new councillors that three of the five fire stations are relatively new and in good condition.
He suggested the Town will need to look at a long-term plan for St. Davids and Queenston stations, which are both "getting up there in age."
Looking back, he said, whenever the discussion came up, there was a question of whether each community requirers its own fire station or whether they could be well-represented with one.
'It isn't a new issue. It's just getting a handle on what to do in the future."
Last week, Grimwood talked to the volunteers of the Queenston station to fill them in on what he'd found.
What he couldn't tell them was where the discussion might be leading, said Copeland, who wanted to know the reason for the report and its timing.
The request by Coun. Stuart McCormack for the information was made at the same meeting as budget deliberations, and Copeland fears a discussion may ensue once Grimwood's report is presented over the cost of maintaining the building.
McCormack said that was not the reason behind his request. He learned at the orientation meeting that there were some issues with the station and was asking for information. If his request has been seen as tied to the budget, it "may have been taken out of context," he said.
"It may have come up within the course of budget discussions, but it was not necessarily related to budget discussions."
Several of the reports done over a period of more than 40 years, beginning in 1971, indicate there has been an ongoing consideration to close Queenston and St. Davids stations and build a new one on York Road, or cover the two districts out of the St. Davids station. Instead of making a decision, councils deferred the issue.
Copeland, who has retired from his role as assistant district chief in Queenston, is now an auxiliary member of the department, staffing the rehab truck and looking after firefighters on the job. He loved being a firefighter, and stayed on to work with the mobile rest station, providing safety measures to volunteers who are called out to battle a blaze in any of the NOTL districts. He is also president of the Queenston Firefighters Association.
He remembers the many reports on the Queenston station — he was on council for some of the discussions.
This time, he said, it seems the report was to look at the viability of the building, "but I think it's about more than just the building."
Of the information in Grimwood's report, he said, "a lot of questions could be asked. But my question is why start this now? Where is it coming from?"
As Grimwood's report indicated, the building is bad shape, agrees Copeland.
It's had structural problems since it was built, he adds, but the contractor went out of business before those issues could be addressed.
"It's the oldest station in use now, and it's past its sell-by date. It was built to last 40 to 50 years, and it's getting expensive to maintain, but it can be maintained."
Copeland was on the 10-year master plan steering committee charged with looking at the future of fire stations from about 1994 to 2006, he recalls.
Decisions kept getting put off from one term of council to the next — one committee report described it as an "emotional issue."
He recalls another push in 2002 to build a new station on York Road and amalgamate Queenston and St. Davids stations. The steering committee had reconvened from the previous term of council and by then the neighbourhood of Glendale was growing. Instead of making changes to the St. Davids and Queenston operations, he recalls successfully advocating for a standalone station for the new subdivision before his last term of council ended in 2006.
The most recent engineering inspection of the Queenston building's structural problems was undertaken in September 2018, by a company that had first provided information on the state of the station in 2003, and again in 2010 and 2012. Some of the issues identified in those reports have been fixed, and some haven't.
Copeland questions whether there is also a concern about the viability of the station because of recruitment numbers.
He says the recruitment program became an issue when the province introduced more stringent guidelines about training, which prompted a discussion about sending new volunteers to firefighter school or stepping up the department program.
Grimwood has managed to bring the NOTL Fire Department "into the 21st century," Copeland said, with "very high standards set for its training program and well-equipped facilities," but there hasn't been a push to attract new volunteers.
Copeland is hoping council will receive the information from past reports and take a long-term look at the future of all stations. He agrees it should be part of another 10-year master plan, rather than a quick decision based on cost savings.
With a plan for the future, the Town could start building a contingency fund for repairs or reconstruction for both stations — the state of the Queenston building today is due to the failure to do that in past budgets, he said.
Eliminating a station now, Copeland said, would put more stress on the others, and increase response time.
In recent years the call volume has been down, "but at any time we could get a big call. It doesn't happen often, but it happens. We have to be equipped for it, which we are in Queenston."