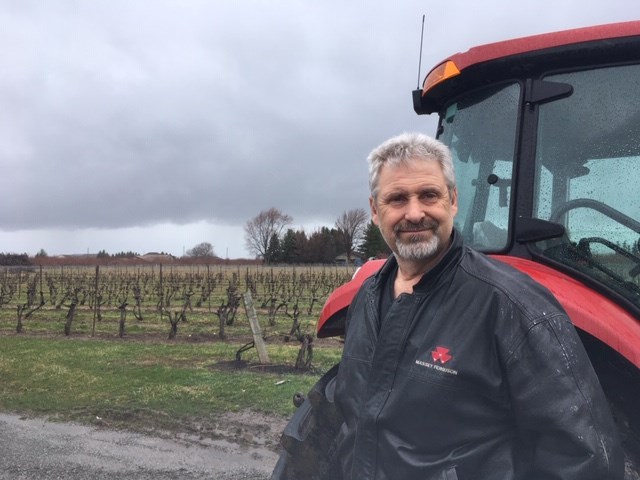 Last week's march for seasonal farmworkers didn't sit well with some local farmers, who felt they were being unfairly targeted with complaints that imply they mistreat their workers.
The protest was intended to bring attention to racism, discrimination, bullying, and poor conditions for workers, as well as to call for resident status, with the same rights for them as for all Canadians.
Not all farmers who objected to the implications of the march were willing to be named, but one who is always open with The Local is Erwin Wiens, who has a small group of offshore workers who return every year.
The biggest objection to last week's article was the claim that migrant farmworkers pay into the Canada Pension Plan and Employment Insurance, but can't collect it.
That is incorrect. When a farmworker who has worked in Canada retires, he can collect an amount based on the amount he or she has paid into it, like all Canadians.
He has one worker who is now 58, and has been coming to Canada to work for 32 years.
"He says he'll keep coming to work here until he doesn't want to, and when that time comes, he'll get the maximum."
Employment insurance benefits are also available, but not for workers to collect for the four months or so they aren't working, says Wiens. They can collect special benefits under circumstances such as sickness and paternity leave.
Kit Andres, one of the organizers of last week's march, agrees farmworkers can collect CPP and EI.
"Farmworkers who had or have temporary status (through the Seasonal Agricultural Workers Program or Temporary Foreign Workers Program-Agricultural Stream) and meet the conditions to apply, can collect CPP and certain EI special benefits (including sickness benefits) as long as they have a valid work permit (which expires every Dec. 15 for SAWP workers). Seasonal farmworkers are excluded from collecting EI regular benefits when they are laid off for the season, and farmworkers without status (undocumented workers) are completely excluded from any social supports," says Andres.
"What sometimes ends up happening when a worker is sick or injured is that they are simply deported and replaced before they're able to apply for compensation. That's another reason why farmworkers and other migrant workers are calling for permanent resident status, so they can access full benefits and healthcare when sick or injured, without risk of deportation."
The issue of workers not wanting to stay on certain farms is more complicated. They can move from farm to farm to go where the work is, if the farmers agree, says Wiens — he has workers who will move to other farms to pick apples. But they are under contract, and if they want to move because they don't like their living conditions or they feel they're being treated badly, they need to call the Jamaican or Mexican consulate or liaison officials, numbers they are given.
Some workers are afraid to do that, fearing they will be sent home, he says.
If they ask not to return to a particular farm the next season, their names will be put in a pool, and they may not be offered a contract, Wiens explains.
When workers come to Canada, their contract is with a specific employer.
"Where the problem in the system lies is there
are some bad employers. They exist. There are bad employers everywhere. That's human nature. And you can't change it through legislation."
What legislation can do is determine set working conditions, including living arrangements and hours of work, and make them consistent, he says.
To the comments at the march that farmworkers work long days with no overtime, Wiens says, their rate of pay, this year set at $15 an hour with housing, and a maximum number of hours they can work, is spelled out in the contract they sign. That is negotiated with and agreed upon by all involved, "enshrined in legislation." And it's necessary for the
employer, who has work that has to be done at a specific time.
There is no overtime, he agrees, also as spelled out in the contract, but that applies to all workers in the Canadian agricultural sector, not just those who come to the country under seasonal workers programs.
"No Canadian in the agricultural sector is paid overtime or holiday pay. They work many hours in a short period of time and then they're done. It couldn't work any other way."
But overall, the program is a huge benefit to developing nations, to huge lineups of workers who want to come here, and to the farmers, who need them, says Wiens.
The march also called for "urgent and permanent changes to ensure immigration rights instead of partial, time-limited programs."
Wiens agrees that the process for farmworkers who want permanent residence in Canada should be easier — he has been going through it with one of his Jamaican workers for the last three years. It's an expensive and costly process, he says, and his employee, nicknamed Obama, "should be a Canadian. His family should be Canadian."
Wiens is willing to sponsor him, and is doing everything he can to help him.
"I have said that to everyone who will listen," says Wiens. "We're now three years into the process, and we want to bring his family over here."
The process is slow, however, for all who wish to come to Canada, he points out, and in response to the comments made at the march, he adds, "not all farmworkers want to come here permanently. Most are happy to go home, they are content with their lives there. They are all entitled to apply though."
The problem with the process is "a shortfall of the Canadian government, for anybody who wants to come to Canada."
Most who do successfully apply look for work other than in the agricultural industry, some going to school to develop trades, and they do well, Wiens says.
He would love for Obama to stay on the farm forever. "He would have a job here as long as he wants it, but I would never hold him back. The reality is the world would be his oyster."
As Kit Andres said during the march last week, and Wiens agrees, those who come under the seasonal workers programs "all want to come to Niagara-on-the-Lake."
"They want to come to this community, and many of them have been coming for decades. There is everything they need here for them, places they can congregate. Even the housing is better here. Most have access to satellite TV and internet, and they have better mobility."
The NOTL farmers who called The Local shared their concern that they are being blamed for the mistreatment and poor living conditions farmworkers experience in other regions of the province. They speak of well-maintained living quarters inspected by Niagara Region every year, and the fact that many farmers treat their workers like family, going above and beyond anything they are required to do to make them comfortable. One spoke of arranging Sunday morning church services on the farm for them.
They praise the dedication of the health inspectors, who won't approve a farm that doesn't meet standards spelled out for them, and surmise maybe the same standards aren't upheld in other areas.
Before employers can hire foreign farmworkers through the federal program, they must pass that regional inspection. If there are any infractions found, inspectors will return to ensure they've been corrected, before forwarding their report to the Service Canada, which administers the program — if living conditions don't pass inspection, farmers will not be able to participate in the program.