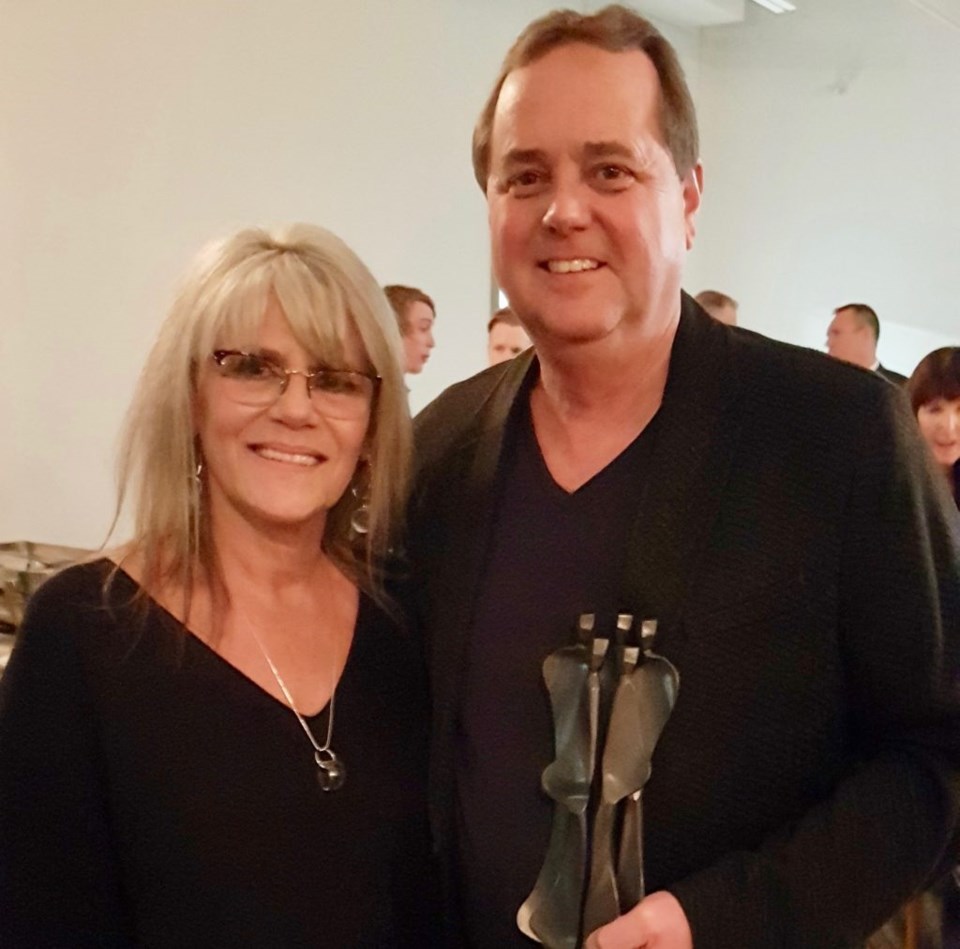 Founded in 1972, Niagara Trailers is a local business that has made a significant impact, not only on the RV industry, but on the surrounding community.
At last week's Spirit of Niagara award ceremony at the Ravine Vineyards conference centre, the family-owned and run business in St. Davids was named Company of the Year.
The story of how it got its start traces back to a coincidental conversation at the former Fudge Stand at the corner of York and Queenston Roads, explained Andrew Niven, who presented the award to John and Anna Petrie.
It was John's father, Doug, and his mother, Anna (John's wife jokes that she's Anna Jr.), who owned the Fudge Stand. Anna made and sold fudge, while Doug went off to work as a mechanic.
One day they were approached by a passerby, who asked if he could put his trailer, which was for sale, on the property, a highly visible site at a well-travelled intersection.
Much to the couple's surprise, it sold in a matter of days, "and thus a business was born," said Niven.
Their initial investment, he said, "was a handful of small Canadian-made RV trailers, which multiplied throughout the late '70s, and continued to grow through the '80s and '90s. During this time they remained true to their commitment of customer service and the camping lifestyle."
They began to add campgrounds to their business portfolio, including Sherkston Shores in 1987, Grand River RV Resort in 1989, and Lighthouse RV Resort in 2006.
In 2002, Doug, "the company's patriarch," passed away, said Niven, at which time the operation was handed to John, "whose business acumen and extraordinary vision has brought it to be one of the most successful RV trailer businesses in the province," and winning it many industry awards.
The Petries are equally committed to the community, he said, "donating both time and dollars to local causes, and organizations like the St. Davids Lions, Red Roof Retreat and Meals on Wheels."
It's "their quiet, under-the-radar approach that really makes them unique," he added, and worthy of the title of Company of the Year.
"It's been a great journey," said John, accepting the award with his wife Anna.
"We absolutely love the RV lifestyle, and we enjoy the community of St. Davids."
Receiving the award, he added, "is a great way to start off the spring, our busy time."
Thanking the Chamber, he said, "I look forward to the next 48 years in St. Davids."
Following the ceremony, Anna joked about her reaction to the thought of another 48 years, suggesting it might be for family members, if they take it on — there are several working in different areas of the business, she said, "although I want them to do what makes them happy.'"
The best part of the business, she said, is the people they've met.
"We've had many repeat customers, still coming in and talking about Doug and Anna."
She said she and John were both surprised, and humbled, to receive the award, and when they got home, "I told him how proud I was of him, and how proud his dad would be. We miss him so much. He would be so proud."