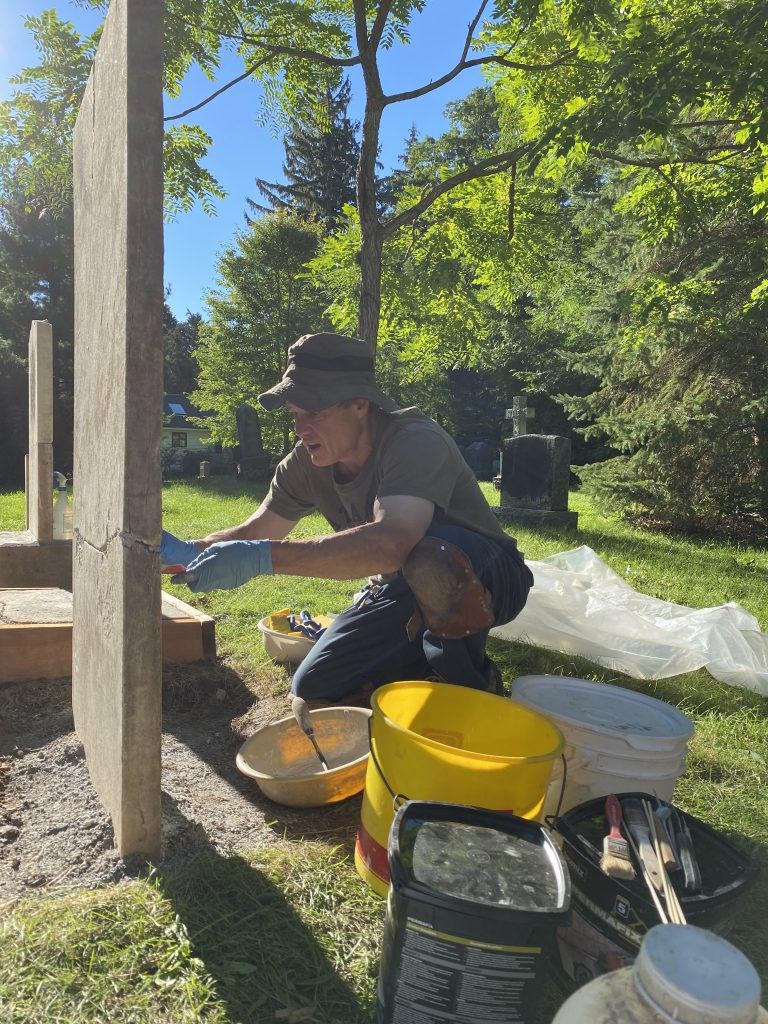 Donald Combe, co-author of Saints, Stones and Sinners, is considered a bit of an expert on local cemeteries.
He has learned what is involved in restoration, and how to ensure it's done properly. And he knows how expensive it is.
He and Fred Habermehl wrote the first edition of their book in 1990, at that time dealing only with the cemeteries of St. Vincent de Paul, St. Andrew's and St. Mark's in Niagara-on-the-Lake.
In 2013, the book was out of print and they decided to revise it with many additions, identifying historic monuments and stones in local cemeteries, and telling the stories of past residents of Niagara, as found in the graveyards and burial plots.
"To the best of my knowledge, I think we covered every cemetery in the township," Combe says.
Some of the stones that were completely readable in 1990, "are totally unreadable now, no matter how hard you try. It's just Mother Nature taking over, with the help of acid rain and pollution of the stones."
The early stones were made of marble, next came Queenston limestone, both of which were damaged by acid rain, Combe says, while today's gravestones, mostly granite, "last forever."
As a parishioner of St. Mark's Church, Combe has also been heavily involved in restoration of monuments in the church cemetery, which is "amongst the most important cemeteries in the province. It has beautiful monuments, beautiful trees, and a beautiful cemetery with tons of history."
About 10 years ago, Willowbank School of Restoration Arts reached out to the church to say it would like to do some restoration of the cemetery stones, many of them damaged by mature trees that fell in a particularly bad storm.
Then along came historic cemetery specialist Alan Ernest, who has undertaken much-needed repairs to veterans' monuments in the cemetery as part of a program by the Commonwealth War Graves Commission, and Canada Remembers, an initiative of Veterans Affairs Canada.
When he was finished the work he was commissioned to do, "we desired to ask him to restore some of our other stones," says Combe.
While St. Mark's volunteer Sally Mitchell credits Combe as the most knowledgeable about the cemetery as the church's historian, he credits Mitchell for raising the money needed to make the restoration project possible.
Ernest has spent part of two seasons at St. Mark's, and Combe estimates the church has spent about $25,000 each year, which covers restoration of about 20 stones. The work this year was financed mostly through a dinner held at the church to celebrate Combe, who turned 90 during the pandemic and wasn't able to have a party to recognize the milestone birthday.
Restoring monuments is an expensive project, he says, at about $600 for the smallest stones, with some requiring up to $2,000 worth of work. But most important, he says, is it has to be done right, by experts who know what they're doing.
"If you don't know what you're doing, don't touch it," he says, something he learned from seeing efforts to restore stones that would have been better off left alone.
Ernest "does a fabulous job," he adds.
While "we've made an incredible beginning of the project" at St. Mark's, he says, "there is enough work to carry on with restoration for at least another five years, if we have enough interest, and there appears to be enough interest."
Combe says in addition to learning a great deal about stone restoration, "I've tried to find out as much as I can about the people buried in the plots. My feeling is that every stone in every cemetery has at least one story and those stories deserve to be told, as a reminder of the people who are buried there."