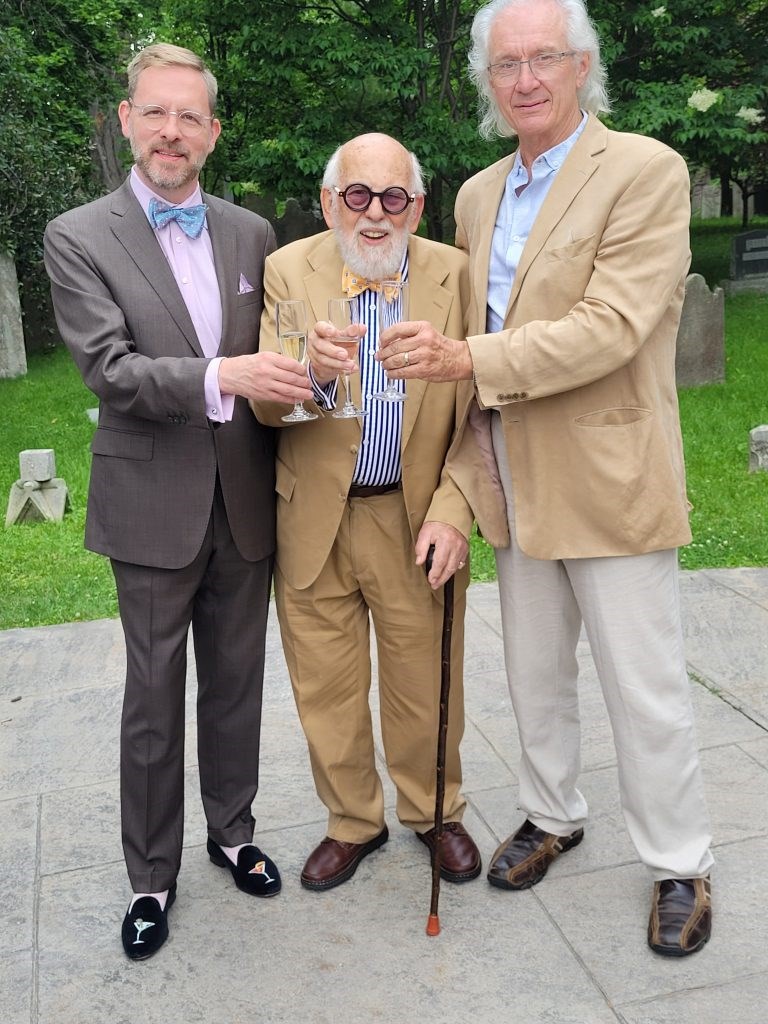 As the bells rang out at St. Mark's Church Sunday evening, to be enjoyed by residents and visitors throughout the town, Donald Combe was being honoured for his 30 years of service to the preservation of the church's history, archives, library and cemetery.
In the words of Bob Wright, who retired from St. Mark's after 17 years as the much-loved rector, "that is an incredible achievement."
While bubbly was served to a large group of Combe's friends in the courtyard, on a perfect evening to mingle outdoors, bell-ringer Bernadette Secco entertained with an extensive playlist she developed to welcome people and to demonstrate the bells' tone and range, says Sally Mitchell, organizer of the event.
Guests wandered in and out of the church hall to admire what was the talk of the evening — the beautiful decorations on two the dinner tables, by Gary Zanner.
Some of the greenery and flowers were from people's gardens and some flowers were purchased, the black Scottie dog cut-outs on the wall, and the flowered wallpaper cut-outs on the table cloths, all combining to create a feeling of enchantment, but also affection and respect for the man being honoured.
This was the first time in many years the hall was being used for such a large-scale celebration, said Mitchell, and as Zanner added, "it's all about Donald."
At the back of the church were displayed donated items for sale, as well as auction items, to help fund the next stage of cemetery stone restoration.
Wright told those gathered in the church hall over a dinner to celebrate the guest of honour that Combe had asked him to be brief — he said it was intended as a fun time for those in attendance. However Wright listed "a few of Combe's accomplishments," including his host of publications; his work with the archives committee, which took on the role of caretakers of the books in the Addison Library; the 100 trees planted on the property; the extensive work that has been done in the church's historic cemetery; and the restoration of 21 monuments in the cemetery, work "which will continue thanks to your support of this event today." Called the Save Our Stones Dinner, the event was a fundraiser for cemetery restoration.
Wright also said a few words about what he learned over years of working with Combe.
"The gifts that he brings to the task of this archival service are many, and have resulted in an incredible legacy. Let me hasten to add, however, and Donald would be quick to point this out, much of it happened because he was able to invite others to share in this monumental accomplishment."
As he looked around at those gathered in the hall, Wright said he could see many people who have assisted Combe in his work. "Donald knows well large tasks demand that we ask others to help. He has always been good at forming partnerships with others in the community."
Many years ago, when the church parish was wrestling with the issue of what to do about the Addison Library, Wright recalled, he had invited Richard Landon, director of the Thomas Fisher Library in Toronto, to offer his opinion on how to proceed. "When he and his partner Marie arrived, we gathered in the crypt where the lIbrary was stored. It was high drama as Richard unpacked some of the books, examined them and turned to us and said, 'Do you know what you have here? The oldest private library in Canada west of Quebec. They are in great shape, bring them upstairs and put them on bookshelves.'"
His question, said Wright, "became a kind of a mantra for the archives committee through the years. Donald realized that if you do not know what you have, you might very well lose it. You see, only when we know our inheritance can we can truly begin the process of the work of preserving that legacy. Donald has been instrumental in helping us know what treasures we have."
But there was one further step which Combe decided to take in answer to a second question, said Wright — 'but how will others know?'
"I think you came up with the answer because you do so know the history of this church," he said to Combe. "I think you found your answer in the motto of our patron saint, Mark the evangelist: 'Proclaim the Good News.' Proclaim, not tell, not inform, not whisper but proclaim, to cry out. As an actor, Donald, you know that it is not simply about reciting the words. You have to convince, with enthusiasm, if you want people to get excited about the story."
Like St. Mark, Wright said, "Combe is an evangelist for the cause. Come to think of it, perhaps many who gather here in this place today do so because your words, your writings, and your example have encouraged us to become fellow evangelists."
In Wright's toast to Combe, he said, "Donald, for your many efforts and accomplishments. You have helped us to appreciate and celebrate our goodly heritage, and for that we will always be grateful.
Yet I think what I admire most in you is that you continually look to the future, to the road ahead, reminding us that the way forward at St. Mark's has always been, 'with our past before us.'"