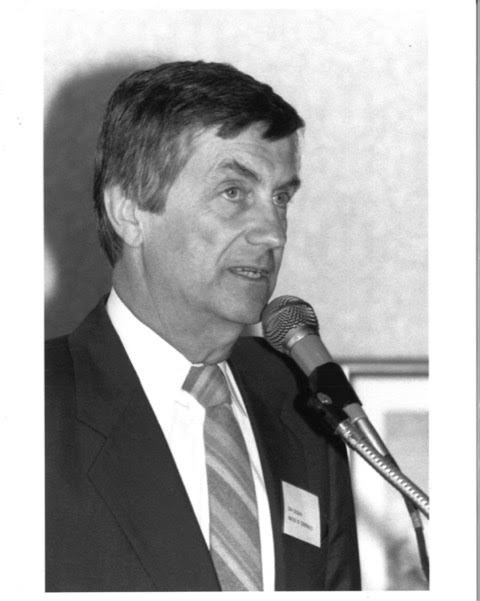 Niagara-on-the-Lake resident Rosemary Goodwin is totally thrilled to see her late husband Don inducted into the Canada Games Hall of Honour this Friday night.
"It's absolutely wonderful," says Goodwin. "And when I found out that Stacey Allaster, who was a great friend of Don's, was being inducted too, it made me really, really pleased."
Goodwin and Alastar, who grew up in Welland, will be joined by a third Niagara resident, former boxer Mike Strange of Niagara Falls, as well as athletes Brian McKeever and Steve Nash and chair of the Canada Games Council from 2009 to 2019, Tom Quinn.
The Hall of Honour Celebration takes place on August 5 in Niagara Falls, just a day before the opening ceremonies of the Niagara 2022 Canada Summer Games. Iconic Canadian broadcaster Ron MacLean and Olympic champion and Canada Games alumna Catriona Le May Doan will host the event, which will be streamed live.
Goodwin was an instrumental figure in the early days of the Canada Games. The longtime
sports broadcaster with the CBC played an active role in getting the inaugural Canada Games off the ground in 1967. Those were the first winter games in Quebec City, two years before the first Canada Summer Games in Halifax, where Don had been working at the time.
"Don had been very involved through the 1960s putting together a new sports structure for Canada," Rosemary tells The Local. "There had never been sports ministries at the provincial or federal level. It was a huge undertaking to get all the provinces on board. And the concept of a Canada Games was going to be the crown jewel of that, the glue that would make it all stick."
Don led the charge to bring the provinces together late in Canada's centennial year. The Quebec City event was small, but it was a start. And he knew that the summer games in 1969 were going to be crucial to the success of the concept.
"It's astounding that they did it," Rosemary says of those first summer games, which Don had persuaded the CBC to broadcast on both television and radio in both official languages. "It was fabulous. That was all they needed and they were away to the races."
Don was a tireless volunteer, who also served as chef de mission for Canada at the 1972 and 1974 Olympic Games. In 1996, he was the master of ceremonies for the opening and closing ceremonies at the Olympics in Atlanta. His passion for sport, and in particular tennis, led to his 35-year run as emcee at the Rogers Cup. He was inducted into their Hall of Fame in 2014.
"The whole reason I got involved (as the co-lead for tennis at this summer's games along with Marilyn Francis) was because of him," Rosemary says. "Everything I know about tennis comes from Don. Tennis is the one place where, if I can tuck into a project that I can focus on, I always feel him sitting on my shoulder."
Don's career with the CBC led to him being put in charge of sports and then entertainment, before heading the national broadcaster's Ontario region.
The Goodwins moved to Niagara-on-the-Lake in 1997, and were involved in the NOTL Tennis Club for years. Rosemary served as club president from 2008 to 2010 and currently sits on the board of directors. Don passed away in 2018 from pancreatic cancer.
His friend and colleague Allastar participated in the 1989 Canada Summer Games in Saskatoon as a tennis manager with Team Ontario. The Notre Dame College School graduate was the cice president of sales and marketing and tournament director of the Rogers Cup was named president of Women's Tennis Association (WTA) in 2006. Allastar is currently the chief executive of professional tennis with the United States Tennis Association (USTA) and the first female tournament director of the U.S. Open.
Current Niagara Falls city councillor Strange competed for Team Ontario in boxing at the 1987
Canada Winter Games in Cape Breton, Nova Scotia. He is a three-time Olympian, a double gold medallist at the Commonwealth Games and an 11-time Canadian amateur boxing champion.
McKeever, meanwhile, is the first para-athlete to be inducted into the Canada Games Hall of Honour. Canada's most decorated winter Paralympian represented Team Alberta in cross-country skiing at the 1999 Canada Winter Games. He has competed at six Paralympic Games and amassed 16 gold, two silver and two bronze medals for Canada.
Nash is one of Canada's greatest basketball players and one of the best point guards to
ever play the game. The two-time NBA MVP and eight-time NBA all-star represented Team B.C. in men's basketball at the 1993 Canada Summer Games in Kamloops. Nash was instrumental in helping Canada qualify for the 2000 Olympics in Sydney.
Quinn is an Officer of the Order of Canada. The businessman is known as a visionary leader and a prominent volunteer in Canadian amateur sport, lending his expertise to non-profit sport organisations at the national level and in his home province of Quebec.
Rosemary is excited to be attending Friday's event, where she will be accepting her husband's honour. And all six of this year's inductees will be honoured at Saturday's opening ceremonies for the games.
"I'm looking forward to seeing some people who have told me they will be there," she says of the Hall of Honour celebration. "I'm curious to see the video tribute to him. I am sure it will be very sentimental and heart wrenching. I wouldn't miss it for the world."
"It's a lovely sign of respect," she concludes. "I am really pleased that his work is being recognized and appreciated so many years later."