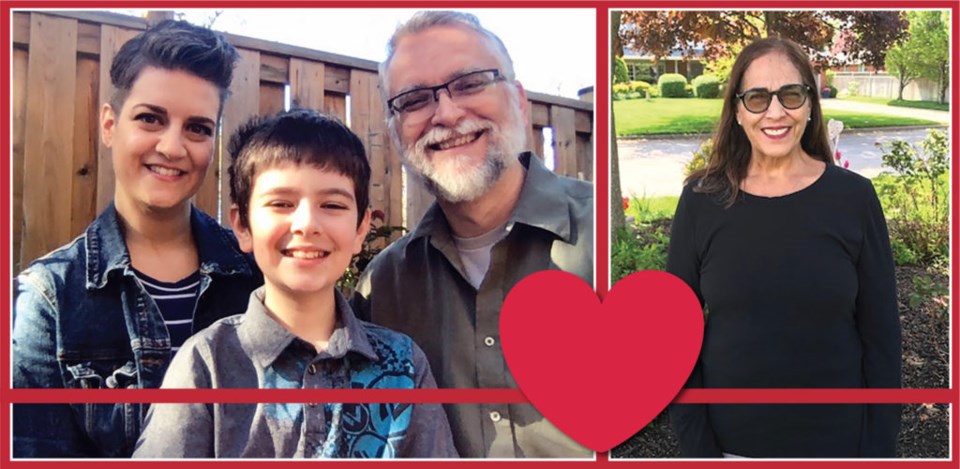 Last fall, Diane Peirce was suffering from end-stage liver disease.
The only cure was a transplant, and her best chance, she was told, was to find a live donor.
At 64, Peirce, the matriarch and caregiver of her family, had much to live for — her loving husband Mike, two beautiful daughters, Natalie and Nicole, and Natalie's daughter, Olive, then 15 months old.
A live donor transplant, they were told, would give Diane the best chance for survival, and the best quality of life. It would give her energy to resume the active lifestyle she was accustomed to, including being an involved "Mimi" to Olive, the light of her life.
A liver is a miraculous organ, says Mike. It can regenerate itself. A transplant of a section of a healthy liver from a live donor would almost immediately return Diane to the same robust health she has aways enjoyed. While waiting for a deceased donor, there is the danger of becoming too sick to qualify for a donation, or dying before one becomes available.
But one by one, family members were eliminated as potential donors, due to age or health conditions, and they were advised to start searching for a live donor in other ways. Diane was uncomfortable going to the public for help, but Natalie had no such qualms, if it meant saving her mother.
One beautiful fall day last October, Natalie, her husband Adrian, and Olive, gathered in their living room with Mike and Diane, a loving family unwilling to face a future without their matriarch. They knew when they shared their story with The Local they were hoping for a miracle, a favour too huge to contemplate — that a complete stranger would agree to donate part of an organ so Diane could live.
They also knew it to be safe. The system's paramount objective, said Mike, is to protect the donor.
Since 2000, more than 900 living liver donor transplants have been performed at the University Health Network at the Toronto General Hospital site, with all donors having returned to their regular lifestyle, with no restrictions. In 2019, the UHN performed more than 200 liver transplants, including 60 made possible by living donors. Toronto General Hospital, home to Canada's largest living liver donor program, is ranked one of the top 10 hospitals in the world.
But still, what a favour to ask.
At the time, Diane said, "I'm being very positive about this. I won't think about anything negative. I believe something will work out for me."
She said she knew there would be an angel out there for her.
And she was right.
The angel turned out to be Joy MaGarrey, of St. Catharines, who learned about Diane and her family's search when she read The Local article online.
"My heart really went out to them, and I could imagine how difficult it must be not to be able to donate themselves," she says.
She thought about Natalie, and how it would feel to be in her position. "If it was someone in my family, I would desperately want someone to step up for me."
She spent the rest of that evening researching living donations, and submitted her application the next day.
MaGarrey has a husband, Christopher, and a 10-year-old son James.
Chris was surprised when she told him what she wanted to do, but supportive, and willing to pick up the slack at home.
At the time, James didn't totally grasp the gravity of what she was doing, but has come to understand, she says. He was a big part of her reason for arriving at her decision — she wants to be a role model by showing him the importance of helping others.
She began the assessment process with the transplant team of Toronto's University Health Network in December, and was deemed a match in March.
"The assessment process was very thorough, and the transplant team was always forthcoming about the surgery and its inherent risks. I was confident that I would be in the best hands, and that everything would be okay — and it has been."
Every step of the way, the transplant team took every precaution, and she says she knew they wouldn't have gone ahead with the surgery if they had had any concerns. They make sure the donor is well taken care of, and she knew she could change her mind at any time, right up to the day of surgery.
"I knew I had the support of the whole team," she says.
They were clear there were risks — although nothing life-threatening — but she knew everything was being done to minimize them.
And she was at a place in her life where she knew she could make it work, "so I stepped forward."
When the reality of the current pandemic became obvious in March, Joy reached out to Diane through email to introduce herself as the donor.
She says it didn't seem fair that she knew all about Diane and her family, but they knew nothing about the potential donor that had been found.
Also at that time, she says, "the pandemic was becoming really scary, and I thought it might help give them hope."
Diane and Joy were surprised to hear, about 10 days ahead of time, that their surgeries were scheduled for April 29. They had thought they would have to wait until elective surgeries resumed after cancellations due to COVID-19, but the hospital allowed liver transplants to go ahead when organ donations were available, prioritizing the most ill patients.
Neither of them could have any visitors during their stay in the hospital, but the women did have one "very emotional" meeting after their surgery, says Joy. Both were released the same day, May 6.
Last week, home and recovering, they were feeling well enough to talk publicly about their experience.
Joy says she's been uncomfortable, mostly resting, but not in the pain she had anticipated post-surgery.
"I'm getting stronger every day. I know it won't be long until I'm back to my old pre-surgery self."
Most of her days are spent napping and hanging out with her husband, who is looking after the household, and her son.
She didn't know when she made the decision to be a donor they would both be home, due to the pandemic, but it has worked out well.
Now, she says, James "gets it, he's seen what has happened, and he understands the stakes involved. He's been really sweet, always asking me if I need anything."
Her mother, who lives in New Brunswick, had planned to come to care for her, and she's finding it hard to be so far away and unable to help, says Joy.
But other than that, the self-isolating has turned out to be a benefit.
"Normally I would have had a busy schedule to clear. I'd be out every night and much of the weekend. I haven't had to do that."
Joy has always been active in her community, with volunteer work and sitting on agency boards. Add to that the busy life of a mom driving her son to several activities, there would have been much she would normally be doing. But of course these days are anything but normal, and her calendar is blank for the foreseeable future.
The response she received at work turned out better than she could have hoped. A teacher by trade, she leads a team of 10 people for Accenture, a global consulting company ranked one of Canada's top 10 employers, which provides a range of services for select clients. She says she hesitated to talk to her colleagues about what she was planning to do, and when she asked for two months off and explained what it was for, she was amazed by the response. She was willing to take holidays, but instead she is off on full pay, and they have been "overwhelmingly supportive."
In the days since surgery, she's heard from the Peirce family, she says. "They've been wonderful. They're giving me privacy, but they've also been really sweet.'
Without minimizing the surgery, Joy says, she's found this to be "a great experience" from the beginning.
"It seems like a small blip in my life," she says, and difficult to process that "something so small for me could have such a huge impact, in just a matter of weeks, that could potentially add years to someone else's life."
She says if asked, she'd be happy to speak to anyone who is interested in her experience, who might be considering a living donation. For her, she says, "the reward far outweighs the risk."
Joy says she feels uncomfortable thinking that she's saved someone's life — she's just glad it turned out well, and she and Diane can get on with their lives.
"I'm honoured that I was able to help Diane, and I wish her many more decades of making memories with her family."
At home with Mike, Diane says she too is taking her recovery "one day at a time, and getting stronger every day."
It's interesting to feel physically that she has a new organ in her body, she says — not a lot of people get to experience that. She felt her health improve almost immediately, with many of the signs of liver disease dramatically reduced.
She has taken herself off the opioids she was prescribed post-surgery, and will take Tylenol if needed, but she has gone several days without needing pain killers. She is, however, on anti-rejection drugs, which she will have to take the rest of her life, although the dosage may change.
From her first contact with the donor program, Diane says the team of people looking after her has been fantastic, showing support and kindness throughout the process. "My doctor said from the beginning she would treat me like she would treat her own mother, and she has."
Diane and Joy were both released ahead of schedule, and Diane feels that's been a bonus — sleeping and resting comfortably is much easier at home, she says, rather than in a hospital, with people coming and going at all hours. As the weather improves, she can sit outside and read, and be physically comfortable while she convalesces.
"When I went into the hospital, things around us had already shut down, and when I came out, nothing had changed. I think this has been a bit of a blessing, giving me time to recover before I start seeing people."
Diane is slowly increasing her activity, trying not to overdo it but wanting to increase her strength. The medication she's on causes some difficulty sleeping, so she's not napping a lot — she walks around the house and short distances outside, and talks to family and friends on FaceTime.
She's also baking and cooking, which she has always enjoyed. And twice a day, she takes her temperature and weighs herself, sending the results to the hospital team looking after her.
Recently, she was put in touch with a local woman the same age as her, who had a liver transplant 20 years ago, and is still active and doing well — she has competed in lawn bowling around the world. One piece of advice she had for Diane, which seems particularly relevant during this time, is to stay away from crowds, which can pose a threat to compromised auto-immune systems.
She misses her family, and finds her favourite time of day is spent sitting by a window overlooking her yard, where Mike has installed a tree swing.
Natalie brings Olive over to swing, where her grandmother can watch, "and she is so sweet," says Diane. "At least I get to see her. I miss the day-to-day contact, though, and I can't wait to hug her."
And that brings her to how it feels to know the day will come when she'll be able to do that.
"I'm forever grateful for this life that's been given to me. I just met Joy briefly, and to think now that someone would do this for a stranger — there are no words to explain how that feels. I think about it when I wake up every morning, and send gratitude to her."
She has remained positive throughout this experience, she says, and she believes that's an important part of why everything has worked out so well. "I believed that this was going to happen, and it did."
Before finding Joy, Diane says, more than 60 people took the screening process online, although she doesn't know who they were. When she heard Joy was a perfect match, in the midst of the pandemic, she wasn't sure the surgery would go forward, but here they are, just a short time later, each recovering and doing well at home.
She expects she and her family will stay in touch with Joy, and she hopes, when they are both fully recovered and this time of physical distancing is behind them, to host a garden party for Joy and her family.
"I feel I want to thank her, over and over, and to remind her that we will never take for granted what she did for us. It's so huge. She is our angel."
For more information about living organ transplants, contact the University Health Network Centre for Living Organs at 1-416-340-5400, or email [email protected].
There are also links and answers to the many questions about live liver transplants at uhn.ca/Transplant/Living_Donor_Program/Pages/living_liver_donor.aspx.