Fittingly, on the day of his induction into the St. Catharines Sports Hall of Fame last week, St. Davids resident David Cullen was away at a hockey tournament.
He wasn't playing the sport for which he was inducted. Instead, he was in Los Angeles watching his 12-year-old son play in a tournament for the Texas Warriors.
"My mom went to the ceremony for me, and she had a great time," he says. "Obviously she made a lot of sacrifices, driving me around to practices and games. Parents make a lot of sacrifices for their kids."
The St. Catharines native was one of five inductees for 2022, including Barbara Armbrust, Daryl MacDonald and Donald Thom, all honoured for their accomplishments in rowing, and curling's Douglas Geddie.
Cullen takes his spot in the hall, located on the concourse level at the Meridian Centre in St. Catharines, alongside his uncle Brian, who played for the St. Catharines Teepees in the 1954 Memorial Cup and went on to a career in the National Hockey League.
"It's a great honour to be in any hall of fame, no matter what it is," Cullen tells The Local. "I was really surprised when I found out. I've walked that area a lot, seen my uncle Brian and some other people I know in there. It's a nice feeling to know that you're going to be in that area for a long time."
The son of Bruce and Lorraine took a different route to the honour than did his uncle. While Brian played Junior A hockey in his hometown, Dave's Junior B experience with the Thorold Blackhawks earned the Holy Cross graduate a hockey scholarship to the University of Maine in 1995.
Over four years with the Black Bears the defenceman amassed 28 goals and 89 assists, with his senior year, when he collected 44 points, standing out. That 1998-1999 season was also the year Maine won the NCAA Division 1 championship.
"We had a good team that year," he said. "We had a lot of exposure. I really had no idea I was going to keep playing at that point, but I was hopeful. I was able to sign with Phoenix, though, and it all worked out."
The NHL's Coyotes brought Cullen in the next year as an undrafted free agent, assigning him to the Falcons, their American Hockey League affiliate. In 78 games that year Cullen collected 10 goals and 28 assists.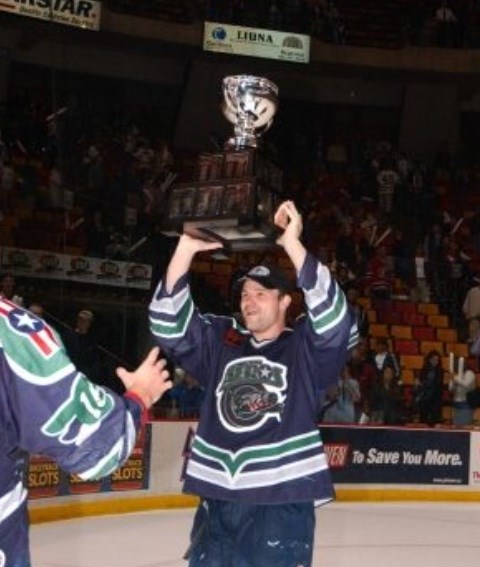 The following season he was called up to the Coyotes for a couple of games.
"It was an unbelievable experience," says Cullen of his first NHL games. "It's every kid's dream. It kind of feels surreal when it happens to you. It was one of those things, though, where I was up and down, and it didn't really work out."
He began the 2001-2002 season with Springfield, and was called up to skate in 14 games for the Coyotes. In January 2002, he was traded to the Minnesota Wild for Sebastien Bordeleau.
He got the call to the Wild for only three games, and spent most of his time in Houston with the team's AHL affiliate, the Aeros. Cullen hoisted a championship trophy once again when the Aeros won the 2003 Calder Cup.
In July 2003, he signed with the Buffalo Sabres, and spent three years with their AHL team, the Rochester Americans.
"By then, I kind of knew my role," Cullen recalls. "Those were the years they had (Jason) Pominville, (Ryan) Miller, (Paul) Gaustad, and (Thomas) Vanek in the minors. I was more of an older veteran. Rochester always made sure they had older players to help the younger guys. It was a lot of fun there, probably my favourite stop in the AHL."
Cullen played four more years professionally in Europe, for clubs in Germany, Sweden and Austria. And in 2011, with some injuries and back issues beginning to catch up with him, he felt it was time to call it a day.
By then Cullen and his wife, Alyssa, whom he met while in Maine, were parents of three young boys. Tyler, now 20, was born in Texas, 18-year-old Landon was born in New York state, and Brady calls Austria his birthplace. The family had been renting a house in Niagara-on-the-Green for the off-season but decided to build their permanent home in St. Davids.
Looking for a new direction outside of hockey, Cullen considered becoming a police officer or a firefighter. Instead, he decided to attend teachers' college at Medaille University in Buffalo. Today he teaches at Loretto Catholic Elementary School in Niagara Falls.
When he's not in the classroom, the 45-year-old runs his own business, perhaps drawing on that leadership experience he had with the Americans, as well as what he learned in teachers' college. Through that business, Dave Cullen Hockey, he is training the next generation of hockey players.
"We run pretty much all year," he says of his hockey school. "In the spring I run a three-on-three league, in the summer I run camps. During the hockey season it's more team skates. I do a lot of development skates for Niagara-on-the-Lake."
When he first started his hockey business he trained some high level older athletes, including current Buffalo Sabres centre and fellow St. Catharines native Riley Sheahan. But these days he tends to work strictly with younger athletes.
"It's about giving them a fun environment where they can work hard to improve their skills," Cullen says. "The rewarding thing is when parents show me videos of their kid scoring a goal using something that they learned from me. It's about giving them an avenue to try to get a little bit better."
The Cullens also have a place in Texas, where Tyler is attending Texas Tech and Landon is a student at Texas A & M. Both are studying engineering, a discipline with a course load and challenges that mean they can't fit hockey into their schedules. Brady's Warriors U12 team plays out of Dallas.
Though he couldn't make it to last week's Hall of Fame induction, he is planning to be at the Ice Dogs' Thursday, Dec. 1 home game against the Hamilton Bulldogs. The 2022 inductees have been invited to drop the puck for the ceremonial first faceoff at the game.
"I plan on going to that and meeting the other inductees that night," Cullen says. "It will be kind of cool to do that and then head over to see the Hall of Fame."