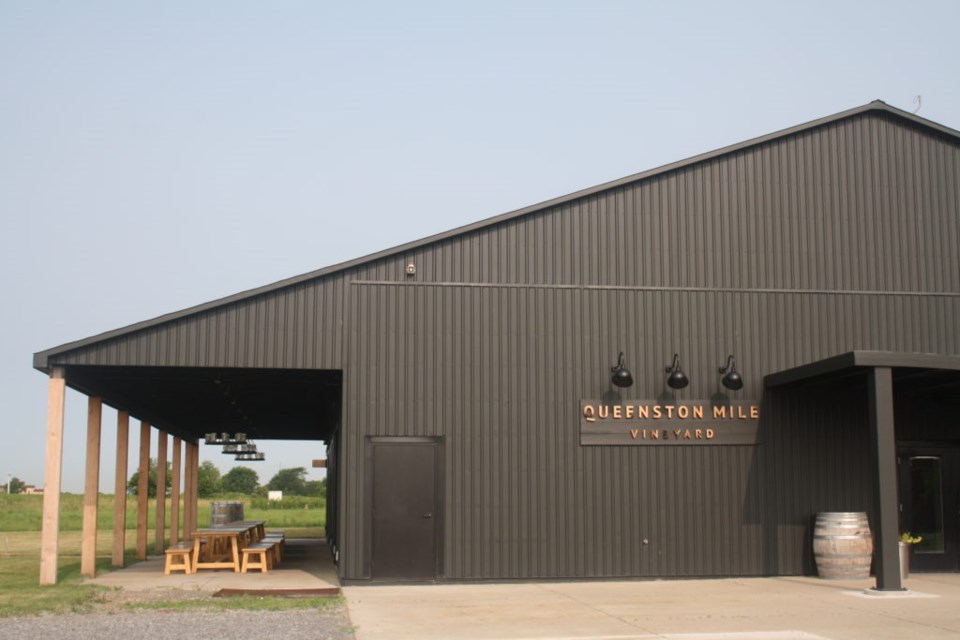 With a rezoning application before councillors for a small winery on a large Queenston Road property, they have been given lots of information to mull over before their Wednesday meeting, when a decision is expected.
Several presentations were made at Monday's committee of the whole meeting by business owners and residents, cautioning councillors about what they consider a precedent-setting issue. Queenston Mile Vineyard, now operating as a farm winery, is looking for rezoning to an estate winery. In addition to producing and selling wine, the rezoning would allow food to be served. The winery owners are also asking for an agricultural market as a secondary use on the 50-acre site.
A committee decision was expected Monday, but public presentations on the winery application and other issues took more than four hours, and the remainder of the meeting was rescheduled, to be concluded Wednesday, beginning at 5 p.m.
Maria Mavridis, whose family owns a restaurant on Queen Street, told councillors as the number of wineries serving food has grown, downtown restaurants have seen a decline in business.
"Queen Street businesses pay astronomical property taxes and rents," she said, and employ year-round staff although business is a seven-month season, while wineries such as Queenston Mile have the advantages of free parking for their customers and tour buses, controlled wage costs, and much lower agricultural taxes.
"We are asking for fair advantage," she said. Wineries looking to open restaurants, run events and offer venue space should pay commercial taxes, she said.
"We are asking council to take their time in reviewing every aspect, prior to making any decisions that may result in becoming a detriment to our downtown business area," said Mavridis.
"Whatever decision is made with regards to the Queenston Mile application, it will set precedent to all future applications to town planners and this council."
Maria Hassebroek is a Queenston Street resident who lives across from the winery. "I cannot tell you how disappointed I am by staff recommendations for winery," she told councillors.
"Staff says it will not impact us. I can tell you it does," she said, citing issues with noise from customers and bus traffic problems.
Hassebroek touched on concerns mentioned by others, saying the winery "is not playing by the rules." She maintained the farm winery is selling a 2016 vintage of wine it is not allowed to sell, and also referred to the expensive commercial kitchen equipment in the building that she believes indicates weddings and other events will be held, creating more noise and traffic for neighbours close by.
No amount of buffering would be sufficient, she said.
"This is not the proper location for an estate winery."
Lawyer Tom Richardson, representing several clients opposed to the rezoning, charged the winery owners are attempting to "create a restaurant where a restaurant is not permitted."
He referred to the kitchen equipment and large washroom facilities as evidence the intent from the beginning has been for a restaurant onsite.
He also said no crushing, fermenting or bottling has taken place on the property, as required of a farm winery, which can only sell wine made onsite from grapes grown on the property.
"The proposal is not an agricultural use, it's the smuggling-in of an urban use in an agricultural area," he said, suggesting if councillors were inclined to approve the zoning, they should request a deferral until they have a site plan before them.
Paul Harber of Ravine Vineyard Estate Winery also cautioned councillors against rezoning, saying if they do, "anyone can buy a barn and put anything in it," including "all kinds of uses that aren't agricultural."
He said because the winery opened just seven months ago, it hasn't been through a full harvest, and there is no way to access the full impact on neighbours. "This might be a precedent-setting case of upsetting the neighbours."
Ravine's winemaker Martin Warner also warned against allowing an estate winery in the small building, saying there is no room for the production that is expected to process 39 acres of grapes, while also having a hospitality area and kitchen.
Former NOTL town planner Stephen Bedford suggested the winery building should have been located in the centre of the property. He said while a small portion of grapes may be processed onsite, "the application is for a restaurant and washrooms for 250 people. Applications like this give me pause, with respect to the future direction of the town."
Rezoning the property could potentially make it cheaper to buy a winery and open a restaurant, and could drive up the price of agricultural property, he said.
But when lawyer Steven O'Melia had his chance to speak on behalf of Queeston Mile, he praised the staff recommending zoning approval, and refuted the arguments against it, which he said were not about planning issues. The application conforms to all relevant agency and town planning policies, he said.
Richardson's comments about the construction of the kitchen are "inaccurate and extremely unfair," he said. The kitchen equipment is not hooked up — it was "optimistically purchased" for the day when it could be used.
Contrary to claims about processing onsite, he said, "there is crushing, fermentlng and bottling occurring. It's a fact."
The sale of a 2016 vintage was permitted when the farm winery opened, he said — that is typically allowed because it's anticipated wine made on the property won't be ready.
The issue of restaurants paying higher taxes, and neighbours' concerns, are also not planning issues, he said.
As for traffic, the owners have already agreed to a driveway off Concession 6, as neighbours have requested.
Alison Zalepa, general manager of Queenston Mile, also addressed some of the points made by those opposed to the rezoning.
She said the business plan for the winery is to produce 2,000 bottles to sell at Queenston Mile, not to process all 39 acres of grapes onsite.
The kitchen equipment, she said, was purchased for the future, so it wouldn't be "shoe-horned in" later, and is not for a restaurant, but to serve food with tastings and at events.
She said she has been transparent from the beginning about plans for the winery, and told the planning department she would apply for a farm winery first and then would be back for rezoning for an estate winery.
"We've not been shy about saying we want to do events. Show me a winery that doesn't have events and food and I'll show you a winery that doesn't have cars in the parking lot."