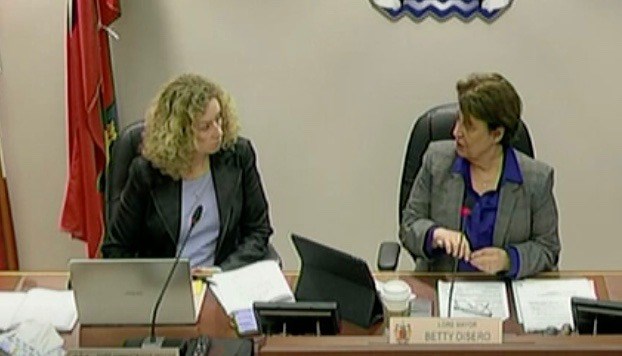 Lord Mayor Betty Disero has asked councillors to help her and Town staff prepare a position on governance for the provincial government.
The Province is looking at 82 Ontario municipalities, including the upper tier of Niagara and its 12 lower-tier governments, for cost-saving opportunities and ways to deliver services more efficiently.
There are several possible outcomes of a municipal review, Disero said, including amalgamation of municipalities uninterested in giving up their identity and being absorbed by a larger entity. But in her experience as a politician in Toronto through the 1990s round of amalgamation, it didn't produce the expected cost savings.
That's not to say there aren't ways to operate more efficiently, Disero said, and Niagara should embrace the opportunity to look at effiiciencies, but she wishes it weren't under the threat of amalgamation.
"I'm not trying to fearmonger, but my experience with amalgamation is that everything went to the highest cost for the lowest level of services."
Put a group of unions together to combine service delivery, "and nobody says we'll take the lower amount," she said, "so the service level deteriorates because you have to look at other ways of saving."
Coun. Stuart McCormack, living and working in Ottawa at the time of its amalgamation, said he experienced the same outcome — increased costs for more full-time councillors, and reduced levels of service delivery.
Disero says she isn't interested in battling with the Province, and is happy to be part of a review that could lead to more efficient, better services.
But cutting out a local council or even reducing the number of councillors in NOTL, who make $13,000 a year, isn't going to offer significant savings, she said
"If that's the intent, as a symbolic gesture, so be it, but the real savings is in looking at service delivery throughout the region," she said.
There are services the Region provides "really well," said Disero, and some which are best left to the 12 municipalities, while there are others that to her fall into a grey area.
"I'd list services in three columns," she said.
On one side would be services local municipalities do a good job of delivering, such as looking after roads, planning, and building permits.
On the other side she'd put housing, health, social services and emergency services, which the Region does well.
In the middle are water and waste water, policing, and garbage collection, expensive items about which she is undecided — possibly the local municipalities could do a better job. "I think we should start having that discussion," Disero said.
She and Town CAO Holly Dowd met recently with two men sent by the Province to talk to representatives from the 82 municipalities, with a goal of making recommendations by summer.
During a half-hour meeting with Michael Fenn and Ken Seiling, Disero said the men listened without sharing any information about what might be in the cards for Niagara.
"They didn't say much at all. They're tasked with conducting this review and putting recommendations before cabinet. They're just listening at the moment, without preconceived notions."
The outcome of the review "could be anything," she said — four large municipalities, 12 local municipalities and one service board, one big city, or any other combination.
She said she is glad council is willing to start a discussion locally, to put their thoughts together "for our little corner of the world, and to provide some suggestions for streamlining. We have a couple of months to do this, so we have to start the ball rolling. The sooner we get started talking about it the better."
Councillors were asked to submit questions for relevant information or suggestions to Dowd by the end of last week.
With the number of visitors NOTL gets each year it needs to keep its unique identity, not have amalgamation turn it into another suburb, Disero said. She is also concerned about NOTL, with its relatively low $1-million debt, having to take on responsibility for the higher debts of other municipalities, such as Pelham, with its $30-million liability.
"But it's really difficult to comment on anything until we find out what we're dealing with," she said.
If municipalities had been given a provincial plan and asked to come up with a business case of their own to accomplish it, rather than having the threat of amalgamation hanging over them, "we would have been able to work without fear."
Along with Niagara, the Province is reviewing Halton, York, Durham, Waterloo, Peel, Muskoka District, Oxford County, the County of Simcoe and their lower-tier municipalities.