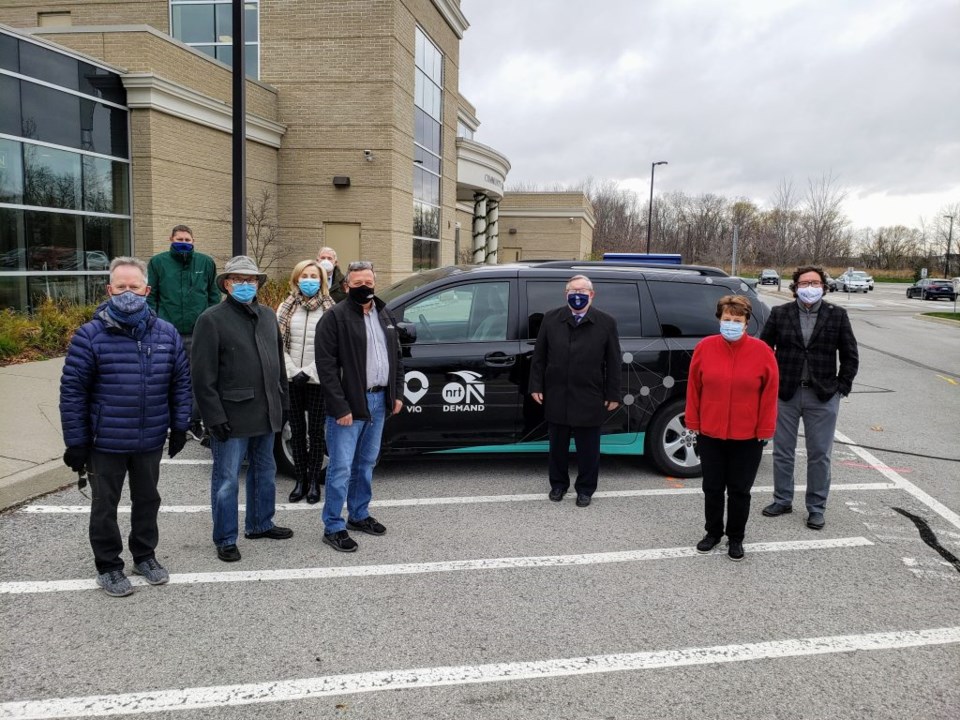 UPDATE: On Tuesday, Thorold council voted to implement a consolidated transit system, providing the region with the triple-majority vote needed to move forward.
After years in the making, the proposal for a consolidated regional transit system received unanimous support from Niagara-on-the-Lake town council Monday night.
Mat Siscoe, a St. Catharines city councillor and chair of the region's Linking Niagara transit committee, presented the regional plan to council, outlining the work that has gone into getting it to this point, including extensive public consultation, and the benefits and governance model if it's approved to move forward.
He explained the NOTL vote, "a significant decision for this council," is part of a triple majority process, which means that the plan must first be supported by the majority of regional councillors, which was received Nov. 25. Next comes majority support from the 12 municipal councils, which must represent the majority of Niagara voters to allow consolidated transit to move forward. The vote must go to all municipal councils before Jan. 31, Siscoe explained.
"Regional council has passed this proposal. It's now up to Niagara municipalities to determine if Niagara takes this next step in moving transit forward."
Fort Erie, Niagara Falls, St. Catharines, Grimsby and Port Colborne have already given the plan a green light. Welland has not, with some outstanding issues, such as budget and capital assets. Thorold was expected to vote on Tuesday night, but has been supportive of the integrated system in past discussions. Votes in the municipalities of Pelham, Lincoln, West Lincoln, Wainfleet are expected to be scheduled in January.
The proposal before council Monday night, Siscoe said, was seeking to create a single system governed by a commission that would deliver transit "with a region-wide lens for all of Niagara," one that would seamlessly connect to the GO network of buses and trains, "and ensure sustainable connectivity for all corners of Niagara and beyond."
The vision for a reliable, sustainable and fully-integrated system will "transform mobility independence and growth in Niagara for generations to come," Siscoe said.
The benefits are many, he told council, including pooling resources and optimizing them to maximize service for residents.
"It will create equity for all communities, and enable access by residents where mobility may be limited or unavailable due to municipal or jurisdiction boundaries."
It will provide better access to transit for those employees "living in other municipalities, but working in yours."
A consolidated system will also help the "enormous student population, significant and valued users of transit," he said, and not only post secondary but also younger students "who will gain more freedom and independence. Getting our next generation comfortable and reliant on transit as their primary mode of transportation is a key driver in youth retention and system growth."
Enhanced and expanded services will create what riders want, he told councillors: reliability, consistency and frequency. The expansion of services and enhanced access will drive economic development and job retention and attraction, said Siscoe.
It will cost the town more, but will deliver more service, he explained. NOTL taxpayers will pay for the service they receive, on the regional tax levy, rather than paying it to the municipality, as they do now.
A town report to council explains transit services are currently paid through a combination of parking revenues, provincial gas tax, and bus parking fees. "Town staff has confirmed with regional staff that this form of payment can continue, and a gradual transition will occur to shift the cost to the tax bill. The cost will ultimately show on the tax bill as a separate levy."
Currently, the town pays $1.8 million in transit costs, or about $225 per household, councillors were told.
With recent enhancements to the town's on-demand service, the cost to the town will be increasing in 2022.
After a year-long pilot project, the region and the town moved forward in November with on-demand transit to serve the entire town of NOTL, giving more riders access to public transportation when travelling in the area. Two additional vehicles were added to the fleet, bringing the total vehicle count to four.
The service originally included just two vehicles providing trips along Niagara Stone Road, including only the Old Town, Virgil and Glendale.
NRT OnDemand ridership had been steadily increasing, particularly as Ontario moved through the various COVID-19 reopening stages, the region reported in November.
Other enhancements were added to the local system, with an option to pre-book trips up to 10 p.m. the night before the desired ride by using the NRT OnDemand Mobile app. Those without access to a smartphone can pre-book by phone.
The adult fare for trips within NOTL is currently $3, with connection to Niagara Region Transit conventional service at the transit hub at the Outlet Collection at Niagara, or the Glendale Campus of Niagara College, for a $6 fare.
Siscoe told councillors that as well as extra operating hours to be standardized across the region, which will mean 5,500 more hours a year in NOTL, the fare will be $3 to travel anywhere in the region.
"Residents going to the St. Catharines hospital or to a doctor in Niagara Falls will pay half the $6 it costs now," he said.
The extra hours of operation will occur in 2024, when the cost to NOTL taxpayers will jump to $2.7 million, covering the increase in service and inflation, he said.
If the system turns out to be underused, either the commission set up to govern regional transit or the town will be able to reduce the service and associated costs, Siscoe explained.
He told councillors the new consolidated transit system will be governed by a commission of 15 elected officials, and supporting the commission will be a public advisory board of 20 representatives of diverse sectors. NOTL and the other smaller municipalities will have one representative appointed to the commission, either a town or regional councillor, as well as one citizen appointee to represent the town on the advisory panel.
With the triple majority achieved, the commission's assumption of full operational control will occur on Jan. 1, 2023, Siscoe said.
Questions about the new system included Coun. Norm Arsenault asking whether it will be "nimble enough" to add ad hoc services when needed, potentially during the tourist season, from GO trains into NOTL to encourage visitors to use public transit rather than clogging Niagara Stone Road as they come into town.
Operating under a single commission, Siscoe said, will provide the ability to look at "a different approach to seasonal increases in transit" in both NOTL and Niagara Falls, and allow for an enhanced level of service "in tourist hotspots."
That could also hold true for a next step beyond on-demand service, with a community bus that would serve specific locations or corridors that might warrant a higher level of service, he said.