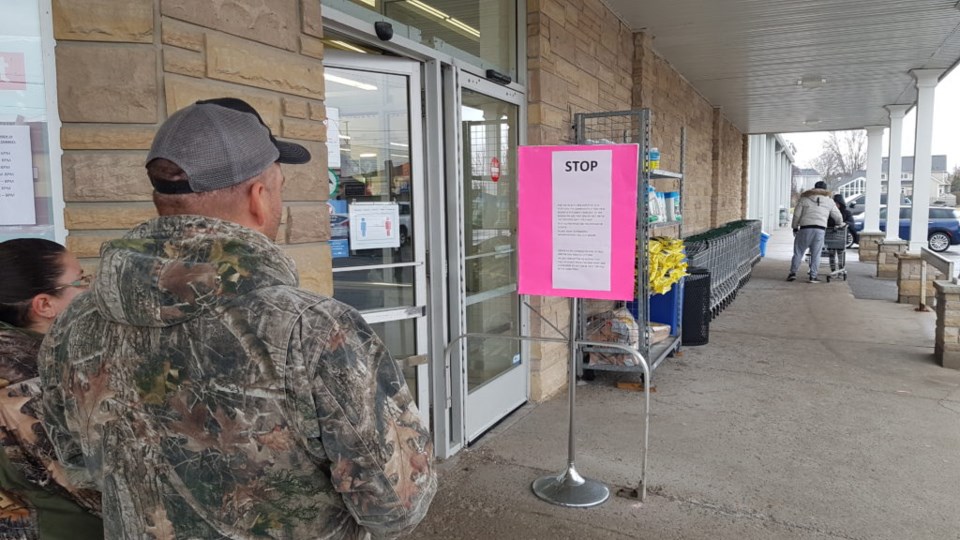 Normalcy seems to be returning to local grocery stores.
Phil Leboudec of Phil's valu-mart said Tuesday both online orders and shopping buggies are now at normal levels, with less indication of people stockpiling.
He says he's "baffled" by the number of people who are still coming in every day or every other day, but for some, it's likely a matter of routine.
A stop sign at the door still warns returning travellers and those with symptoms to go home, and in recent days, nobody has been turned away.
In the store, plexiglass has been installed to protect cashiers from the public. The store is no longer permitting reusable bags, hand baskets have been removed, and in the coming days, floor stickers and other markings will be installed to encourage physical distancing.
Leboudec says the shelves are being stocked after hours, again in the interest of safety, and while most items are available, some are in limited quantities, and are being limited to customers. Some staples, frozen foods, and of course toilet paper and hand sanitizers, are in short supply, and as fast as they come in, the shelves are emptied.
Most of the complaints he hears are from returning travellers ordering online or on the phone, and not being able to get what they want.
"They are self-isolating, and they don't really understand what's going on. They don't have a good grasp of the situation."
While he's heard comments of price-gouging, his stock remains at regular prices, he says. It may seem high to those who only shop for sale items, "but you're not going to see those items, such as toilet paper, on sale now. I don't think people know what the regular price of toilet paper is."
His decisions these days are not business decisions, he says, "they're people decisions."
They are made with the safety of his staff and their families paramount, and by keeping them safe, he is creating a "bubble of safety" for his customers as well, welcoming them to the store's safe environment.
With the number of customers in the store reduced, and the changes being made, his staff is coping better, he says, but they are still concerned about taking the virus home to their families.
And possibly nobody more than Leboudec.
"My whole life is different," he says. "I'm staying six feet away from the customers, and also from friends and family. Everybody." With his wife and two kids, aged 17 and 12, at home, he is being very cautious. When he gets home, he wipes off his car, takes off his coat and boots in the garage, removes his clothes and throws them in the washing machine, and heads straight to the shower.
"I don't go near anyone. I sanitize everywhere I've been. I interact with family but I keep my distance. I have to. There are no kisses good night."
It's taking its toll on the family, he says, especially his 12-year-old son, who is used to interacting with his dad.
Are they scared about catching the virus? "Of course they are. Everybody's scared. Anybody working in this environment is scared."
He's just grateful he's not living and working in Toronto, where the anxiety level is so much higher, he says.
"I'm really thankful to be here, in this community."
Leboudec, who easily sees more members of the public in a day than anyone else in town, says his message to people is "not to get complacent."
This is the new normal, he says, and it's important to keep it up. As many experts are predicting, he expects to see a spike in the number of COVID-19 cases in coming days from those who have returned home recently, and self-isolation is the only way to curb that spike.
"This is the only way to break the cycle. How long it takes is up to us."