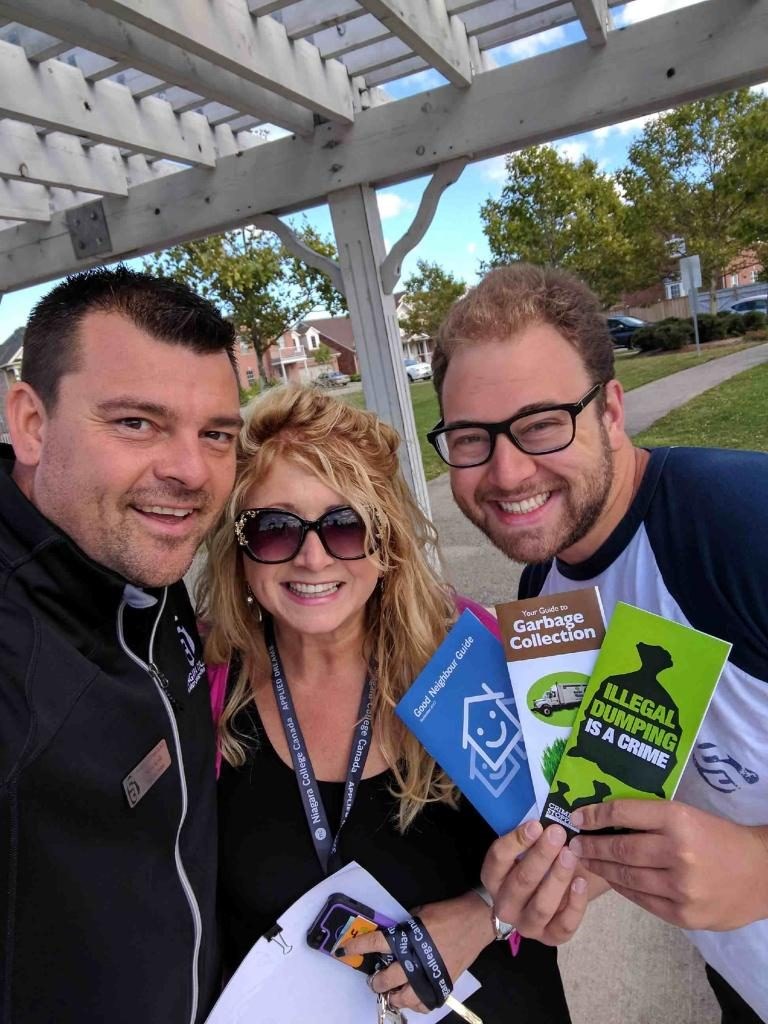 As Niagara College students pack up to move home, there have been some positive results in the interactions between them and their neighbourhood, says a member of the Glendale Task Force.
Niagara-on-the-Green resident Steve Hardaker says as the college term comes to an end, there have been "good improvements in student/neighbour relations."
The college "deserves a great deal of credit with this," he added, through the Town and Gown Committee, which most universities and colleges organize to provide a forum for finding solutions to challenges related to near-campus neighbourhoods and the community's relationship with students.
There has also been progress through the Glendale Task Force, which has representation from college staff and students.
Lianne Gagnon, director of student services at Niagara College, and the college's student administrative council have worked to improve students' understanding of being good neighbours, and both Gagnon and the head of the student group sit on the new Glendale Task Force, reconfigured by the current town council, to further improve relationships with residents.
Having student representatives on the task force, Gagnon said, is new, and something the students wanted. "They said, 'It's not about us, without us,'" she explained.
The Town and Gown committee, she said, which encourages students to be good neighbours, "is not just about looking at issues, it's also considering the benefits of having a university or college in your community."
The college publishes a Good Neighbours Guide for each of the Welland and Niagara-on-the-Lake campuses, encouraging students who live off-campus to be good neighbours, respect others' rights to enjoy their property; keep their yards tidy; keep noise to a minimum; party responsibly; talk to neighbours; and offer help if needed.
Gagnon, a resident of Niagara-on-the-Green, said she picks up garbage when she walks through her neighbourhood, and often meets students who offer to help.
In the fall, she talked to students about garbage, recycling, parking and town bylaws, and in May, when they move out and garbage can pile up, there is a neighbourhood cleanup, with students taking part.
"We want to show the neighbourhood students can be responsible citizens," she said.
"They are often blamed for litter, but it's not always them. We can all take responsibility for cleaning up."
The college is also offering the RentSmart program as part of a pilot project, free to students, to help them learn how to be good and responsible tenants. It's offered to landlords as well, to help them learn their role.
"I've taken it myself. It offers some really valuable information," said Gagnon.
Hardaker said educational materials on neighbourhood relations have gone a long way in providing useful information to both students and home owners.
One of his favourite initiatives is offered by the student administrative council at this time of year.
"It provides free garbage tags to departing students and helps to keep our neighbourhood cleaner," he said.
"It's the bag and tag program," explained Gagnon. Students who are moving out can go to the student council office to pick up garbage bags and the tags that allow them to put more than one bag at the curb.
"The program has proved really helpful," she said, "and students are always reminded about cleaning up when they move at the end of the term."
Another initiative, developed by the college to help Niagara-on-the-Green residents, is a partnership with the library.
"If residents take out books from the NOTL Public Library, they can return them at the college library. It's a service available to anyone eligible to take out books. It's really important to us to have good relations with residents, and we're doing anything we can to achieve that."
Some of the situations faced by residents, she said, are more due to absentee landlords than student behaviour, and students are not the only tenants. On-street parking issues are also not only caused by students, she added, and that's something the Town's task force is looking at.
She's pleased to be part of the task force, and impressed with its mandate. "I think there are going to be great strides made in the future," she said.