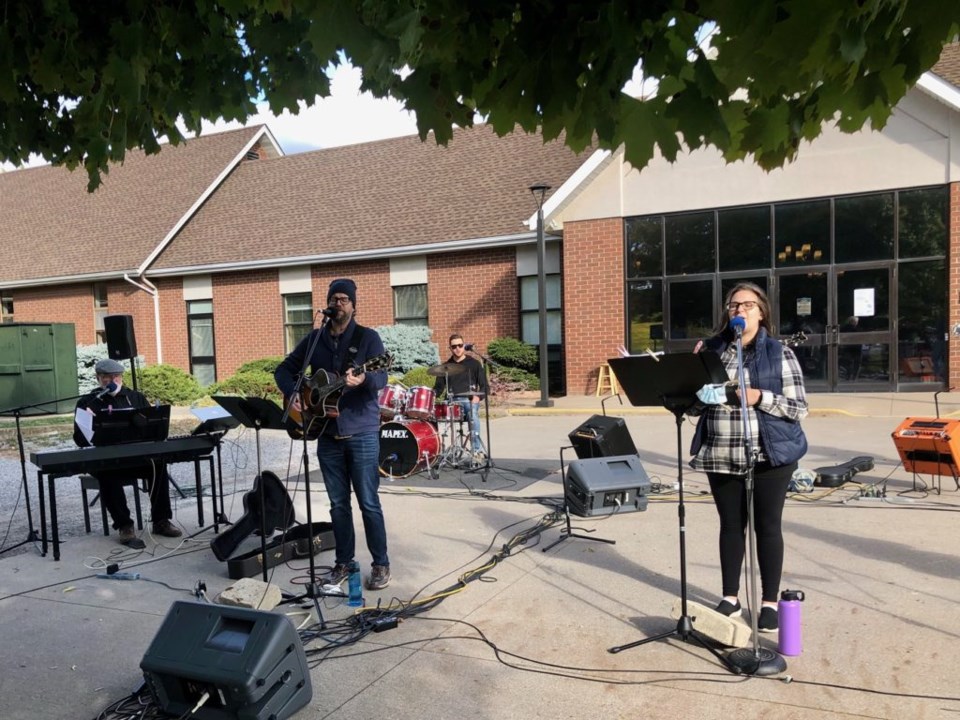 Niagara churches, shut down from in-person services in March, were permitted to re-open in mid-June.
In Niagara-on-the-Lake, many continued to hold only online services, which they had moved to out of necessity, others organized outdoor services, and some have invited their congregation to worship inside their churches once they felt they could do it safely.
Cornerstone Community Church, like most others, chose to continue online-only services while working out protocols to worship safely in person.
During the summer, the church moved to outdoor worship, using its Hunter Road property to allocate spaces for families to gather, remaining in their own circle while they enjoyed weekly Sunday morning services and the music that is so much a part of them.
But last Sunday morning, while a beautiful fall day, was a little too chilly, says lead pastor Kevin Bayne, and plans are being made to move safely inside for the first time this Sunday.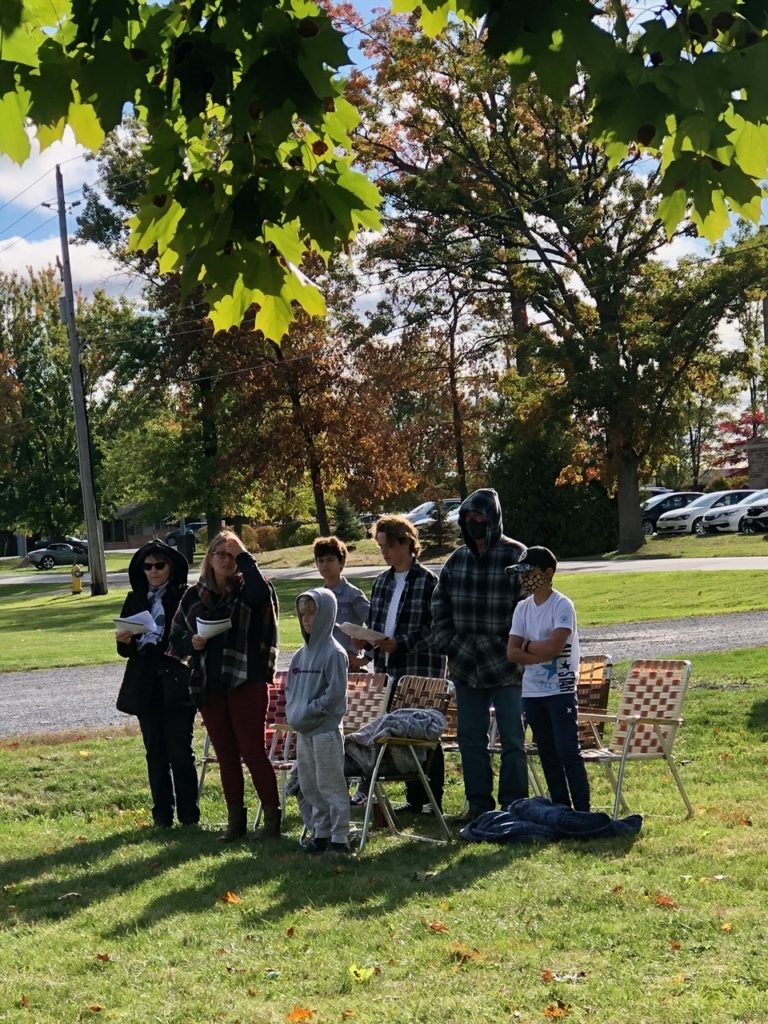 "We can't count on the weather any more," he says.
Families planning to attend are being asked to pre-register online, as they did for the outdoor services, and all protocols, from the Province and Region, will be followed.
Churches are permitted to fill their sanctuaries with up to 30 per cent of capacity, and Bayne says he believes they can do that at Cornerstone without turning people away.
Services continue to be livestreamed, and many parishioners are choosing to continue watching online, he says.
"We'll be at less than 30 per cent capacity with a cap of 150 people, and will meet or exceed every public health guideline."
Pre-COVID Sunday mornings would typically bring in 450 people, and up to 650 at Christmas and other special services, says Bayne, but he doesn't expect to get to those numbers.
"There are still people who are a little hesitant to gather inside. We'll keep our ear to the ground to see if that is changing."
If more people express interest in attending, he adds, "we can look at doing two services, with cleaning in between."
While some churches are choosing to eliminate singing, Cornerstone hasn't made that move — music is a big part of its service.
People leading the music are physically distancing, and indoors, will be on stage, he says.
Everyone else is in a "household group," distanced from other groups, and wearing masks.
"We may ask people to sing less forcefully," he says.
Cornerstone, like some other churches in the area, continues to broadcast to residents of Pleasant Manor, so they can watch their weekly church service on their television.
"A lot of Niagara-on-the-Lake churches are doing that," he says. "We have found most seniors are able to get it."
Most seniors have not been attending outdoor sessions, and instead participate in online services. "We've had a really good response from seniors," says Bayne.
"We've been livestreaming services for a couple of years now," he adds, and many seniors have family who have helped set them up with iPads so they can watch online.
When the pandemic closed churches, says Bayne, "online was seamless for us."
While parishioners are missing coffee time and socializing after church, he adds, he's noticed many families chatting after the service, keeping their distance and wearing masks. Socializing, however, "is certainly diminished."
Some small groups have continued gathering outside of church, he says.
Socializing is "part of the fabric of our faith community, and one of the things we're grieving as a loss. We're definitely looking forward to getting back to that."
However, he adds, out of necessity, "the pandemic has sparked a lot of creativity, and that is helping people through it."
The United Mennonite Church on Niagara Stone Road, or Red Brick Church as it's more often called, began holding indoor, in-person services since Sept. 13.
"We wanted to be cautious and develop a plan to get people in and out safely," says lead pastor Daniel Janzen.
Capacity of the church is "just shy of 300," he says, and right now they've capped their numbers at 50 "while we get our bearings. We haven't quite hit that number of 50. Many continue to watch it online."
Pre-COVID services would have attracted 80 to 90 people, says Janzen.
"We've had a mixed reaction from our seniors. Some of them are more comfortable with participating in events as a group, and have returned. Others are more cautious and continue to watch online."
The Red Brick Church is also streaming services to Pleasant Manor, he says.
"We are blessed to have Cogeco access to a time slot, so people can watch it on their regular Cogeco channel. And kids are helping their parents figure it out."
While most of their fellowship is outside, "it's getting a little more difficult as the days get cooler," he says.
"We're looking at different ways, such as through Zoom, to offer social time. In the meantime, we're thankful for looser restrictions that allow us to gather. It's wonderful to be able to gather again, while being very conscious of keeping people safe."
The church alternates Sundays for German and English services, and some people go to both, he says. They are encouraged to pre-register, but if they don't, they won't be turned away, as long as they don't exceed the cap.
Coun. Gary Burroughs, a long-time member of St. Mark's Anglican Church, was able to sit in the sanctuary, surrounded by parishioners, for the first time this Sunday.
It felt very different than pre-COVID, "but really good to be back."
Burroughs is accustomed to attending church alone — his wife Sarah prefers the mid-week service — but he has a group of people he traditionally sits with. That wasn't happening Sunday. He had friends around him, but at a distance.
"Normally I'd always be in the same seat, sitting with the same gang. This time, there were people around me, but there were only two people to a pew, in every other pew."
A crew of organizers have done a good job of ensuring services can be held safely, including seating people at a distance. "Everybody is really appreciative of the job they've done," he says.
Sunday was a "soft opening," with a cap on 50 people, "and it was terrific."
Typically there would be maybe 80 at a regular service, but some members are still not comfortable attending and are watching on YouTube, he says, which will continue.
One change organizers will look at for next week, Burroughs says, is allowing for family groups to sit together, staying in their own bubble.
There are no hymn books in sight, and singing is not allowed, although the organist plays and the minister, Rev. Peter Wall, "who has a really great voice," sang some hymns. Everyone else hums, says Burroughs.
Despite the changes, Burroughs said, "being back in church is a great feeling. Everyone is happy to be back, and feeling safe."
Regional Coun. Gary Zalepa, one of the volunteers who helped organize a safe reopening, agrees.
The committee "did a lot of great work to make people feel safe," he says.
About the same number of those who returned Sunday chose to watch it live online, he says, with 40 people attending in person, and 38 participating remotely Sunday morning.
"We've heard lots of comments from people looking forward to coming to church," he says. "Many have the appetite for getting back to seeing people, and others are not comfortable with that yet."
What really surprised him, however, was seeing 160 people have watched the service since, indicating not only is the St. Mark's congregation adjusting well to the changes brought on by COVID, the online availability is increasing the number of people who choose to experience the church service.
Zalepa was also doing the camera work for the online recording of the service, but feels the quality of the recording is lacking.
"I'll have to improve on that," he says. "There is so much we all have to learn during COVID."
St. Davids-Queenston United Church continues to offer online services only. They are recorded on Wednesday, uploaded to the churche's YouTube channel, then shared with the congregation for viewing "together while apart" on Sunday morning, says congregational and church board chair Steve Hardaker.
"We are averaging about 90 views a week."
The church has a committee working on the resumption of in-person worship meeting regularly, working on a plan to reintroduce indoor services. "At present, a date has not been mentioned, as we want to ensure our church is equipped and volunteers trained."
Julie Hunter, of St. Andrews Presbyterian Church, says Thanksgiving Sunday was their first in-person service since the start of the pandemic, with all the protocols in place to make the congregation as safe and comforted as possible.
They had 30 people in the church, allowing people in their bubbles to share boxes, but with some boxes and pews closed off. People were asked to reserve a space, and fill out forms with the "usual questions" about symptoms, contact with others and travelling, and the morning went "nice and smoothly," she says. "The feedback was good."
There is a door to enter and a door to exit, and circle stickers on the new carpet to indicate distancing and flow of traffic, says Hunter.
The maximum they're allowing at the moment is 40 people, testing it with a small number for now to ensure everyone feels comfortable, Hunter says.
"We have a retirement congregation, and a lot of people don't feel comfortable. They can watch it on Facebook or YouTube."
To be there in person, she adds, "feels like a little bit of normality."
It was nice to see the faces of church members again, and for Rev. Virginia Head to have people in the church to preach to, says Hunter.
There is no singing, but there is a "praise team" of three at the front of the church, and the organist to accompany them.
"Music and singing is such a huge part of the service. That part might take a while to get used to," she says.
In the meantime, as long as nothing changes on the provincial or local level, "we'll keep doing what we're doing."