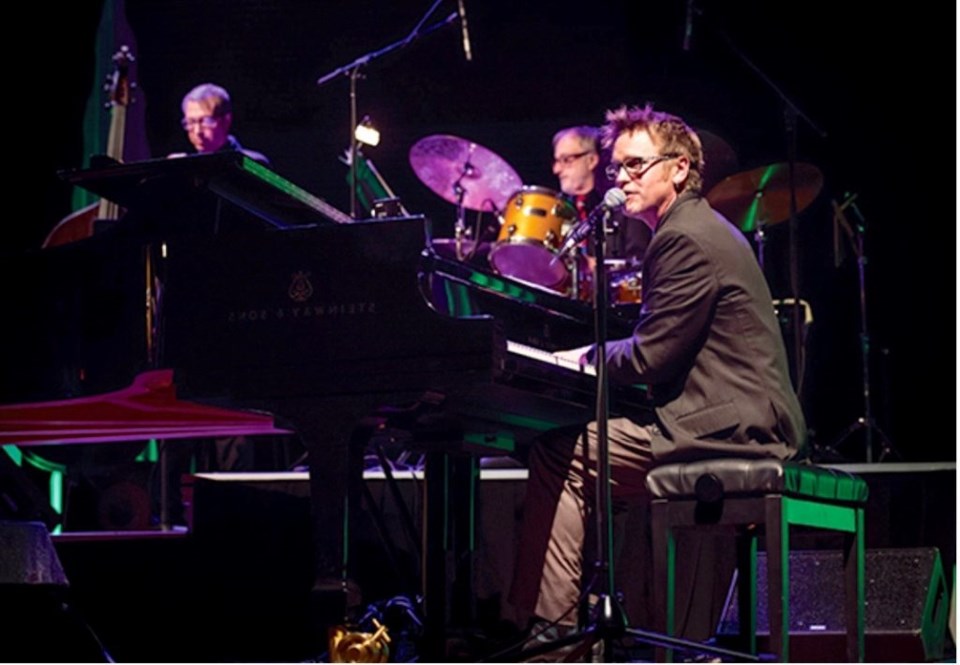 The TD Niagara Jazz Festival has brought its Twilight Jazz Series back to the Mahtay Cafe in St. Catharines, kicking it off with a Dec. 12 performance at the downtown venue by the John Neudorf Quartet.
But closer to home, Spirit in Niagara Distillery on Lakeshore Road becomes the host of the festival's new Jazz and Blooz Series, with a special launch show on Dec. 23.
That night, festival co-founder Peter Shea and well-known Niagara musician Doug Mundy will trade off time at the piano in a performance of the music of the beloved Charlie Brown's Christmas album.
Shea's partner Juliet Dunn played the official opening party at the distillery this fall. Having played owner Arnie Lepp's Christmas parties at Konzelmann Estate Winery in the past, Dunn had no idea when she was contacted that he had opened Spirit in Niagara.
She knew from the moment she walked in that it would be the ideal venue to host the series of seven shows programmed up to March
21, 2022.
"The first thing I saw was the label, it looked so Art Deco, you know, from the 1920s," says Dunn on the phone from her north St. Catharines home. "It's like a juke joint from back then. And it's accessible. With COVID, the bigger the space the better right now. And there's enough space to bring in one of the two grand pianos we have in our home studio."
The Kawai grand will be the centrepiece for the Christmas performance, as well as January Blues shows by Juno Award winner Julian Fauth and bassist Thomas Nelson, February's Spirit of Sax performance by Alistair Roberts, and the Dames in the Distillery sessions featuring Cheri Maracle, Betsy Tauro and Heather Bambrick.
This will be the sixth time for the Charlie Brown show for the TD Niagara Jazz Festival. It originated at the FirstOntario Performing Arts Centre, where they played Partridge Hall three times, and once in Robertson Hall. Last year, out of necessity, it took place online.
It's a popular event each season, to say the least. Who hasn't seen 1965's A Charlie Brown Christmas on television?
Try this - open Spotify, Apple Music, Deezer, or whatever streaming service you might use. Enter 'Linus and Lucy' in the search box and hit play.
As the opening piano riff takes hold, close your eyes and try not to picture Pigpen kicking up a storm of dust as he strums the bass strings, Schroeder hunched over his piano and Snoopy's facial expression and tapping toes as he plays guitar, while the other Peanuts characters dance to the rhythm.
It is one of the most iconic scenes in the history of animation. And the music is jazz, through and through.
"Some people, you ask them to come to a jazz concert, and they say they don't even like jazz," laughs Dunn. "But they love Charlie Brown. So that's what we love, is getting people to come out to see and hear The Music of Charlie Brown's Christmas for other reasons, nostalgia perhaps. But also educating them to not be afraid of the word jazz. Then they might come out to other shows."
For Shea, a pianist and drummer, spreading the word about Vince Guaraldi is a personal quest. When it's suggested that the jazz legend is known by most non-musicians as 'that Charlie Brown guy,' he agrees it's unfair.
"He was an incredible piano player," Shea says. "He was phenomenal in the bossanova scene back in the '60s. It's a shame that he doesn't get enough recognition for that. As long as I've got breath in my body I'm going to try to advocate for him, just to make sure people know how great a musician he was."
It's been a tough year for both Shea and Dunn, who continued to work tirelessly during the pandemic to keep the TD Niagara Jazz Festival alive via online performances and small, physically-distanced outdoor shows via their In Your Own Backyard series.
Shea is still recovering from a hip replacement he recently had, and he fought cancer last year, undergoing both chemotherapy and radiation. As well, the couple helped his father convalesce at their home after he underwent heart surgery, and Dunn lost her 51-year-old sister to cancer this September.
Dunn turned to Wellspring Niagara for counselling, and says the installation of a sauna at their home was instrumental in her staying positive. And of course, the music continues to play a huge role in keeping them grounded.
"Music is healing, it's wonderful," raves Shea. "It's keeping me really afloat to be able to play these gigs. It's really helping my mental health, and the mental health pulls the physical body along in tandem."
He's still not strong enough to play the entire show on Dec. 23, which is why fellow pianist Mundy will be joining him. They will be accompanied by Waterloo-area musicians Adam Bowman on drums and Tyler Wagler on bass. Dunn will step in on
vocals for Christmas Time is Here.
Opening the show with a short set will be Kyra Sophie Oszlai. The young, classically-trained pianist, one of the festival's 2021 Jazz 4 the Ages youth
winners, is a Grade 8 student at a Markham elementary school. She will play Beethoven's Für Elise (which is part of the Charlie Brown Christmas repertoire) as well as a few other numbers.
Tickets for the Dec. 23 performance include dinner at Spirit in Niagara. To reserve your seats, and for complete details on both the Jazz and Blooz and Twilight Jazz series, visit niagarajazzfestival.com.