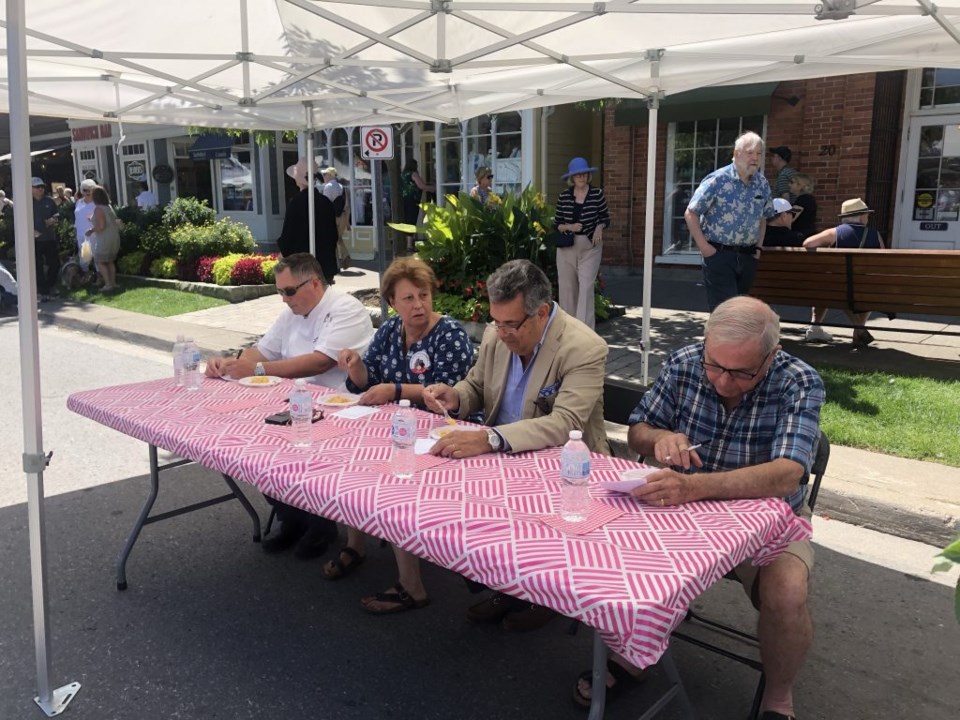 The Peach Celebration returns this year after a two-year absence, with more to celebrate than ever — it's the 30th annual event for Queen Street merchants and local growers to gather for the opportunity to recognize the harvest and the agricultural community.
Several local farmers will be on the main street, which is closed to traffic, to sell their peaches and also to engage with visitors, many of whom plan a trip to Niagara-on-the-Lake to coincide with the celebration.
"We're so excited it's finally back," says Nicole Cripps of the NOTL Chamber of Commerce, which organizes the event.
The celebration was created as a way for visitors and locals to connect with tender fruit growers, who are an important component of Niagara-on-the-Lake's agricultural industry, and to enjoy all kinds of peach delights — peach crepes, peach gelato and peach pie, of course —offered by local restaurants and
bakeries.
This year will be no exception, says Cripps.
Fritters on the Lake will be offering apple fitters with peach ice cream, and Cheese Secrets has come up with something different — raclette, which Cripps describes as a white cheese that is melted, and which will then be scraped onto grilled peaches.
More than 50 of the Queen Street merchants are participating in the sidewalk sale, moving merchandise outside on the street, which will be closed to traffic.
The steamed corn on the cob will be back, as will the peach pie contest.
Those who want to enter their tried and true peach pie should have it dropped off at the court House between 9 and 11 a.m. Saturday, with the pie-tasting beginning at noon.
Judges will be Chris Smythe, chef of the Prince of Wales Hotel, Lord Mayor Betty Disero, and Coun. Gary Burroughs, who has been judging since the pie contest was first held, says Cripps.
The day will also feature live music and entertainment throughout the day, beginning at 10 a.m. with the Fort George Fife and Drum Corps parading down the street. The Toronto All-Star Band will be back, as will the Caribbean Steel Band, Melodie Italiane, and the St.Catharines Pipe Band. The Ben Show will be back for kids.
Cripps says "it's going to be an amazing day, and an amazing turnout — everyone been looking forward to this for two years."
The Peach Celebration runs from 10 a.m. to 5 p.m., Saturday, Aug. 13, between Victoria Street and King Street.