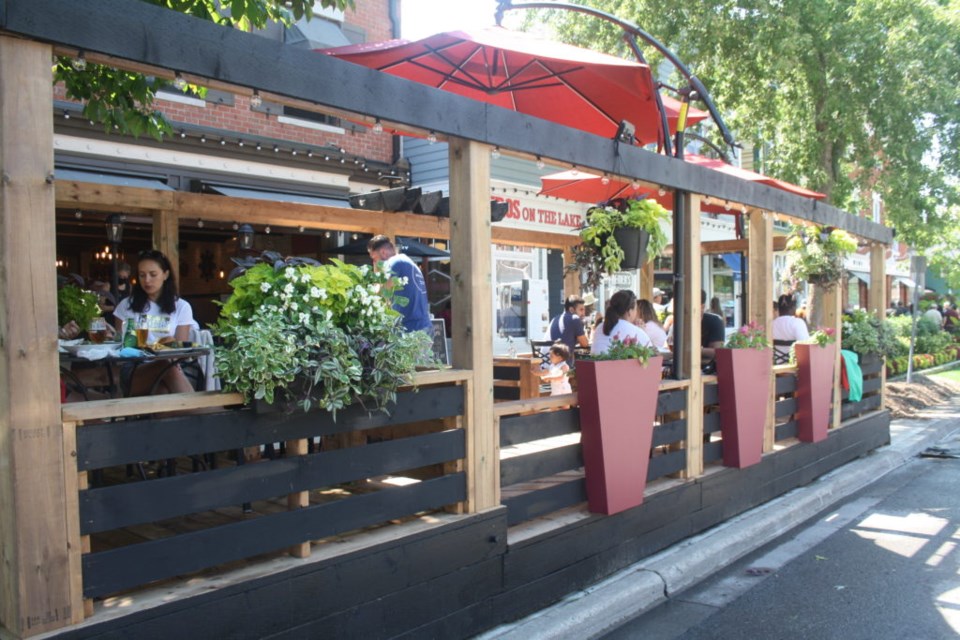 Three presentations to councillors Monday night from the tourism sector sent a clear message: local businesses need a strategy to get through the next stage of the pandemic recovery period, and they need to work with council and all community sectors to achieve success.
Eduardo Lafforgue, president and CEO of the Chamber of Commerce, was up first at the virtual council meeting, which included Janet Jones of the Bed and Breakfast Association and Andrea Kaiser, marketing director of Reif Estate Winery and chair of Wineries of Niagara-on-the-Lake.
Jones is chair of one of two new committees of the chamber, the NOTL Tourism Advisory Working Group (TAWG) and Kaiser was representing the chamber's marketing committee.
"Our wish is to have a productive and positive means to communicate with town council, so we hope this is a start," said Lafforgue to begin his presentation, one he had intended to make in March, but which was put off because of COVID.
He explained the two entities he represents, the NOTL Chamber of Commerce, the community's leading business advocate, and Tourism NOTL, a destination marketing organization and subsidiary of the chamber, which is committed to the promotion, responsible growth and sustainability of tourism in NOTL.
"The Chamber and Tourism NOTL are not the official opposition, nor a dependency or agency of the Town," he said.
Since the start of the pandemic, the chamber has cancelled all events and sponsorships, revenue is down 78 per cent, and memberships were not invoiced for four months, "as many of our members can't afford it," he said.
Despite the office closure and reduction in staff during the pandemic, the chamber has been busy with a recovery plan and guide that follows provincial guidelines, and has ensured information and resources are available free to all, members or not. "We are communicating to over 1,200 businesses in town three times per week with updates and have not required them to be a member," he said.
The chamber is developing a tourism strategy, one that Lafforgue hopes the Town will support, that includes objectives such as preserving a brand; creating a demand for all seasons; balancing day trips and overnight stays; increasing visitor spending; improving and assuring quality throughout what he calls the "tourism value chain," which includes all NOTL businesses and organizations; building pride and demanding benefits for the community; business development and investment attraction; and contributing to economic, social and environmental sustainability.
Coun. Gary Burroughs said he was glad to see the objectives outlined, but added "it's hard to know what post-COVID looks like. I'm a little surprised we're developing a strategy before we know what the world is going to look like."
The objectives were discussed before the pandemic, Lafforgue explained, but it's important to prepare for the future, remaining "extremely flexible," while letting both council and the community at large know what the chamber is planning.
When asked by Coun. Clare Cameron about the combined tourism-related experience of the Tourism NOTL committee members, Lafforgue said he is in his 33rd year, but adding up all the people in the various groups, he guessed at about "a century and a half," a ballpark estimate Jones later said she thought was low.
Cameron also asked how residents of NOTL benefit from the operation of Tourism NOTL. "We have a lean budget and lean resources," said Lafforgue, while providing events locals enjoy, such as the Peach Celebration, Shades of Summer and other dinners and events organized by the chamber — events unfortunately cancelled this year, but he hopes will be back for 2021. Cameron also asked if, in 2020, NOTL is facing overtourism. Numbers are "extremely bad," he said, with only two hotels open although more are opening this weekend, the border is closed, buses aren't coming, and the Shaw Festival is also closed.
"We see a change in demographics, with younger people coming," he said, but the numbers are "far, far away" from those of the past. While success looks like 30 per cent at the moment, "if we can get to 40 per cent, we'll feel blessed," he said.
He also explained the importance of collaboration with the Town and all stakeholders during the process to be successful, "from the beginning. If it's not there at the beginning, you can't add it later."
Addressing marketing NOTL as a destination, Kaiser told councillors the town is on the road to recovery, but "the path is slow."
Tourism NOTL is launching a marketing campaign "that speaks to the insecurities that Canadians are feeling in travelling in these uncertain times," she said, with a three-month campaign which was launched Aug. 1, and allows for any necessary adjustments to messaging during September and October.
The goals are to increase day trips for wine and culinary experiences, shopping and theatre (when it's available), and increase overnight stays, she said.
Coun. Wendy Cheropita asked Kaiser what NOTL was like "before we had the value of tourism," and having had the benefit of seeing the town evolve, Kaiser said, "I feel we've come full circle talking about a tourism strategy similar to a conversation years ago." What is exciting to her, she said, is the opportunity for young people to live, stay and work in the community.
She shops the main street regularly, and loves going downtown. Seeing local merchants and visiting her favourite bakery "to me is what NOTL is."
During pandemic it was sad to see the street empty, and it made her think "this is what it used to be like. We have to be careful what we wish for." She also cautioned the use of the word "overtourism," which can mean different things to different people, and instead encouraged thinking about sustainable tourism, which includes the three pillars of environment, community and economy, which have to be in balance, and need to be addressed during tourism strategy discussions.
Although demographics are changing and the town is seeing younger visitors, she says she doesn't believe that's long-term, that young people are more comfortable travelling now, and are enjoying experiences. They provide an opportunity for marketing, but the older, Shaw Festival patrons, who also spend more while they're in town, will return, she believes.
Jones explained she was representing the new NOTL Tourism Advisory Working Group, an independent group falling under the umbrella of the Chamber that represents all segments of tourism and all segments of the community affected by tourism. Members of the group have the expertise to find solutions to the challenges NOTL is facing, she said.
Jones is running her B&B at less than 20 per cent than last year, and "if I'm lucky I will hit 30 per cent at the end of the year."
Although "we don't have a clue what will happen in the next two or three months," the strategies and planning need to take place now for short-term recovery, she said.
"One of things that has been deeply disturbing to me, is the sense of discourse I feel in our community. There's a seemingly fair amount conflict between interest groups, everyone is out to win, and there are unacceptable references to racism and prejudice," references that suggest there are only "certain kinds of visitors" needed in NOTL, and are "deeply disturbing."
Success for all segments of the community won't come from fighting each other, she said, suggesting a professional, independent facilitator would help "keep our opinions on the table in a civilized, collaborative way," so that at the end of it "everybody buys into it and we all win. We have to commit to bringing everybody to the table."
Discussions could halt Virgil skateboard park
Coun. Clare Cameron says she loves the sound of kids having fun, she would like to see them able to make noise freely on the new skateboard park under construction in the Virgil Sports Park.
She thinks the skatepark will be a wonderful addition for the town, and in her mind, the heated discussion that followed a concern she introduced "is not, from my perspective, about whether or not we should have a skateboard park. The issue is location."
It's construction is well underway, and halting it is a suggestion she is not taking lightly, but as she explained to councillors Monday, if it's in the wrong location, stopping it now is better than continuing, and ending up too late with a "boondoggle" that will impact neighbours.
She has two concerns, she says, the impact on nearby homes, and the proximity to the pavilion, where families sometimes sit to enjoy a picnic, or may rent for a family gathering, and the nearby baseball diamond.
She has heard from residents who are concerned about the noise, she says, "and kids should have the freedom to have fun."
But also of concern to her is the process of deciding the details of the park, and the location.
The previous council approved $150,000 in its 2018 budget, which was also included in this year's budget, and the Virgil Business Association has donated $150,000 toward the $300,000 cost of the park.
But she doesn't recall, and can find no record of, this council ever discussing or approving the location of a "significant community facility," one she believes has changed since earlier discussions.
There have been public discussions on Join the Conversation, on the Town's website, open houses and "informal" reports about the park, but to her knowledge, never a formal report, discussion or a vote at council, the proper forum for making such decisions.
Other communities have gone through extensive processes of information-gathering to ensure skatepark locations are safe, she says, and the impact on nearby residents.
"I'm trying to ensure all residents are heard." She is making a motion to get that discussion underway at the Aug. 24 council meeting, and she understands it may not be well-received. The point was made that there were opportunities for residents and councillors who have a problem with the location to state their concerns at an appropriate time for discussion.
Interim CAO Sheldon Randall says he wouldn't recommend "putting the brakes" on the project, as Cameron is suggesting, and that there would be damages to the Town if they do, but it's council's decision if they wish to do so.
"To be honest, I'm shocked if councillors weren't aware of what's going on," although other councillors are aware, Randall says.
To councillors who say "you didn't know, it's ridiculous," says Coun. Erwin Wiens.
Couns. John Wiens, Gary Burroughs and Wendy Cheropita all supported Cameron's request to put the project on hold for further discussion.
Phil Leboudec is a member of the VBA, but not speaking for the VBA, when he states his opposition to reopening the discussion, which began almost 10 years ago when the Town wanted the existing skateboard park moved to expand the operation yard.
He clarifies the skateboard park is a Town project that the VBA is helping to fund — it's not a VBA project. The location chosen in the sports park is about as far away from any homes as it could be and still be in the park, he says, in the corral where the mud run and demolition derby, Virgil Stampede events, were held. That was the chosen location from the earliest days, although there have been other sites discussed and discarded, he says, because they were even closer to homes on the perimeter of the park.
"You live in the park, and you complain about noise from kids in the park?," he questions. "There are no lights proposed for the area, there is no provision for keeping it open after dusk."
As someone who has worked hard at stampede fundraising events for years, Leboudec said he was blindsided by the discussion at council Monday, taken completely caught off-guard. "It doesn't make sense, people complaining about kids doing sports in a sports park."
Cameron was told Monday that by the time the Aug. 24 discussion occurs, the skateboard park could be finished, but she says her motion will include considering halting the project.
Decisions of such importance should not be made based on public input through Join the Conversation, she says. "If we're going to spend $300,000, of Town and VBA funds, let's get it right. It's expensive, and it's important to the community."