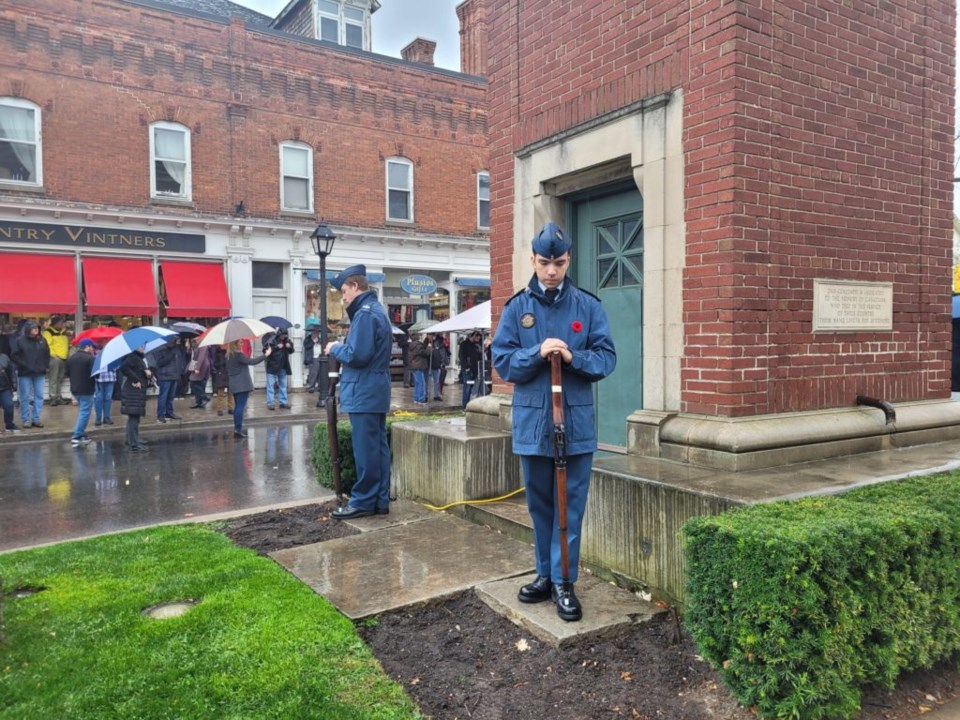 Air cadets stand vigil at the cenotaph during the remebrance day service on queen street friday
Last Thursday I went to visit the 809 Air Cadet Squadron at the Royal Canadian Legion Branch 124 as they were getting ready for the Remembrance Day Vigil and Ceremony.
They were busy practising their drills in preparation for Friday morning. The squadron has a sleepover at the Legion as cadets get ready for the vigil that starts early in the morning of Nov. 11.
The air cadets were looking forward to the morning vigil, completing the rifle drill, the parade, and showing the community that the new and younger generation care about Remembrance Day. The most important parts of the ceremony for the cadets, they agreed, were standing at and by the cenotaphs, laying the poppy wreath, and the moments of silence to reflect on what Remembrance Day means.
Taking part in Remembrance Day was important to the cadets, they said, because it enabled them to show respect and honour those who made the ultimate sacrifice so we can have freedom. They also thought Remembrance Day gave them an opportunity to show a special appreciation to all those who have served and those who still serve, and that attending the service is something small everyone can do to show remembrance.
I asked several cadets what Remembrance Day meant to them personally, and some of the answers were:
"Remembering the lives lost and the sacrifices made."
"Remembering others who have fallen during war."
"Remembering those who fought for us."
"Remembering the cost of war and the benefits we reap today."
"Remembering all those who have laid down their lives for the greater good."
"Remembering and honouring the sacrifices that people make on the home front and overseas."
I didn't get long to spend with the cadets, but I could see they were proud to be part of the 809 squadron, they were committed to getting ready for the Nov. 11 ceremony, and to doing their very best on Remembrance Day.
"I'm really proud of the effort put in by the cadets of 809 squadron for this year's Remembrance Day parades at both Old Town and Queenston," said Lt. Dan Couroux after the ceremonies. "We had 15 cadets participate as both an honour guard and a marching contingent. Even though the weather wasn't the best, they persevered through it to honour Canada's fallen."
"The relationship we have with 124 Branch of the Royal Canadian Legion is important to our unit," he added. "It was our privilege to stand by them in remembrance."
Thank you to squadron 809 for the respect and dedication you showed on Remembrance Day, especially in the pouring rain!
For more information about the squadron visit https://809cadets.ca.
Ben Foster is an Eden High School co-op student at The Local.