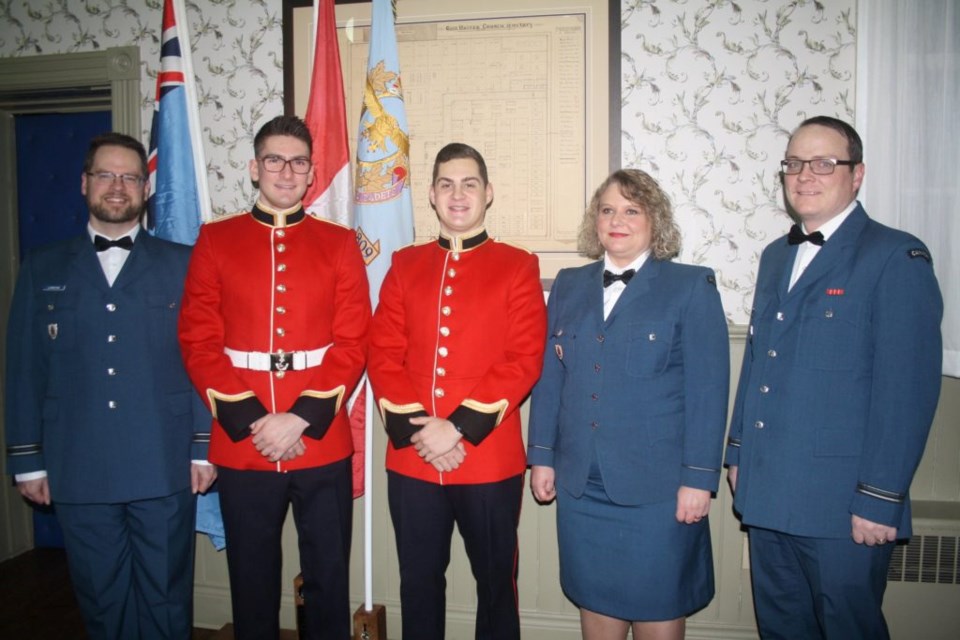 Two distinguished visitors dropped in to Grace United Church to join the air cadets at their Christmas dinner Wednesday — graduates of the program who have gone on to attend Royal Military College.
Both are hoping for careers in the armed forces, and they're on the road to fulfilling their goals, thanks in part to the skills they learned as members of the 809 Newark Squadron of the Royal Canadian Air Cadets, based in Niagara-on-the-Lake.
Naval Officer Cadet Nathan Zalepa is home for Christmas from his first year of military training at RMC Saint-Jean, in Quebec. He is pursuing a Bachelor of Arts, studying military and strategic studies.
His interest lies in the history of past wars in which Canada has been involved, he said, and the strategies employed by Canadians at war.
He hopes to work in international affairs — he has his eye on CSIS, the Canadian Security Intelligence Service.
He spent six years as a member of the local cadet squadron, from the age of 12 to 18. That experience and the skills he learned "opened the door to opportunities that helped lead to this," he said, of his acceptance to RMC.
Although it's a tough program that keeps him busy with academic and military studies, "it's also very rewarding," he said, knowing it's helping him work toward achieving his goals.
Officer Cadet Luca Lavoie is in his second year of RMC in Kingston. He is studying history, and has a special interest in armoured tanks in warfare — he hopes to become qualified to serve in that capacity, he said.
Being a member of the cadet squadron helped pave his way to RMC by teaching him leadership qualities, physical fitness and other skills, he said. He didn't join expecting he'd follow a path to a military career, but it began to interest him early on and after graduating from Holy Cross Secondary School, he started on the long process to admission, which includes several interviews and tests to qualify. He's finding RMC a challenge, tough but fun, he said, especially the camaraderie amongst officer cadets.
Although the local squadron is proud of its graduates, says volunteer Gary Zalepa Jr., the program is not intended as preparation for the military.
It does however teach important skills that are valuable to those who take part in the well-rounded program, no matter what their future goals may be. One Zalepa finds particularly valuable is effective public speaking — regardless of their chosen course, it's a skill that will stay with young cadets as they go through life, he said.
Cadets and volunteers are gearing up now for one of their major fundraisers that helps support the program: a bottle drive. It's traditionally held twice a year, and the next one is scheduled for Jan. 12 from 9 a.m. to 3 p.m. It's a good way to get rid of bottles that may have piled up over the holidays, and help out youngsters as they pursue some of the courses and camps offered by the air cadet organization.
Bottles can be put out on porches in the Old Town before 9 a.m. to be picked up, otherwise residents may drop them off before that date at 901 East and West Line, or at VanNoort Greenhouses at the corner of Four Mile Creek Road and Hunter Road.