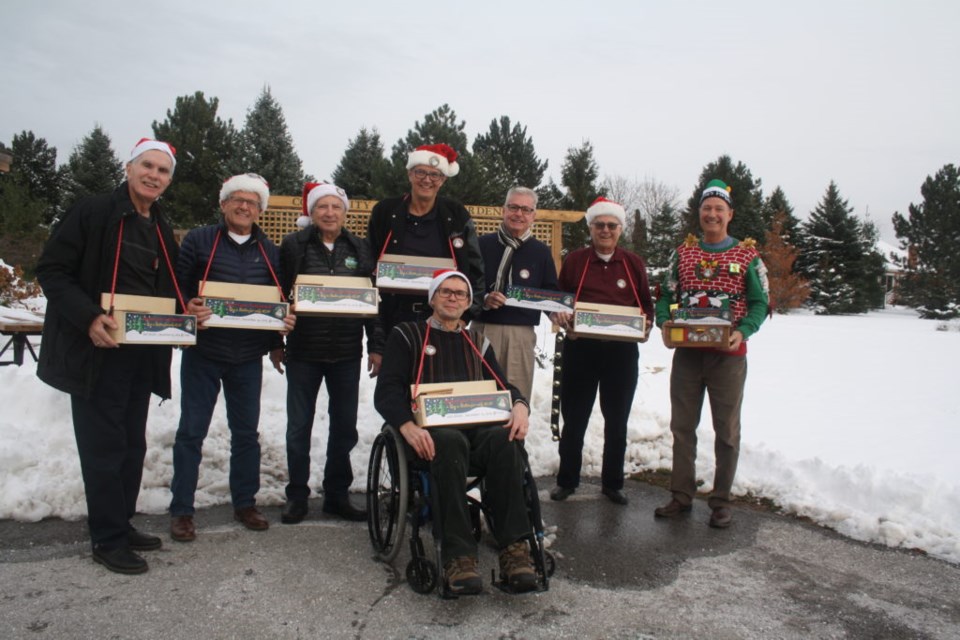 An annual tradition supporting the Niagara-on-the-Lake Christmas Parade is underway.
Local stores are currently selling parade buttons, designed by a local artist, for a minimum $2 donation.
The men from the subcommittee of Christmas Parade organizers say "minimum," because they often receive much larger donations in the boxes that hold the buttons, and occasionally have someone put a quarter or less in the slot.
"On parade day, people just hand us money, sometimes $10 or $20," says Gerry Brand, one of the committee members.
While there are boxes in many stores in town, the men will be out in two busy locations in town, Phil's valu-mart in Virgil, and Penner's Building Centre, on Saturday, Nov. 30, selling the buttons themselves.
But the big blitz comes the day of the parade, this year, Saturday, Dec. 14, when they usually sell out.
In past years, buttons have been designed by renowned local artists such as Angie Strauss, Trisha Romance and Tanya Jean Peterson, but recently the committee has worked with the Niagara Pumphouse Arts Centre to choose a design submitted by a local artist.
This year, the design selected was by Lauren Bosch, a visual arts student at Brock University.
She spent a summer working at the Niagara Pumphouse Arts Centre, and learned about the design competition. "I drew something up and sent it to the Town," she said.
It's a slightly stylized drawing of Santa, and will be another collector's item for those who have collected all of the parade buttons, says Strecker.
But for those who didn't think of that a decade ago, he adds, "it's never too late to start a collection."
The money donated from button sales pays for the transportation costs of the bands, and other costs, next year. There are residents who also donate to the parade, some of them every year, Strecker says.
Next year, committee members hope to have a new sleigh for Santa — the current one is tired-looking, and a new one has been designed. Button donations will help to finance the new sleigh for Santa's float.
Bob Cheriton, parade organizer, says all the bands have been booked, and entry applications are being accepted for the parade, with a deadline of Nov. 30. Visit notl.org for the application form and also for a PDF of the parade route.