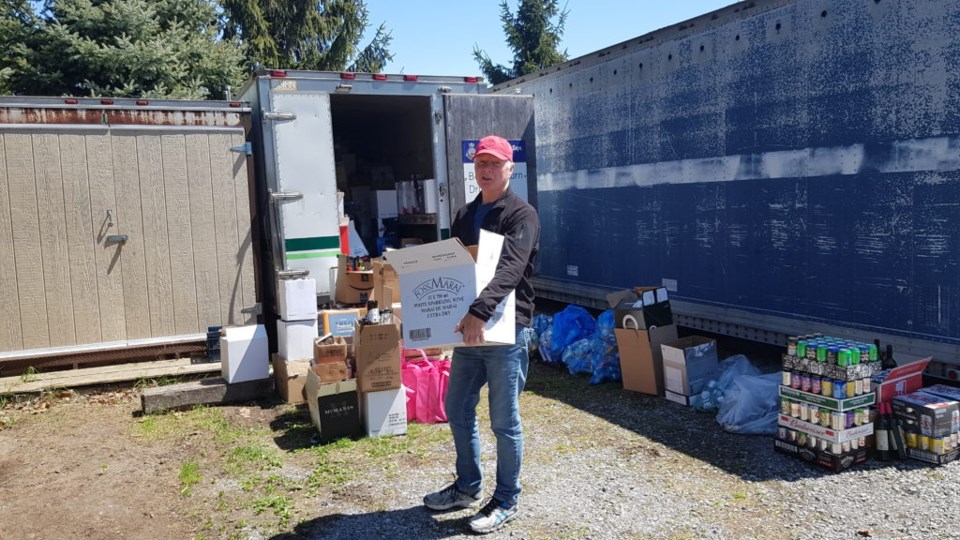 Scott Ruttan has the perfect set-up to help out local cadets in their bottle collection fundraiser.
The owner of J&S Performance has a large, visible property on East and West Line, at Niagara Stone Road, busy at this time of year with sales and service of mower equipment. But one corner of the property is also busy with locals dropping off bottles and cans that represent a significant amount of cash for the 809 Newark Royal Canadian Air Cadet Squadron.
About 15 years ago, when his son Jeff was a cadet, Ruttan came up with the idea of a bottle drive as a fundraiser.
"We were always looking for a way to make money," he says. The collection involved parents and cadets picking up bottles around town, and the first time, collecting $1,800 for the squadron. The next year there were two drives, and that has continued every year since, with one the Saturday after New Year's Day to take advantage of the holiday empties, the second the first Saturday after Labour Day.
Last week was intended to be the first bottle drive in the Virgil area, he says, but that was cancelled due to COVID-19. Some people seem to be confused about the drop-off also being cancelled, he adds, but that is ongoing, year-round, and is turning out to be a good add-on to the drives, which make about $4,000 to $4,500 each time, and "go a long way towards running the cadet programs," says Ruttan.
While he is no longer part of the cadet squadron, others over the years have taken it over while their kids were involved, including Tony Hendriks, the Van Noorts of Van Noort Florists, and now Cory Abt.
The Van Noorts donated a large trailer, which sits year-round on the J&S property. Bottles and cans are sorted at the Ruttans and Van Noorts, and now the The Beer Store sends a truck to pick them up, says Ruttan.
"Over the years, the money raised has given the cadets a lot of opportunities for field training, and for March Break trips."
The bottle collection site is at 901 East and West Line. Look for the J&S Performance sign. The business and bottle drive are open, adhering to provincial COVID-19 protocols.