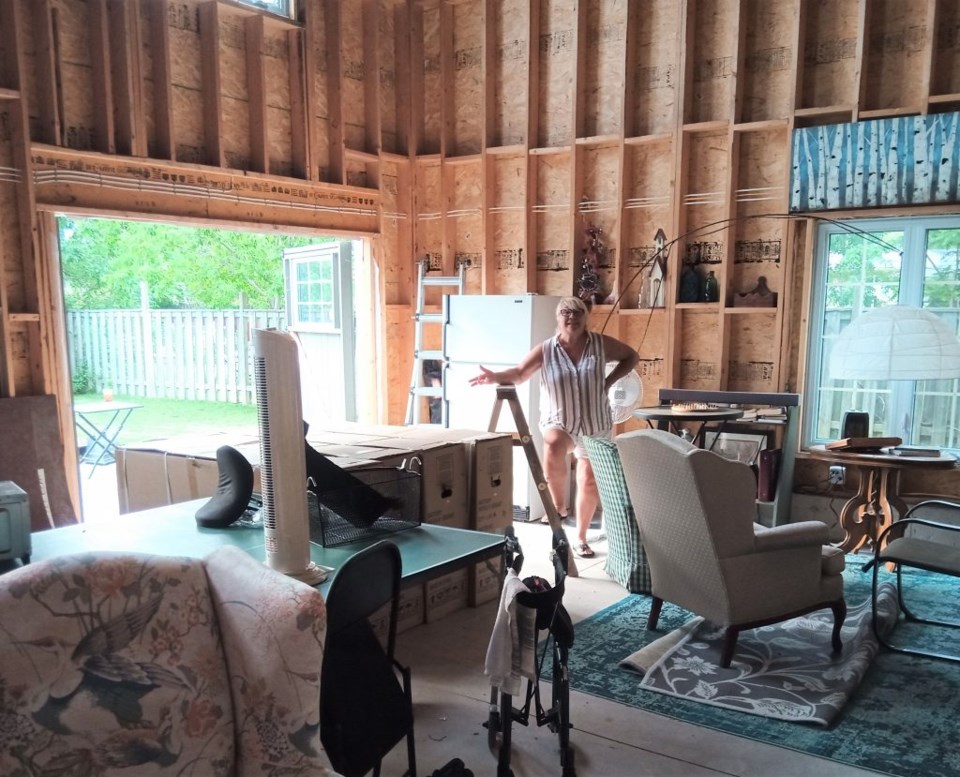 Owners of a Dorchester Street bed and breakfast now finally understand the details of why they were denied their licence to operate it.
They have discovered it was due to a complaint made by Dan Williams, Lord Mayor Betty Disero's husband. They share a side property line with Jennifer Elliott and Colin Telfer, who have two rooms in their home they had been renting as a bed and breakfast, until their licence renewal was unexpectedly denied.
After four successful seasons with their B&B, they ran into trouble when their home required new inspections by a bylaw officer and a fire inspector for a 2020 licence renewal. When they reapplied, Elliott told The Local for an article that was published in June 2021, a bylaw officer came by and inspected the rooms, the facilities in their home, and did a visual inspection of the outside of the home and garage, which was new. Elliott says she was given a verbal confirmation that the inspection had been successfully completed and no changes were required, with the exception of relocating smoke alarms and buying a new fire extinguisher, which they did.
But the couple never did get that licence, based on a complaint that had been made about their new garage by a neighbour, although at the time the town would not divulge the name of the neighbour. Elliott was then told the garage needed to be inspected. She believed a neighbour had complained that they were living in their garage, even though the garage was unfinished, and divided into three bays, with a car in one, tools and a workbench in a second bay, and another section, also unfinished, that Jennifer called her 'she-shed.' It was furnished with a used sofa with the stuffing coming out of it, and a second-hand pool table she thought the grandkids might use when they visit, she said.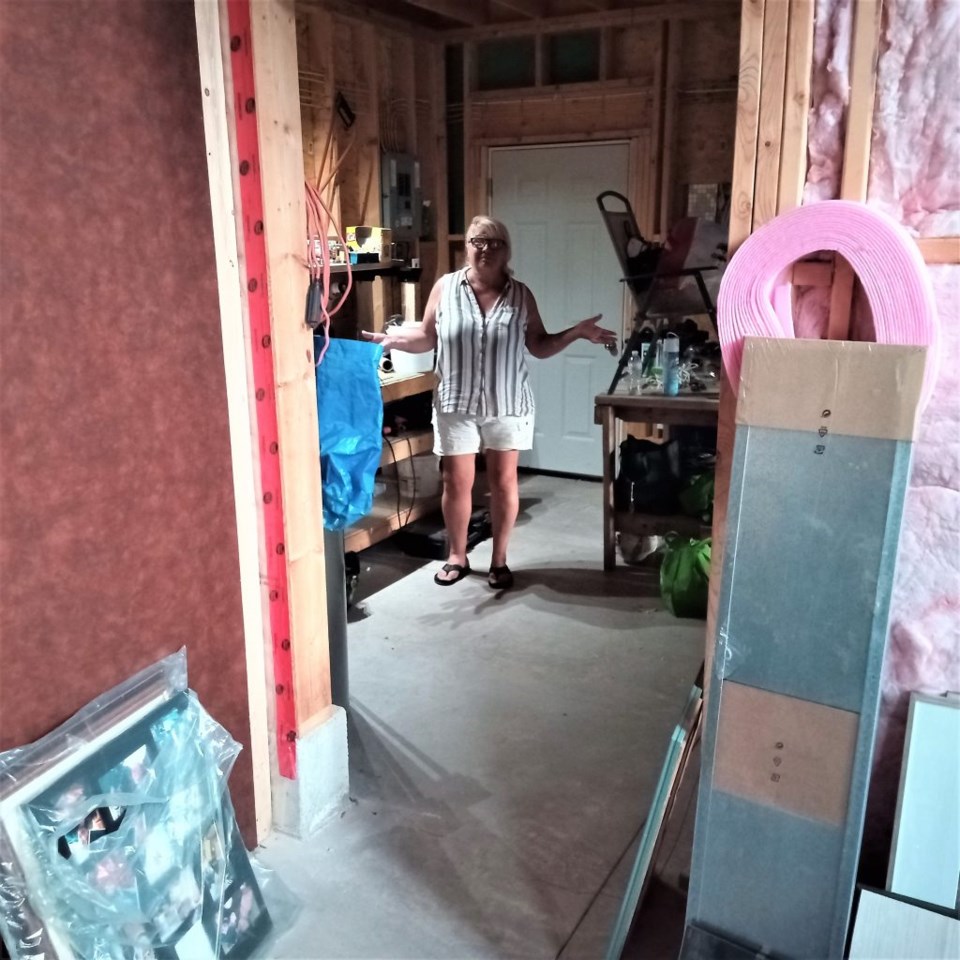 "Everyone knows we don't live in our garage," Elliott said, adding she felt the complaint was malicious, and Telfer, a former police officer, said the bylaw officer had no legal reason to inspect their garage, so on principle, they said no to the inspection.
In the town's response to the law suit, dated July 21, 2021, a member of staff confirms that they don't usually release the name of a person who makes a complaint to the town, to respect their privacy and prevent retaliation, but in this case, the individual who filed the complaint "has provided his consent to release his name."
Williams, the town's response said, had lodged the complaint after reading Elliott's Facebook post that said one of the garage bays "is/will be open concept living space." A screenshot of the post accompanied the
complaint.
The town's response also says an inspection of the garage, which was refused, "was/is required to determine the merit of the complaint," as well as whether Elliott and Telfer were in compliance with the relevant bylaw, and that Elliott was advised in July 2020 the inspection was necessary for zoning issues. When a bylaw inspector went to the house to ask to inspect the garage, Telfer said a warrant was required, and that they were using the garage as a "man cave."
What followed was an eight-month series of emails and letters, said Elliott, including hiring a lawyer who wrote to the town on their behalf requesting their B&B licence be issued. Telfer and Elliott continued to believe the town was being used by a disgruntled neighbour, not thinking it was Williams who had made the complaint. Last summer, in an effort to resolve the issue, Elliott said she wrote a letter to the lord mayor and town councillors asking them to intervene, but she received no response, and still no licence was granted.
When asked about the complaint by The Local last summer, Lord Mayor Betty Disero said she knew the garage was being built, and that after receiving Elliott's letter, believed there to be a problem between them and a neighbour.
It was then that Elliott and Telfer decided to seek answers and a monetary settlement through the court system, suing the town for damages.
Disero told The Local in June, 2021 that she and council members are told by the planning department not to intervene for people with legal disputes. If they do, she said, in an effort to help, it could end up being a problem for the town should the issue go to court.
Elliott said she lost out on about $20,000 in revenue from that first season when they were not given a licence, and since then, she has not reapplied. She said they have also spent more than $40,000 on legal fees, which is why she is asking for damages. The court case has not been heard yet.
This week Elliott posted a letter addressed to Disero on social media saying Williams was the person who lodged the complaint.
Once the town knew about the issue, says Elliott, "the matter should have gone before council, and you (Disero) should have declared a conflict." Instead the town, after refusing to issue a B&B renewal because of the complaint, at first denied the complaint even existed, Elliott said, by explaining it was just a matter of a necessary inspection. "This denial continued for many months," she said, until she learned there was a complaint, with Williams behind it.
Elliott says she decided to write the recent letter posted on social media, and send it to councillors and Disero, when she realized councillors had not been made aware of the situation or given a chance to discuss it.
"The town should have made a full disclosure, given me an apology, my B&B renewal, a couple of thousand dollars for our legal fees up to that point, and requested a full police investigation, which is still desperately required," says Elliott in her letter. "Since all this information is a matter of public record, I have chosen to make this letter public, hoping it may encourage you (Disero) to not ignore my concerns, as you did when this fiasco began."
Disero, in a statement to The Local Tuesday, said "I have no details about a lawsuit." 
"I take the oath of office very seriously and act in a professional manner in service to my community. I have never used my office of Lord Mayor for my personal advantage. And for me to comment on the substance of their allegations would be to do what I am accused of and what I completely deny doing. I am duty bound not to take advantage of information I have only because of my office of Lord Mayor to my personal advantage.
"I will give you my own straightforward answers – I have acted with integrity; I have not sought to influence town employees for my personal advantage; I have not acted in a way that would give rise to a conflict of interest, bad faith, or undue influence. I have certainly not acted in a way that is illegal or improper."
Williams told The Local the complaint was not made anonymously — he signed it when he sent it to the town.
He said it was the Facebook post that made him decide to lodge the complaint and "that led me to believe they had an apartment" in the garage, and forward those comments to the town.
"I did it on my own," he said, when asked whether Disero knew he was making the complaint.
Disero did find out eventually from the town that he had filed the complaint, he said, and he did hear that Elliott and Telfer had followed up on it.
"I didn't really think it was a big deal," he said. He believed he had a legitimate complaint, that the garage was five feet from the property line, and has to be 20 feet if someone is living in it, "and it just got twisted up," he said. "It got blown out of proportion."
No charges were laid and none of the allegations have been proven in court.