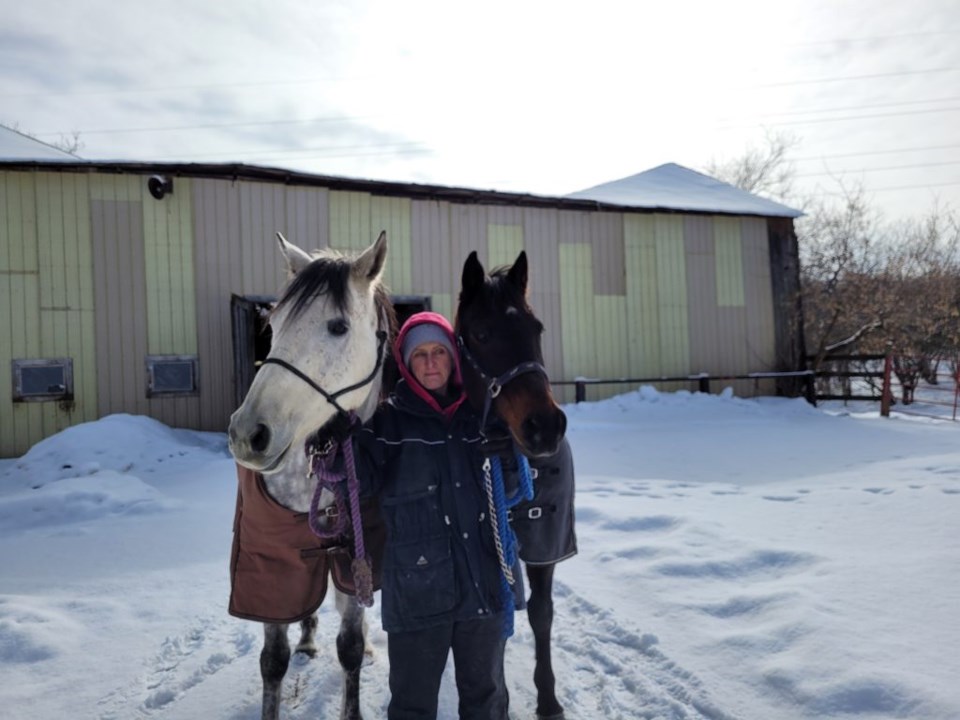 Dinah McGibbon can't remember a time when she didn't love horses.
Her parents established Niagara Riding Stables on Warner Road in 1962, and growing up, she was always surrounded by horses, and learned how to ride at an early age.
She took over the business after her dad's death, and it, and her horses, have become her life, and her passion.
On the morning of Feb. 4, she woke up and looked out the window at a sight she never expected to see — after a second unusually heavy snowfall and some ice that had accumulated on the roof of her 100-year-old barn, a portion of the roof had collapsed.
"I've never gotten dressed so quickly," she says. "I couldn't believe my eyes."
She rushed to the barn, falling in the snow on the way. She was feeling devastated about the damage, anxious about what she might find, and fearful for her horses.
Only two were in the barn, and thankfully, because the portion of the roof that collapsed was over the hay loft, they were fine.
With her property nestled into the escarpment and surrounded by vineyards, McGibbon has a great location for offering trail rides, and from the testimonials she receives it's obvious she provides an experience that is much appreciated and valued. "I've heard it called 'a piece of paradise.'"
She has been running the business herself, only taking as many bookings as she can manage, with a limited amount of help in the summer.
"We have a fairly small, personalized stable. It may not be smart business, but I do it for the love of it, and for the horses. I spend all my money on the horses. This (the roof damage) is a large expense, totally unexpected, and caring for the horses is not cheap. I do everything I can for them, including keeping them forever."
Some stables get rid of some of their horses in the fall, rather than carrying the expense of caring for them during the winter, but she keeps hers year round, she explains. "Summer is the busy time, but because I love them, I keep them through the winter, and I just run a small operation. I spend all my money on horses. The business is not a huge money-maker."
Last fall was not a great time for McGibbon, financially or emotionally. She lost two of her nine horses in the fall, one nearly 30 years old, with some health issues, whom she laughingly calls "the love of my life. I kept him going for as long as I could — it was really hard saying goodbye."
A second horse, a mare, developed kidney disease, went downhill very quickly. "It's been a rough year," she says.
She would like to build her stable back up to 10 horses, but with COVID more people are buying horses for outdoor activities, and it's difficult to find the right kind of horse to fit in with the business. Those who are suitable and for sale have become very expensive, she adds, so she may have to wait a little longer to make those purchases.
McGibbon advertises her business for all seasons, but the number of bookings she takes in the winter is very dependent on the weather — she won't take the horses out when trails are icy, or there is too much snow, but there are some days when the weather is perfect for a trail ride. Last Sunday, a beautiful sunny day, there was a lot of snow with ice below it in spots, and she had cancelled bookings.
Insurance won't cover the damage caused to the roof, and McGibbon is in a difficult financial position, unable to cover the cost, estimated at $40,000.
It's important to her that people understand her horses are in no danger. Most are outdoors, where they love to be, wearing blankets against the cold. On Sunday, Duncan and Cino were just inside the doors of the barn, staying close to their feeding pails. But McGibbon is stressed about what she has ahead of her. She's not thrilled about going public with her problem, but can't begin to cover the cost without donations, and is appreciative of any help she is offered.
She feels an urgent need to see the roof fixed, sooner rather than later, before more snow or rain turns the barn floor into a pool of mud.
Soon after hearing of the roof collapse, Julie Whitehead, McGibbon's long-time friend who has been riding at Niagara Riding Stables for more than 40 years now, started a GoFundMe page to help cover the repair cost.
"I want to help fundraise to help repair the barn roof so that Dinah can continue to provide the necessary shelter for her horses," she said on the online fundraising page. "I know how much the farm means to Dinah, and to many others who have visited over the years. Being able to fix the roof and damage done will mean the world to Dinah and her horses. Please consider donating whatever you're able to. No amount is too small."
A recent post on Facebook by Pat Darte, who understands the complexities of running a stable and caring for horses, was to help with donations to the GoFundMe page. Instead it turned into a long conversation about that donation site and issues connected to the Ottawa protest. It quickly became focused on the protest, rather than McGibbon's roof, and hasn't received a lot of attention since.
"I guess I've been in such a little bubble, I had no idea what they were talking about. Apparently the topic of GoFundMe has become quite political. Because of that there are several options offered to anyone who wants to donate."
To help, you can make a donation in one of four ways, says McGibbon.
1. Donate online at https://www.niagarariding.com by clicking on the PLEASE DONATE NOW button
2. Send an eTransfer from your bank to [email protected]
3. Send a check directly to Niagara Riding Stables at 471 Warner Road RR4, Niagara-on-the-Lake, Ontario, L0S 1J0
4. Donate at GoFundMe at https://www.gofundme.com/f/niagara-riding-stables-barn-roof-collapsed