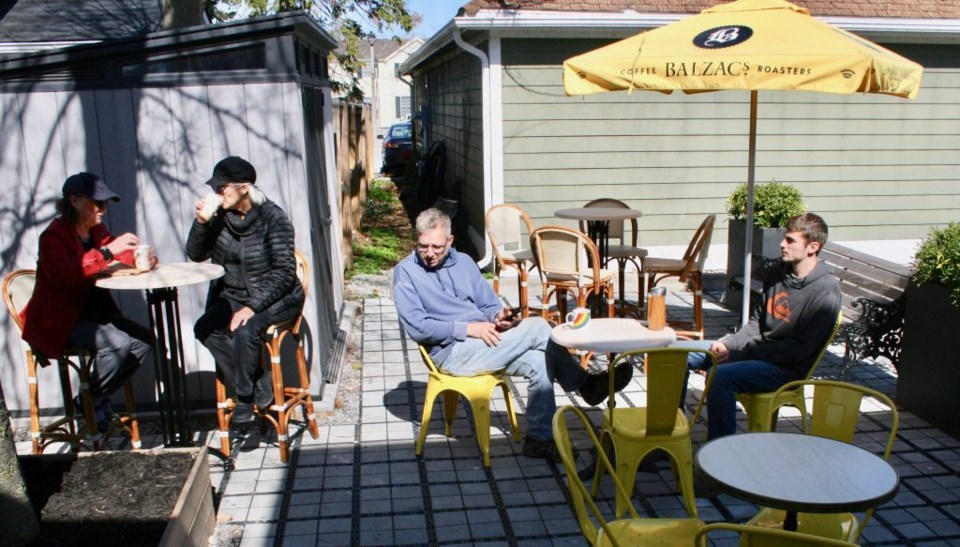 For over a year now, visitors to Balzac's Coffee Roasters on King Street have been marvelling at the new patio and driveway off the back door of the old streetcar depot building.
The eco-friendly surface was installed in collaboration between the property owner and Balzac's, an Ancaster-based chain of 17 destination cafes. As general manager Steve Janzen says, the pandemic is part of what prompted the decision.
"I've been trying to get a larger patio in there for years," Janzen says on the line from his Ancaster office. "It took COVID to prove that we needed more seating. But we didn't want to just put more tables in the driveway."
It was clear the unique circumstance of the location would not allow a traditional asphalt or concrete installation. The driveway space is much lower than that of the surrounding properties. A simple paved surface would not allow water to sufficiently flow off the driveway.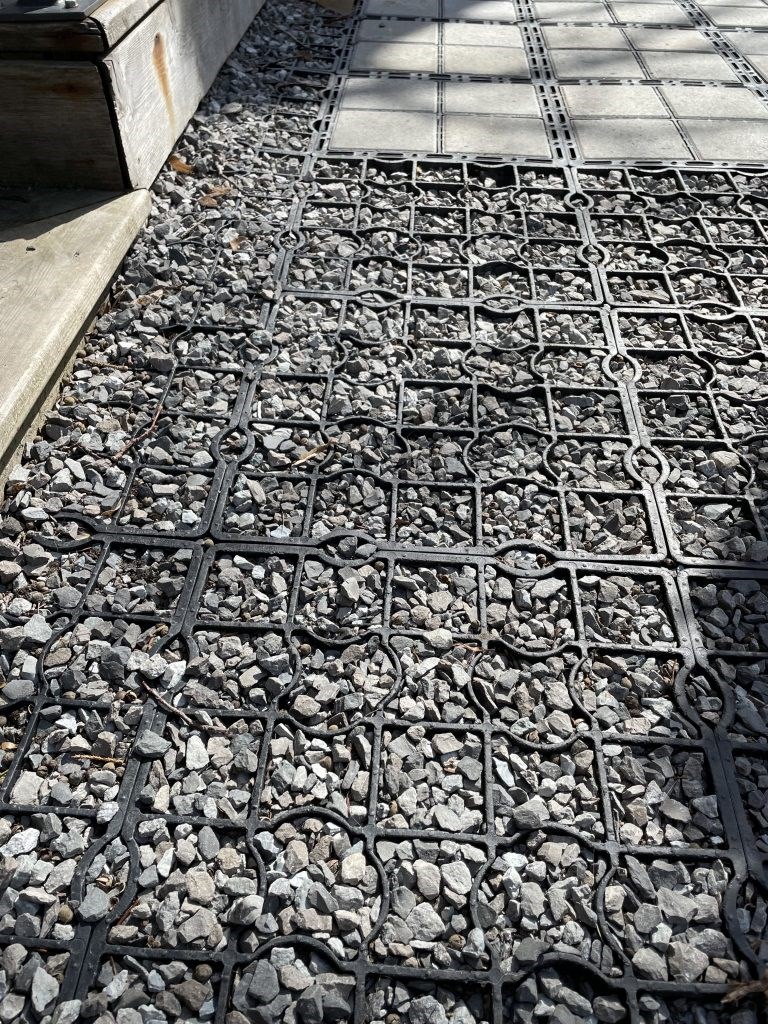 "We needed to find a solution that was permeable, to allow water to go through it," Janzen explains. "The property owner did some research and he found Ecoraster. It's perfect on every level."
The Ecoraster grids are made out of recycled plastic bags. Based on German engineering, their Bloxx and E40 systems installed at Balzac's are made in Canada and distributed by a company out of Listowel, Ont. Their website claims the blocks and grids are industrial-grade, capable of carrying loads of 800 tonnes per square metre. The environmental benefits are obvious.
"It's completely permeable," says Janzen. "You don't need to put as much salt on it. It prevents waste water from running off into storm sewers. Once we became aware of it we knew we had to do it."
After a first winter with the Ecoraster driveway, Janzen says compared to previous years, there was no pooling during melting periods and less ice on the surface. The Balzac's staff had no trouble shovelling the snow, and the landscaping company was able to use a plow without damaging the driveway.
Those curious about the patio and driveway often ask staff for information. Behind the register, they keep a stack of business cards from Smithville-based MC2 Contracting, who installed the Ecoraster system.
MC2's Brandon McCully says the company is busy installing the eco-friendly product every single day, mostly across Southern Ontario, but periodically venturing further afield to locations such as Peterborough, where they are working on a 7,000 square-foot parking lot this week.
"With climate change, people are trying to ease up on storm systems," McCully says. "This gives people a better opportunity to do their part. People choose it for the lower environmental impact. Our customers are looking for an eco-friendly product, and the drainage part of it is popular."
McCully says he started using the product for base pads for hot tubs and spas, but soon his clients were asking about larger applications. The company does both residential and commercial applications.
As far as cost, Ecoraster fits somewhere in between asphalt at the low end and concrete at the higher end. Though McCully explains that prices fluctuate depending on the excavation needs of the site, it is roughly about $15 per square foot.
Janzen says the excavation at Balzac's King Street location didn't pose any difficult challenges. The grids are set about four inches deep to hold them in place.
McCully's company installed the Bloxx system for the approximately 440 square-foot patio at Balzac's. These are square recycled plastic grids that each house four square flat bricks making for a smooth, level surface on which to place tables and chairs for the cafe's customers.
The E40 grid system used for the driveway consists of smaller irregular-shaped spaces, each filled with gravel and levelled. The driveway is used by the upstairs tenant and for deliveries to the cafe.
Both look great aesthetically and seem just as solid as the alternatives. Ecoraster's website adds that very little maintenance is necessary.
Janzen insists that the eco-friendly installation is in line with an overall green focus that the company has taken.
Their cafes were the first such business to earn LEAF (Leaders in Environmentally Accountable Food Service) certification in Canada. Their coffee beans are roasted at their head office using the eco-friendly Loring Smart Roaster. It reduces energy consumption and greenhouse gas emissions by 80 per cent, compared to conventional roasters.
In addition, guests are offered a 25 cent discount off their drink if they bring their own reusable cups. Biodegradable straws and cutlery are offered, and though their double-wall takeout cups can't go into the green bin, they are compostable in commercial facilities and break down faster than polyethylene alternatives. Appliances used are Energy Star rated as well.
"We were named Canada's Greenest Cafe in 2020," adds Janzen. "We consider the environment in everything we do, and we have since the company started in 1993. We always know with the environment we can do more. We're not a net-zero company yet, but we strive for continuous improvement."