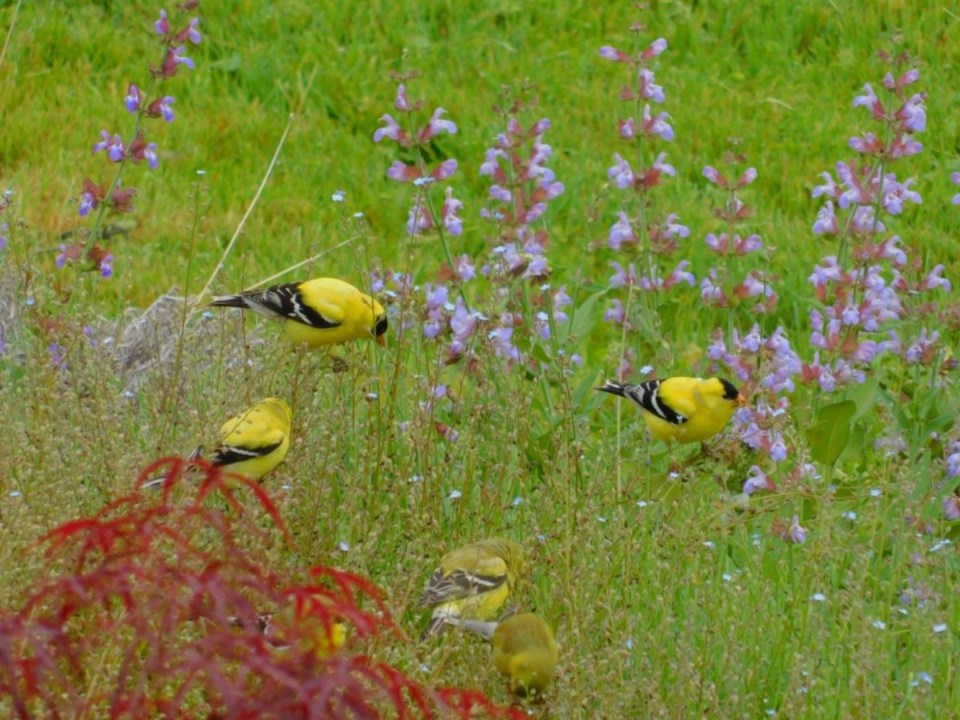 When planning my garden, I kept birds in mind.
I wanted lots of trees for them to roost in and nest, water for them to drink and bath in, and plants with seeds to feed them.
The feeders are out early in the season to bring them into the garden. Once the forget-me-nots come into seed, the flocks of American gold finches are there to stay. They visit bachelor buttons, cosmos, echinaceas and asters. When the young hatch, they search the garden for insects.
Eastern bluebirds arrive early and go after various insects in the meadow, and soon after house wrens arrive. The wrens check out every lavender plant for leafhoppers, and the lily leaves and roses for beetles.
The Baltimore orioles have different tastes. They like fresh orange and grape jelly to start out, but they too feed their young with protein-rich insects.
Our woodpecker keeps tree trunks insect-free and uses one of the bird boxes to sleep in.
Little chickadees also nest in the garden, and pick up any caterpillars and grass hoppers they can find.
The catbirds are very friendly, and nest close to the house. They not only clean the garden of insects, but also entertain us with their melodious song.
The swamp sparrows take care of the insects on the ground.
What can I say about our blue jays? Well, they steal my plant labels. They are perfectly capable of untying the labels from the plants and taking them to their nests.
I also grow some sunflowers for the cardinals and viburnum for the mocking birds.
I shouldn't forget to mention the garden is relatively free of Japanese beetles and other pests, thanks to the birds. And the pond attracts not only birds, but also dragonflies, which feed on mosquitoes.