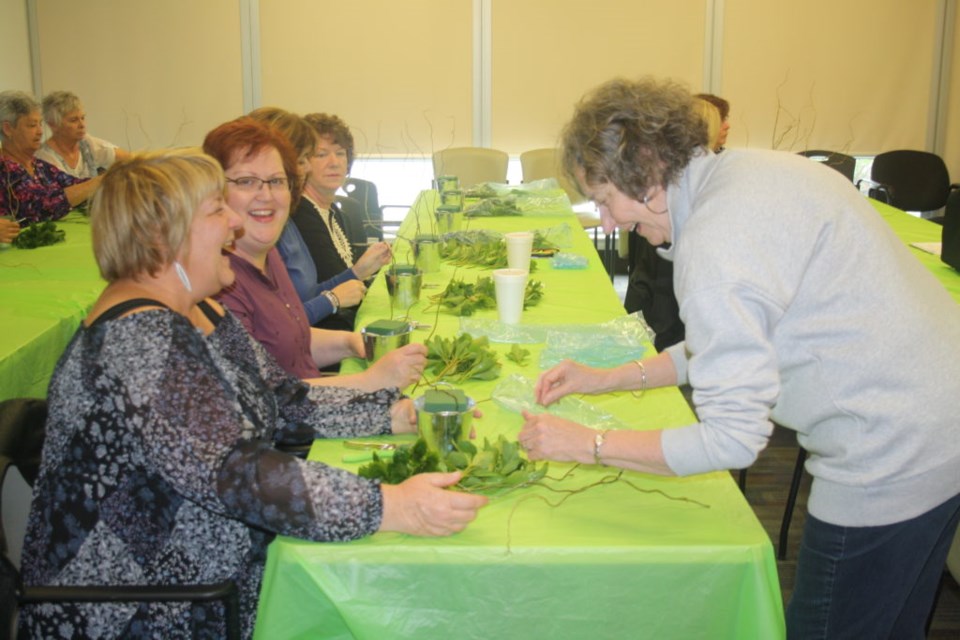 Anne Kelly has survived 30 treatments of chemotherapy.
She received a diagnosis of breast cancer when she was 33, and it returned nine years later. Now 44, her cancer is controlled, but not in remission. Although she is cancer-free, she takes a chemo pill every day, and will for the rest of her life. "I'm termed a progression-free surviver," she says. "That's the stage I'm in, although it's not a term many people know."
She has spent a lot of time at the hospital, and it hasn't all been a pleasant experience. Because of the extensive chemotherapy treatments, she's had more than her share of bad days, but she is doing well now. And most weeks, sometimes more than once a week, she attends an Arts in Medicine program, intended for cancer patients and survivors — in any given month it can offer painting, interpretive drawing, music, spirit drumming and one of the most popular workshops, carpentry with Lee Valley Tools.
Recently, the Niagara mother of two was in the sun-drenched program room at the St. Catharines hospital site with about a dozen others, being led through some simple steps to produce a bright and cheery flower arrangement under the guidance of two volunteers from the Niagara Garden Club.
Beside her at the table, laughing and joking as they tried to follow instructions, was her friend Lori Neufeld — some cancer patients come with a friend or family member, others come on their own, and many have developed close friendships with those they have met who are also going through cancer, receiving treatments as outpatients, or who have come through it and still enjoy the program.
Neufeld is the first to admit that although she checks up on Kelly regularly to see if she's having a good day or a bad one, and can certainly sympathize with her friend, "I can't really say I understand what she's going through, when I haven't gone through it myself."
Kelly, who is accustomed to visiting the hospital as a patient, finds attending the classes a positive experience. It helps her to have a reason to get out of the house, to have something fun to look forward to, and to establishing a routine that "makes the hospital seem not so scary. It's a wonderful way to be in the place that saved my life. This program makes it a joyful place."
She usually attends with a friend, and although Kelly says they are surrounded by others who are also coping with cancer, "we don't dwell on it. I know everybody's story, a little bit of their history, but we don't talk a lot about it. And I know the people I meet here are able to appreciate my story, and the side effects I go through. They understand the nausea, the confusion, the fatigue, and that some days are good and some not so good."
Kelly has enjoyed several different sessions since she began attending last October — she said she never would have believed she could paint until she tried it as part of the Niagara Health program.
She has had to give up her job in the Niagara Falls public health department, and says the program "has definitely helped. It's a great opportunity to connect with other people."
Neufeld says she does the best she can to be supportive, and "having something you love touched by cancer teaches you to be more sensitive to what they're going through, but if you think you can understand it, you can't."
Kelly has two teenaged children, one in university and one in high school, and her husband "is amazing," she said. "He's been with me every step of the way."
She knows she has a "huge group of cheerleaders," people who are helping her heal, she said, and who have made a world of difference throughout her treatment.
Program coordinator Laurie Sadowski says the program "creates a sense of community. It's welcoming, there is an open door for patients who are still in treatment, and for those who have finished and want to continue. I tell them there is no expiry date," she jokes. "Being together in the same room seems to help. They might talk a little about cancer, they might talk about what to have for dinner. There is an unspoken acknowledgement between them. A lot of things change in your life when you're going through cancer. This is a way to relax in a familiar environment, with people who understand what you're going through."
And it's a good time, for those who attend the sessions and for the volunteers who offer them. Faye Douglas from Niagara-on-the-Lake was at the floral arranging session recently to help out. She's a member of the garden club, which has a regional membership with a large NOTL contingent.
Leading the session was Diane Hockey from Niagara Falls. Club members rotate teaching the program, she said, coming up with a design and coordinating the material, and always bringing a helper or two along.
Douglas says the volunteer program "is an extension of what the club does. We love flowers, and we love to help others enjoy them."
The May floral arrangement workshop was only her second time volunteering for the Arts In Medicine program, she said.
"It's a way for us to give back to the community, and that is exemplified by what we do here."
It's also an uplifting experience, with lots of laughter, and bright, smiling faces sharing friendships and enjoying the camaraderie, as well as their pride with the finished product.
"It's been a lot of fun," said Douglas, adding she'll look forward to coming back again when it's her turn.