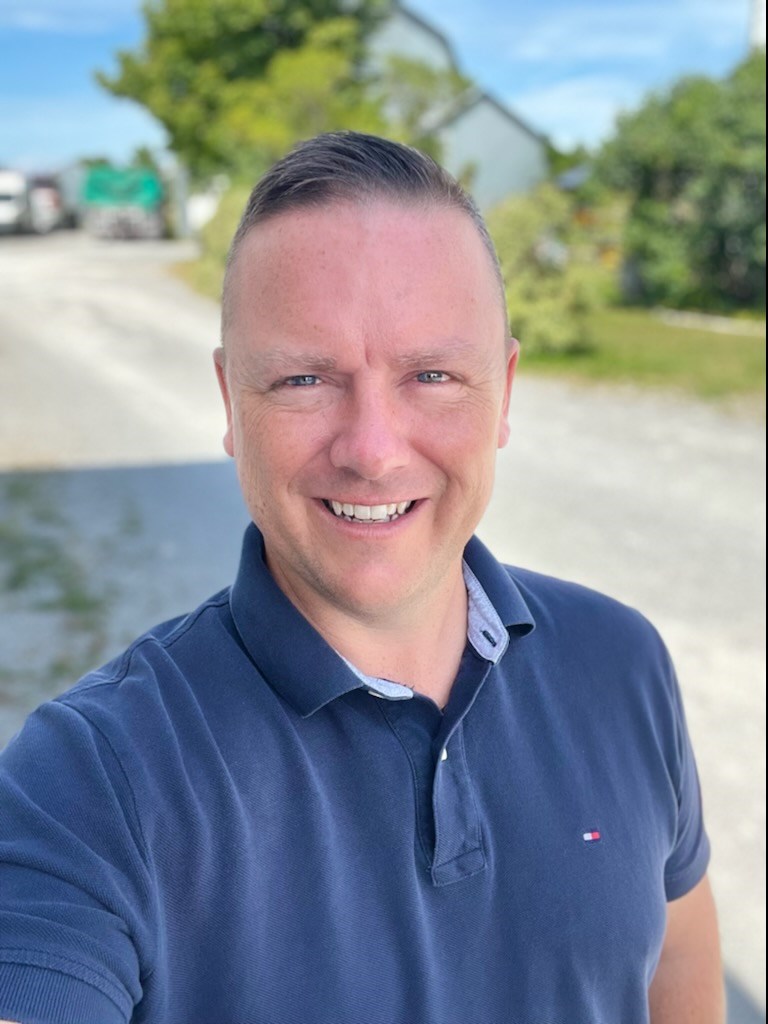 Alistair Harlond says he thought "long and hard" about throwing his hat in the ring for council
As a volunteer firefighter who runs a family business, he says he really needed to process how much time he could give to the town, splitting it with the fire department, and came to the decision that not only did he really want to do this, he can give it the time it deserves to do it right.
He came to live in Niagara-on-the-Lake 20-plus years ago, he says, as a Shaw Festival actor.
He met his wife, who grew up in town, and although his childhood was far away, in a town called Shifnal, in Shropshire County in the U.K., it was a community not unlike Niagara-on-the-Lake. "It went through similar ebbs and flows, similar to this town."
It's a town with a lot of history, he says, and as an avid historian, which is one of the attractions of NOTL, it seemed to him like a great place for kids to grow up. And that inspired him to want a place on council.
At 43, he and Irene have two children, a 15-year-old daughter, and a 17-year-old son.
His son, he says, "aways says he wants to stay here. Instead of looking for a summer job, he started a lawn care and landscaping business, and he's done a great job with it. It all boils down to how much kids value this town, and that really resonates with me."
He spent two seasons at the Shaw, when Christoper Newton was artistic director, met Irene, who grew up on the family's Concession 7 farm, and knew "this was was the place I wanted to call home for the rest of my life."
He now runs Richards Automotive Repair, on Concession 7.
"I feel the town is at a tipping point right now, growing exponentially. And council might be lacking some new ideas to deal with that," he says.
Harlond describes himself as a "larger than life character," and a short phone conversation reveals that to be the case.
"I know I will bring a whole wealth of energy to the task, and that's something that has helped me be successful in life. I just have a passion for this town."
He considers the current council "a little lacklustre," and says "I know I can bring new energy to council. I don't have an agenda, I'm not aligned with anything, I just want to bring the passion I have for the town I love, and I'm so sincere about that."
However, there is one absolute about a job on council — preserving the town's history.
"I'm passionate about that. I know development is inevitable, but maybe we can be putting our foot on the brake a little, taking a few steps back, helping to bring about community involvement and community engagement."
There seems to be such a divide, he says, with some of the new people coming to town who love it, but could learn more about it, he says, using the volunteer fire department as an example of what they may not understand, and that could be improved by communication, talking, listening, allowing them to have a voice and their own valid opinions.
A Glendale fire fighter, he joined for the opportunity to give "100 per cent to the fire department," has loved it for the last eight years, and now, at this stage of his life, he feels he's at a point when it seems serving on council "is a calling for me. I love people, I'm engaged in the community, and I'm passionate about it. I feel like that's a good candidate for the town to have."