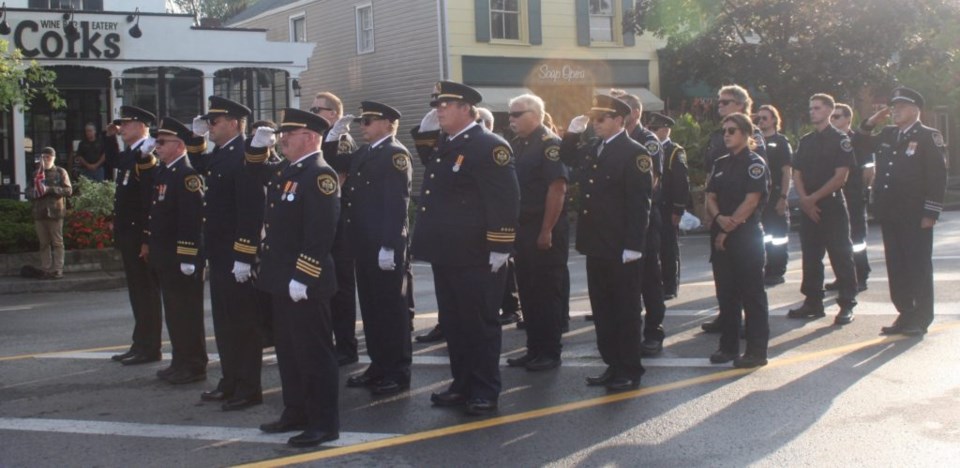 Eduardo Lafforgue, president of the Niagara-on-the-Lake Chamber of Commerce, continued a tradition started by former president Janice Thomson last week by hosting a solemn occasion, as he explained, "to take some time to reflect on the 18 years that have elapsed since the fateful events of September 11, 2001."
Attended by representatives of the Niagara Regional Police, the local fire department and Niagara EMS, the service was held in part, said Lafforgue, to honour the efforts of the first responders "who were called out on a morning just like this one, to save the lives of innocent people, and face a situation no one could ever imagine."
Standing at the Court House steps and along Queen Street, Royal Oak Community School students and a smattering of residents and visitors looked on as Lord Mayor Betty Disero spoke at the Cenotaph of remembering and paying tribute to one of the most traumatic events of North America's history.
"September 11, 2001 is a day we'll never forget. Many of us still remember where we were or what we were doing the moment we heard about the horrific acts taking place in our neighbouring country," she said.
Nearly 3,000 people lost their lives that day, from 90 countries around the world, including 24 Canadians, "and while the years have passed, the shock and horror will be forever etched in our minds. Our world changed forever following the attacks."
But what hasn't changed, she said, is the resolve to fight against the oppression of terror, "and our ability to comfort and aid those affected by these crimes against humanity. Today we continue to stand with our American neighbours, and open our community to them just as we did 18 years ago."
Disero spoke of honouring all the brave men and women who lost their lives that day, those who ran toward the tragic scene to save others, those who came to the rescue, to recover and clean up, and those who are now facing life-long health battles as a result. "Let us open our hearts and pray that their continuing suffering be eased and that they get the care they need," she said.
"This sombre occasion is a reminder of how incredibly blessed we are to live in a safe community, and how we wish the same for the rest of the world."
MP Rob Nicholson spoke of having always been "very grateful and very proud of Niagara-on-the-Lake," as it continues to commemorate a moment in history "that has affected all of us, and made us and our neighbour in the U.S. more determined than ever to resist terrorism and those who would break down our society."
Shannon Mitchell, representing Wayne Gates, had difficulty controlling her emotions as she spoke, as did many in the small crowd. "Eighteen years ago today our world changed in the blink of an eye. We lost mothers, fathers, sons and daughters in a senseless act of violence, and the world turned its eyes in its sorrow towards New York."
By commemorating the events on the same morning 18 years later, "you help show the importance of remembering and honouring those who were lost. Being here, we tell the world we will not be put down by the forces of hate. We tell the world we will stand proudly with those who lost loved ones, so nobody forgets this tragedy. I'd like to thank the brave men and women of the Niagara Regional Police, the Town of Niagara-on-the-Lake firefighters, and Niagara Ems who are here today. The efforts of the first responders just like you saved thousands of innocent lives. It's a day to remember those who were lost, a day to look at those around us and be thankful for them, and a day none of us will soon forget."
With several school children and others wiping their eyes, the American and Canadian flags were lowered at 8:45 a.m., and after a moment's silence, raised again to the playing of O Canada, and the American national anthem.
As the crowd broke up after the short but emotional service, Disero stopped by the group of children and thanked them for coming. She repeated for them some of what had happened 18 years ago, and told them why it is so important it not be forgotten, so they may grow up in a country that continues to be safe for all.