Sheila Tierney isn't sure of the exact year she began canvassing for the Canadian Cancer Society, but she knows it was about 50 years ago.
She began the door-to-door quest for funds while living in St. Catharines, before moving to Niagara-on-the-Lake and knocking on local doors. For a while she did both, not wanting to give up the city route before finding someone to cover it so she could concentrate on NOTL.
She and her husband Ed were both motivated to help the cancer society after a gruelling and stressful couple of years while their son, diagnosed with cancer at the age of two, went through 18 months of chemotherapy.
He survived, and is now the father of two teenaged girls. He recently celebrated his 50th birthday in Whistler, BC — 22 people gathered to celebrate with him, half from Canada and the other half from New Zealand, where he now lives, says Tierney.
She and Ed to this day "put our eggs all in this basket," still focusing their volunteer time on the cancer society, and organizing the annual April residential campaign.
And as she says, "everyone has been touched by cancer." In her case, it was not only her son as a toddler. Her 82-year-old sister, living in the U.S., is receiving chemotherapy for leukemia. "She's been in chemo for 15 months, " says Tierney, adding her sister's attitude is "100 per cent" determined to beat this.
Although she began as a canvasser, Tierney quickly became a captain for Virgil, and then co-chair — she has always had a co-chair to take charge of the Old Town, while she looks after the rest of the urban and rural areas.
It has become increasingly difficult in recent years as the number of canvassers decreases, she says, and new volunteers are hard to find.
"I have nobody for St. Davids, not even one canvasser," said Tierney, yet the number of homes in the village has tripled in recent years.
She is accustomed to 75 or 80 volunteers helping her canvass, but this year she has 60, and with all the new houses to visit she could use double that.
Neeti Mehrotra of the UPS store, Old Town co-chair, "is in an even more desperate situation than I am," says Tierney — she requires six captains, and has only one at this point. She also needs more canvassers.
The reason for the problem is likely a number of factors —the seniors who have done it for years are getting older, and the young people in town are leading such busy lives they don't have time.
"We have some wonderful people helping out — some of them will take on more routes that aren't covered — but we still need many more canvassers."
The residential campaign isn't what it once was — there are so many other ways for people to donate to the cancer society, with the proliferation of events such as walks, runs, stair climbs and other fundraisers, says Tierney. "You often get the response, 'I've already given to the cancer society' in other ways," she says.
At 82, Tierney still canvasses herself, organizes the other volunteers and does all the paperwork that goes along with the campaign. Ed is a huge help as well, she adds. "I couldn't do it without him."
Last year volunteers raised $26,000 from the door-to-door campaign, and brought the total up to $33,000 with daffodil pin sales and two large individual donations.
Tierney says her goal for this year is to match last year's total, and although Saturday was a dreadful day for daffodil pin sales, 25 "wonderful volunteers" out in the pouring rain raised $1,500, just a little less than last year, although there weren't many people out shopping, she says.
To canvass, or make a donation, call Tierney at 905-468-2200. The campaign lasts all month, and many canvassers wait for the better weather, she says.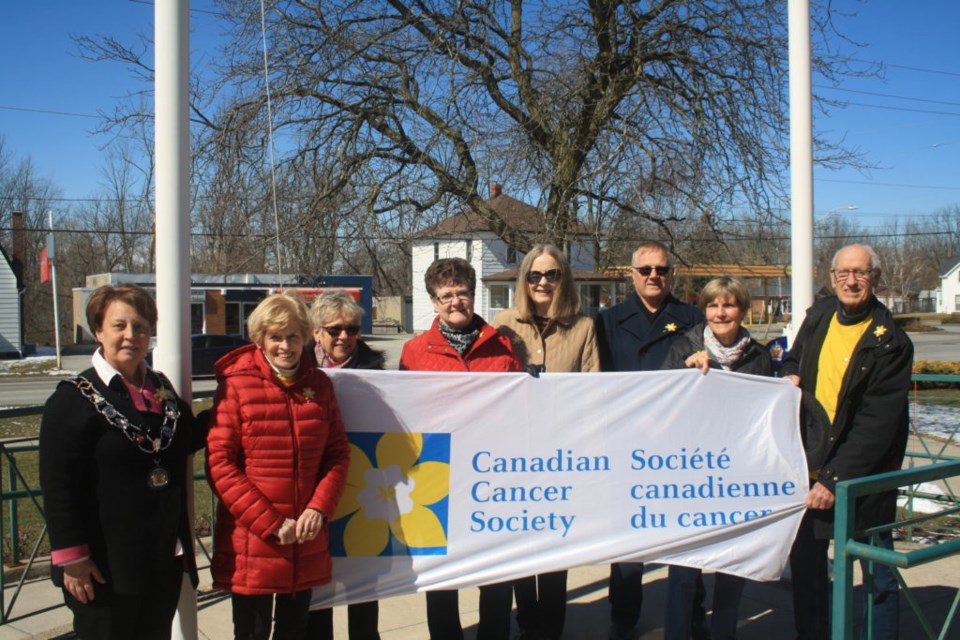 CLord Mayor Betty Disero, Canadian Cancer Society campaign co-chair Sheila Tierney, Donna Seymour, Kathy Neufeld, Susan Weaver, Walt Weaver, Jeanne Codrington and Ed Tierney raise the cancer society flag for the month of April, during the residential campaign. (Penny Coles)