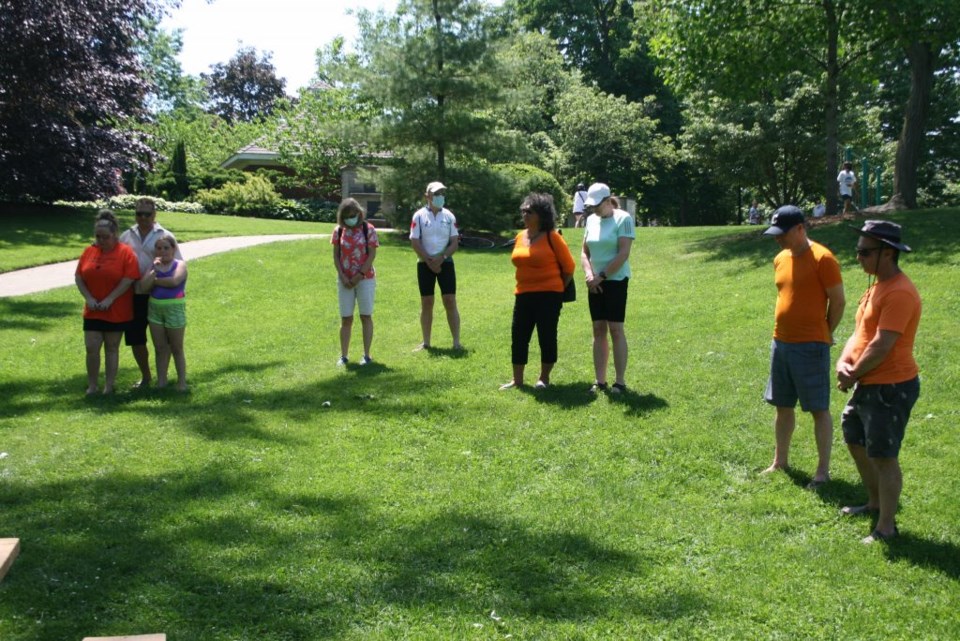 A group of just under 30 people came together in Simcoe Park Sunday at 2:15 p.m. to share two minutes and 15 seconds of silence, recognizing the 215 Indigenous children whose bodies were discovered buried at the site of the Kamloops Indian Residential School in British Columbia.
Organizer Cosimo Chiovitti, a local resident, put the word out on the Facebook group NOTL 4 All on Friday.
"I'm not a parent, and cannot imagine the pain of losing a child," Chiovitti told The Local. "In this case, the parent lost the child twice, once to the school and once in death. The purpose of this gathering is to shed light on that pain."
Just before 2:15 p.m., Chiovitti and a group of friends, all wearing orange shirts, approached Simcoe Park where a small gathering had begun. There was very little communication, other than a signal that the specified time was approaching. Maintaining physical distance, the participants bowed their heads in quiet reflection, considering the pliaght of the young children and the horrors they must have faced.
Fred Ouimette of Niagara Falls was one of the participants.
"I happen to be First Nations," said Ouimette. "I think like everybody, we've all been touched by what we've learned. Canada has a history. We know that this existed. But having the 215 confirmed dead is something that wakes us all up and makes us want to do better."
Ouimette wasn't surprised by the discovery of the bodies. He is certain that further investigation will uncover more secrets behind the country's treatment of Indigenous children through the residential school system, which removed them from their families and into the church-run institutions.
Growing up in Northern Ontario, Ouimette recalled attending school with classmates who revealed many years later that they had spent time in residential schools. He remembered being told at the time that these children had gone to live with relatives, and had no idea that the institutions even existed.
"Being within the Native community, it was something that we felt shame around," he said. "Having the opportunity to have stuff come out of the darkness and into the light is necessary to move forward for all of us."
Ouimette feels the Canadian government and the Roman Catholic Church share in the responsibility for the deaths of the young members of the Tk'emlúps te Secwépemc First Nation.
"I think there's equal share to go around," Ouimette says. "Accountability is one thing that helps move forward. I don't proclaim to know the answer, but I do know that in order for there to be reconciliation, whatever that means to people, we have to face what happened."
Having a chance to share their grief with others was important to Ouimette and other mourners in the park Sunday.
"I've been on a personal healing journey this week," Ouimette explains. "There's been a lot of emotions. I've been having moments that are very challenging. Meeting strangers here who are experiencing the same thing, that's an important thing to do, that collective moment of recognition."
Niagara-on-the-Lake resident Bruce Howard expressed shock and dismay at the discovery of the mass graveyard in Kamloops.
"We're capable of great love, and we're capable of great horrors like this," Howard told The Local. "It's just carried on through history. Hopefully we'll evolve at some point, but it's too near in our past. We keep thinking this is something many, many years away, but this is something in our recent history as well. That's the shocking part, I think, that it's in our lifetime. We tend to think these things don't happen in our backyard."
The Kamloops Indian Residential School operated from 1890 to 1969. At that time, the federal government took over its administration from the Catholic Church, and continued to run it as a day school, until it closed for good in 1978.
Tk'emlúps te Secwépemc Kukpi7 (Chief) Rosanne Casimir said in a statement to the press in May that the 215 children found were all undocumented deaths. Since the discovery, other First Nations have promised to use the same ground-penetrating radar applied in B.C. to sites in their own communities.
Chief Cadmus Delorme, of the Cowessess First Nation in Saskatchewan, has said his community is planning to explore the grounds of the Marieval Indian Residential School, which operated from 1899 to 1997.
Veronica Puskas, an Inuk originally from Rankin Inlet, has lived in NOTL for about 10 years. She joined in the vigil to honour her First Nations cousins. While speaking to The Local about the horror of the discovery, emotion brought tears to her eyes.
"The sheer number, and the age, as young as three years old," she laments. "It's mind-boggling, especially for those who were in authority to have kept it quiet. It blows my mind that people could be so evil."
"The history books need to be rewritten," she continues. "I want the Pope to apologize. And the Canadian government. I don't want any more lip service. I want the people to be educated on the history of the residential schools, and the treaties that were made, and how they've been broken time after time. We're just fighting for our survival."
Chiovitti felt heartened by the turnout Sunday, and plans to organize another gathering in the near future to honour and reflect on the lives lost. He is hoping to consult with Niagara Regional Native Centre before moving forward with those plans.