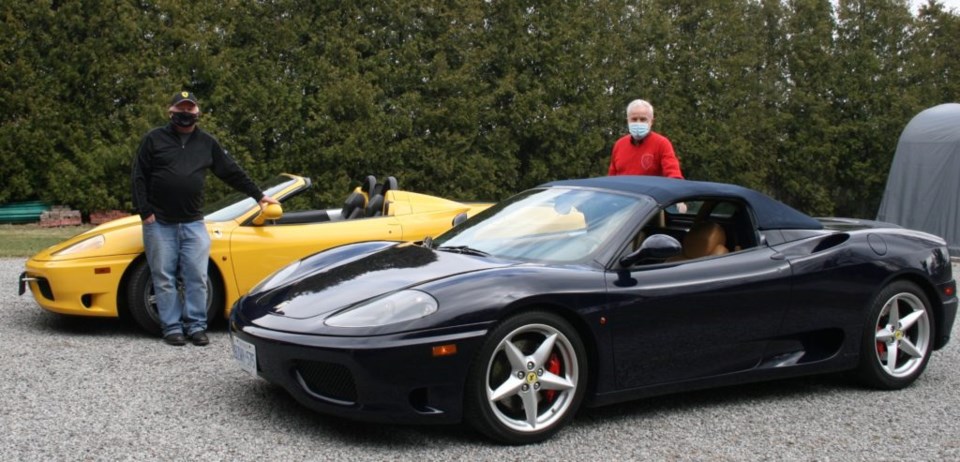 The members of the brand new Niagara Chapter of the Ferrari Club of America (FCA) are excited to begin planning their own events in the region this summer.
The local chapter is the brainchild of Niagara-on-the-Lake resident Lindsay Gillespie, who moved to town 10 years ago when he retired from a career as a music industry executive.
The Ferrari Club of America, founded in 1962, has more than 11,500 members and is divided into 16 regions and 54 chapters across North America. Gillespie and other members of the new Niagara chapter were all part of the Canada East Region of the club, based out of Toronto and covering an area to the east coast. For five years, Gillespie was the regional director of that chapter.
For Gillespie, basing a chapter out of Niagara was an obvious choice. "The roads are great, the scenery - everybody loves the vineyards," he says. "Everybody loves Niagara-on-the-Lake, you know, the history, the wine and the reputation for restaurants. It's close enough that people from Toronto can come here for the day, it's a nice place to drive."
In the past, Gillespie and fellow local chapter member Todd Trinder participated in many events in the GTA. But neither of them ever really enjoyed the trip to and from the big city.
"The stop-and-go traffic on the QEW is not an enjoyable drive in any car, never mind a manual transmission Ferrari," Gillespie laments. "To get to those events, you have to leave at least an hour-and-a-half early just to get there, then you do the event, then you have to drive an hour-and-a-half back. And the traffic jams on the weekends are a nightmare."
So Gillespie spoke to Trinder, and about a dozen other local Ferrari owners, and they all agreed it made sense to start a chapter here to organize their own drives and other events.
"We've been officially recognized as a chapter, so we are part of the FCA now," Gillespie explains. "When we do events, we have to sign waivers for liability and that kind of thing. The other thing we do is we try not to hot-rod around and attract attention. We want to enjoy the cars in a safe, organized fashion and not anger people or show off."
It's hard not to attract attention with a Ferrari, even with the car parked. That kind of attention, though, is welcomed by the owners.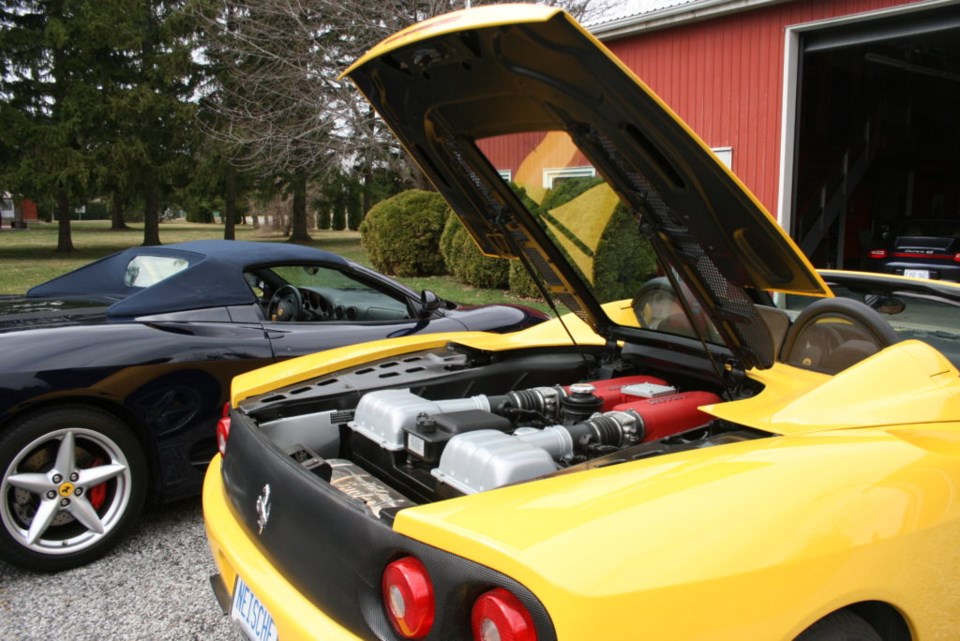 "I just love when I see a kid around my car," Trinder says. "If the father looks okay, and if the kid doesn't look like a mischievous soul, I'll let the kid sit in it. Then I'll pop the engine bay, and the father will ask to take some pictures. I love that."
Trinder also owns a classic Oldsmobile 442 and just took delivery of a 2021 Corvette, while his everyday car is a BMW M3. But the retired partner from a Toronto sales agency says there's nothing like driving his 2004 360 Spider, his first Ferrari.
"There's no equivalent," the Virgil resident raves. "You just can't duplicate a Ferrari. It's the engineering, the design. It's the performance, the character. Each one is hand-built, there's no production line. When you're driving this car you are one with the car. You definitely feel the road."
Gillespie, whose rural NOTL garage is full of motorcycles, a dune buggy, a few Porsches and a classic 1970s Fiat Spider, also drives a 2004 360 Spider. He concurs with Trinder.
"A Ferrari has a different kind of soul," he explains. "The Porsche is German, it's very exact and precise. The Ferrari has a little more personality. It has a different feel, a different sound. People react differently to a Ferrari. They look fast even when they're sitting still. In fact, they look faster than they are."
Make no mistake, though, both of their cars can go very, very fast. With 400 horsepower and 280 pound-feet of torque, the 360's 0-60 mph time is rated at 4.6 seconds. But Trinder and Gillespie are both quick to point out that they only stretch the performance aspects of their Ferraris on those occasions when they are able to visit tracks such as Toronto Motorsports Park. Gillespie boasts a top speed of 120 mph on the track.
As for the Niagara Chapter's plans, nothing is set in stone for 2021 as of now.
"We don't have a schedule yet, but we have a lot of ideas," Gillespie informs The Local. "Because of COVID, it's hard to sit down and plan it, and you can't go anywhere and sit down at the same table. It's still early in the year, too. Normally the cars aren't out until mid-April when it's warm enough and the roads are clean enough."
Once it's time, though, and once the pandemic restrictions allow, Gillespie and the rest of the Niagara Chapter are hoping to turn the tables a bit on the Toronto members, inviting them to brave the congested QEW with their Ferraris to attend official FCA events here. You'll hear that distinctive Ferrari roar when that happens.