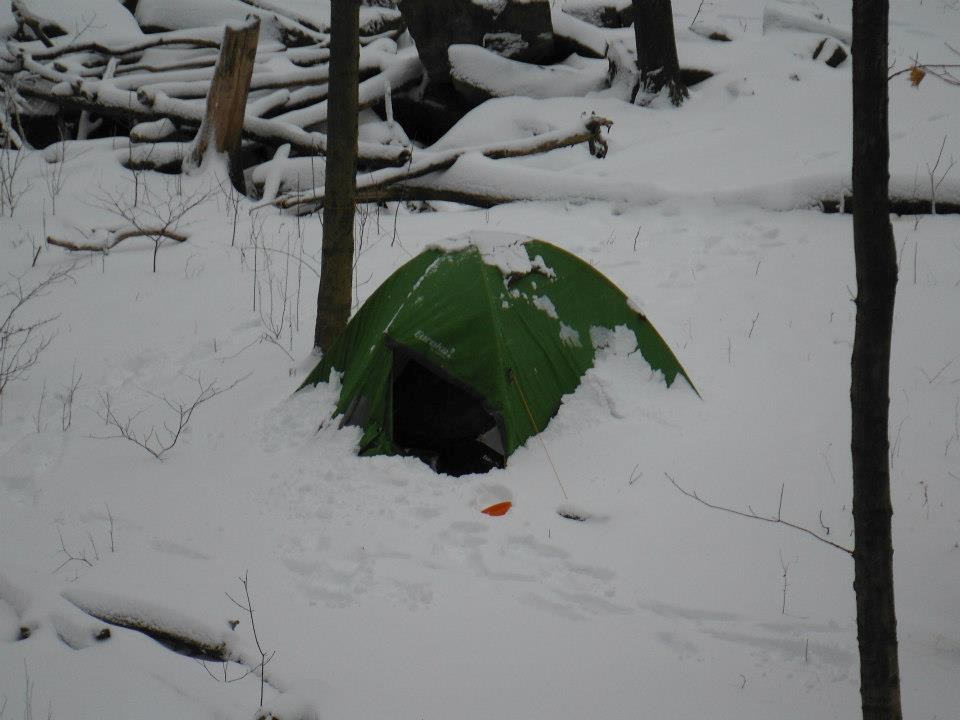 The onset of December was looking awfully messy, according to most weather standards. It's what is expected of the November to December transition, where relatively warmer moisture from the southern U.S. collides with our increasingly cool Canadian air mass. We are presented with the classic combination of cold and wet, for a couple days or more, at times.
One of the school groups I guided with the school board this week was faced with such conditions. As the gelatinous and unrelenting rain dripped down the bus window Monday, I imagined these kids felt pranked by the skies. November has been more than generous for its 30 days, but the 11th month was finally provoked by unstable atmospheric conditions. The rain fell without pause, and supersoaked every jacket and tree in sight.
I was astonished by the resilience and toughness of this class. They grew into the trip like the puddles grew into the forest. They were indifferent to the grey rain, and they excitedly participated in all of the hikes and outdoor activities until bus time to head home. The type of weather upon them would give the majority of adults something to complain about. Fair enough.
In theory, they should remember the experience more than the weather. A few temporarily chilly hands along the way didn't stop the students from having a safe and positive experience with nature. Some kids only get one outdoor field trip in their lifetime, if that.
It had me recollecting my own childhood field trips, and other outdoor endeavours. There are now scores of times where disagreeable weather doesn't stand a chance against the memory of the event itself.
In Grade 9, we had to jump into a northern Ontario lake with pants and a sweater on, and it was toward the end of October. If you wanted to explore in the canoes during this team-building weekend, you were required to tread water for nearly two minutes in your clothes.
I thrived for these occasions in high school, as I love my cold swims now, but it's easy to revisit the feeling of an icy walloping. Cold water is much more efficient at draining the human body of its warmth than the air. Compounded by the saturated and increasingly heavy clothes, the sensation was unforgettably bad.
However, if this makes any sense, all I truly remember is a nostalgic feeling of the whole weekend, influenced by meeting new friends in an outdoors setting around campfires and on those canoes.
In those brief moments, the body is under some sort of stress. On a smaller but everyday comparison, it's the same as when your fingers get cold on a Bruce Trail hike, or your toes get cold while walking at Ryerson Park.
Providing you don't painfully overexpose yourself to such conditions, and you are dressed reasonably, the human body is a fantastic recovery machine. I'm not encouraging you to walk outside in a T-shirt tomorrow morning, but when we're caught in a pinch, just trust in your body and its blueprinted relationship with the outdoors.
Nature exposure is element exposure, and it teaches us about our bodies. We shiver, we relocate blood to our vitals, and we keep that heart thumping. We are built to respond and ready to eat dinner later. It sounds dramatic, but our body changes to accommodate those uncomfortable moments without being permanently damaged.
In other words, it's really quite okay to get outside at this time of year, and get a little cold and wet.
I like to look at it this way. When you sit around a campfire and want to tell a good outdoor story, what would you say about your trip?
You remember what you did, and how you felt overall. You remember and can revisit the laughs, but you can't revisit the coldness of the field trip.
As we grow older, I think it's safe to say our brains begin to summarize complex sequences into one-unit memories, such as, "that field trip was the best." It's also likely that many who say this were also once subject to such harsh outdoor trips, but they carry away social memories and lessons learned about their environment. The weather didn't last forever, but the memories and lessons did.