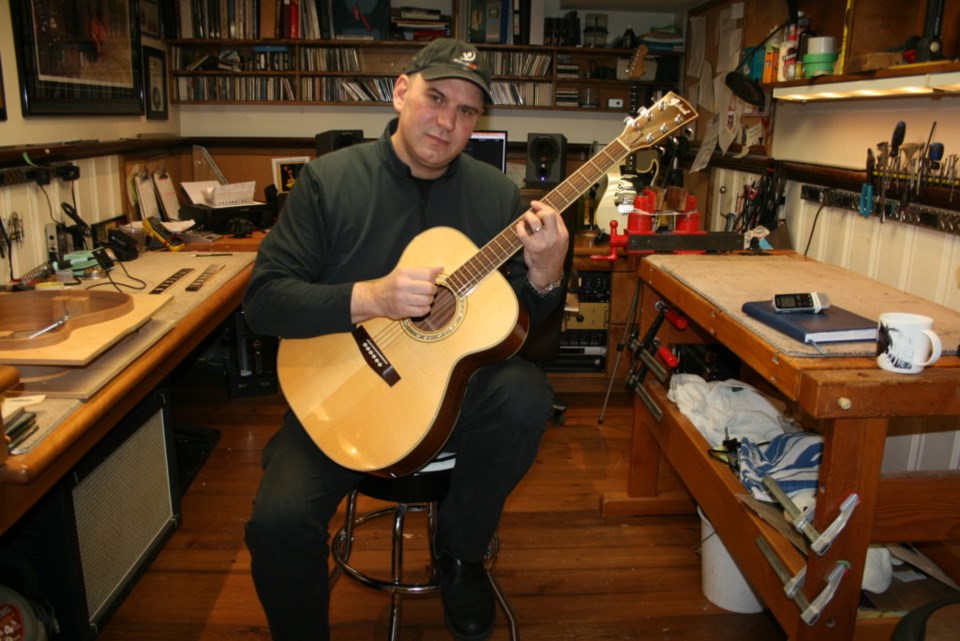 Some of the best, most in-demand guitars in the world are made right here in Niagara-on-the-Lake.
A love of guitar-playing led 21-year-old Fred Gabrsek to build his first guitar 33 years ago. After about four years of playing the local bar scene in various bands, he had become frustrated with the over-the-counter axes he had been playing. He decided to take a stab at creating the custom guitar that would feel, and play, just right.
Back then, there were no YouTube videos the young Gabrsek could watch to learn the trade. So for him, it was a lot of trial and error. But, having grown up with a father who had worked as a master carpenter in his native Slovenia, Fred was quick to pick up on the skills needed for the fine detail that goes into creating a musical instrument.
Soon, his dreams of rock and roll stardom were replaced with a blossoming reputation as a skilled builder, restorer and repairer of guitars.
That reputation resulted in Gabrsek going out on tour as a guitar technician with the likes of Jeff Healey, Glass Tiger and local band Sven Gali in the late 80s and early 90s.
Soon, word of his talents spread to Alex Lifeson of Rush. Though he never toured with the legendary Canadian band, he became Lifeson's go-to technician for guitar repairs and restorations. He still does work for Lifeson today.
By 1992, Gabrsek was able to balance his work as a luthier (builder of stringed instruments) with a career as a sound designer and operator at the Shaw Festival, a job which he still holds today.
He speaks very highly of his "gig" at Shaw, and of the Theatre's music director, Paul Sportelli, whom he calls his greatest influence as a musician, in a recent visit to his Garrison Village basement workshop.
The room is lined with guitar parts and carpentry equipment. On a workbench sits the outer body of a new acoustic guitar, clamped tightly to a mould to hold its shape until the top and bottom panels can be glued on. Gabrsek explains that this beautiful, porous wood, which has a purplish tone to it, is African Sapele.
Sourcing the wood used for both his acoustics and electrics, he says, can be quite tricky. Much of it he gets from a supplier called Exotic Woods Inc. in Burlington. But it's the care for the wood before building the instrument which takes planning.
"I have a wood room (in Welland) that is temperature- and humidity-controlled. It's always 20 degrees Celsius, always 45 per cent humidity. All of my wood gets stored in there," says Gabrsek. "Some has been there for 20 years. I constantly buy stuff and stick it in there. With new wood, you don't know how well-seasoned it is, or if the moisture content has equilibrium with the environment. If it's seasoned under your own control, then there's no worry."
Next to the mould sit four fretboards in various states of completion. Gabrsek explains he can take up to four or five months to finish the intricate work that needs to go into this part of a guitar.
Boxes of strings line the shelves, while the odd pick-up (or transducer) can be spotted. On the floor, his original acoustic and electric guitars sit on racks, waiting to be played.
Much of the detail work takes place in this basement workshop. Gabrsek also uses this space as a recording studio. His second passion, he says, is producing and recording.
Never one to be held back by access to high-end equipment, he explains he has built his own racks of the processing and recording equipment he has been using to produce music for a young Niagara-
on-the-Lake singer.
Gabrsek takes it even further. Desiring to acquire a large diaphragm condenser Telefunken U47 microphone, which can retail for more than $10,000, he decided to build one himself. He opens a box to unveil a bright, shiny silver-coloured tube microphone that looks identical to one you might find in a high-end recording studio.
Much of the equipment used to make and refine parts for his guitars is housed in this workshop. He does all the work himself, with a bit of help from his father. Gabrsek says he has brought in apprentice luthiers in the past, but it didn't work out for him.
"I ended up taking more time to teach than to get things done. I think most people don't realize how much work goes into building a guitar. They expect to have one done in about two months, and it just doesn't work out that way. Just learning how to sharpen a chisel correctly can take hours."
The painting and finishing take place at his shop in Welland. Gabrsek will apply up to 15 coats of finish on his electric guitars. Though mass producers will use a modern polyester finish, which requires only two to three coats, Gabrsek says his clients prefer a more traditional application.
"Vintage aficionados prefer a nitro lacquer finish," he explains. "It's very thin, with little solids content, and it has to be sanded between coats. It takes a ton of labour, but it has a look that you can't get with polyester."
For his acoustic guitars, the number of coats applied depends on the wood used in construction. That African Sepele currently sitting in the mould, for instance, would require many coats.
It's Gabrsek's attention to detail that has earned him the reputation amongst guitar aficionados as a world-class builder and technician.
As he explains, "musicians are very sensitive to tiny, minute little details in the set-up of their instrument. If you get it right for them, they know it, and they will be back."
Today, he makes about a dozen guitars a year, both acoustic and electric models, mostly through commissioned work. His creations sell for between $3,500 and $10,000, and have been sold to musicians and collectors from as far away as Hong Kong. He points to the two guitars sitting on racks, saying that one is on its way to Maryland, and the other to Texas.
You can find examples of Gabrsek's work on his website, freddysfrets.com. He also has a YouTube channel under the same name, featuring videos of his building process.
And, of course, between building, fixing and restoring instruments, producing singers and musicians, making his own recording equipment, and working at Shaw, Gabrsek still finds time to play.
In fact, you may see him soon heading back out on the bar circuit. He recently answered an ad on Kijiji for a guitar player, and connected with a group of musicians. They have been rehearsing once a week, and will soon begin gigging, playing 80s music, mostly British new wave.
He doesn't give a name for the band, but you will know it's Fred — just look for the name "Gabrsek" on the guitar's headstock.