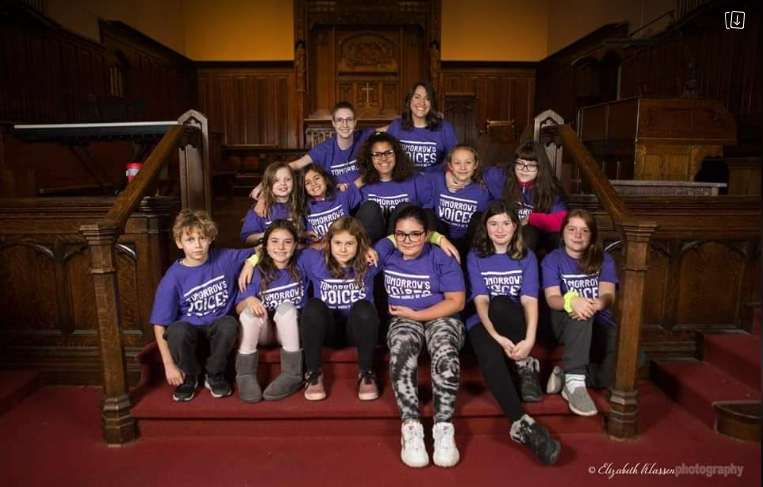 St. Davids resident Todd Green knows the benefits of choir singing.
After all, the Brock University Goodman School of Business professor has researched them thoroughly. Green is one of the men behind Tomorrow's Voices, a non-profit children's choir that launched out of St. Catharines in 2017. 
It all started a couple of years earlier with a chance for him to combine his love of music with his business background. While researching his paper, An Exploration of Socially Responsible Music Consumption, he came into contact with vocalist, songwriter and bass player Murray Foster of Great Big Sea. Foster approached Green and the Goodman School with an idea to offer music training as a team-building activity for corporate entities.
"Singing is much easier than having four guitars, three basses and a whole bunch of drums coming into a corporate board room," laughs Green. "And singing is something that people can easily learn to do. When you put enough voices together pretty cool things happen."
His Goodman School students started researching the idea that became Choir Nation. He and Foster (and some other musicians) found their services in demand by organizations such as KPMG, Chubb, Indigo and Canada Goose. He laughs that as he was running to these head offices, the Choir Nation headquarters was housed in the basement of the St. Davids home he shares with his wife Jennifer and their seven-year-old son Liam.
Along with Foster and Choir Nation coowner and Momentum Choir artistic and executive director Mendelt Hoekstra, they would swoop in to a head office, distribute lyric sheets and music, and train groups of executives in preparation for a final performance in front of coworkers or to be recorded on video.
The Choir Nation website lists improved productivity, cooperation and camaraderie as benefits. Group singing can also enhance focus and increase employee morale, leading to a significant shift in the efficiency of the workplace. That led to open choir nights, bringing a diverse group of people together at venues such as the Mahtay Lounge in St. Catharines and locations in both Hamilton and Toronto.
Complete strangers would show up for the sheer joy of singing, learning songs by artists such as Devin Cuddy, Dan Mangan, Adele, the Tragically Hip and the Beatles.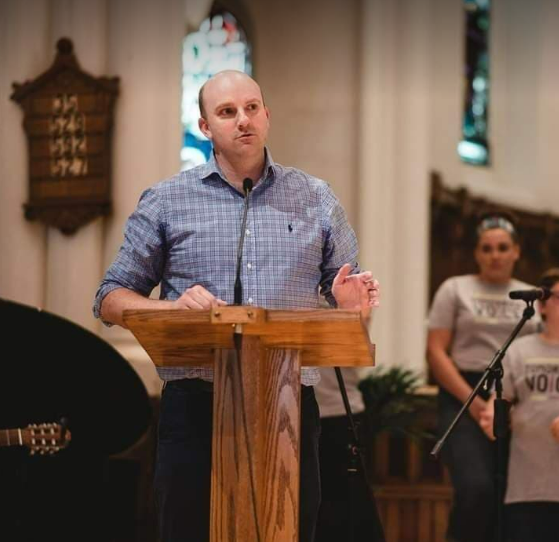 He soon realized the benefits being reaped by the corporate executives were easily translated to these disparate groups. "We saw the effect of a community growing through the open choirs," Green tells The Local. "People were giving each other hugs after our adult choir rehearsals. They were becoming friends outside the choir, going to concerts together and doing all kinds of stuff."
He was certain that children could experience the same benefits, and wanted to bring opportunities to those who might not have access to extra-curricular music activities. He enlisted Hoekstra and local musicians Katey Gatta and Sarah Jerrom and began working with kids in St. Catharines in 2017.
"I contacted Community Care St. Catharines and Thorold, and we connected with Big Brothers Big Sisters, too," he explains. "Caseworkers started referring kids to us, and Brock's Marilyn I. Walker School agreed to host our rehearsals for free. At first we had four kids signed up, and within a week we had 28."
Some of the kids involved are in foster care, and others have been diagnosed on the autism spectrum.
One of the children involved had not even been sent to school until he was nine years old. Stephanie, now 18 years old, joined Tomorrow's Voices about four years ago, following her sister Emily. The St. Catharines Collegiate graduate is now studying Early Childhood Education in Niagara College and successfully convinced Green to allow her to continue with the choir even though she's technically too old to participate.
"It gives me a highlight to look forward to every week," she says. "When I was in high school it was my favourite thing to do each week, going to choir, and meeting other people from other schools. I have always been one of the older ones in the choir and I enjoyed making connections with the younger kids."
In November, 2017, Tomorrow's Voices had their first public performance as a choir of more than 25 kids aged eight to 18 at a show by Juno Award-nominated Toronto musician Royal Wood at the FirstOntario Performing Arts Centre. Since then they have been invited to sing with Serena Ryder and even travelled to Toronto's Danforth Music Hall to back the talented Neko Case. And as COVID restrictions have begun to ease up across the province, they sang O Canada at the Meridian Centre on March 12 to open a Niagara Ice Dogs game.
"It was really surreal meeting people who have made music their career," says DSBN Academy student and long-time Tomorrow's Voices member Rylee. "It was such a great opportunity that we wouldn't have gotten from anywhere else."
She goes on to talk about the community feeling of singing collectively. "There is a real collective energy," she says. "You're not so nervous about all the focus being on you. If you mess up a bit, there are so many other voices lifting you up and helping you."
Though at first 10 per cent of Choir Nation proceeds helped fund Tomorrow's Voices, Green realized the benefits of incorporating the children's choir as a separate non-profit entity. Armed with charitable status by the summer of 2018, Tomorrow's Voices expanded to include children's choirs in Toronto, Hamilton and most recently, Saskatoon.
Green has been able to maintain the connection between the young choir members during the pandemic. As some kids opted not to participate online, weekly Zoom sessions have been held combining about a third of the members of each of the three Ontario choirs. Even online sessions prove to the former Seton Hall varsity tennis player how beneficial choir singing is for this age group.
Supportive comments via the Zoom chat feature are a common sight. Green says the virtual gatherings have been helpful in reducing loneliness and stress during the pandemic. "Even on their first session I see them making new friends," says Green of their in-person meetings, which he hopes to return to in the fall. "It's the idea of community, that the other kids in the choir are there for them, they're supportive. Self-confidence improves, especially when they get positive reinforcement from live audiences. And they are meeting some great, positive role models."
He continues, "research shows that heart rates sync up during choir singing. It also addresses mental health concerns such as anxiety and depression. It creates such a strong network of social support. They are so excited to see each other."
Green, who holds an undergraduate degree in finance from Seton Hall as well as a master's degree from McMaster and a PhD from Simon Fraser University, both in marketing, never really was involved in music other than being a big fan. He credits that meeting with Foster for allowing him to bring his love of music to his career at Brock.
Alan Cross, host of The Ongoing History of New Music podcast, was another music expert Green consulted while researching that paper. Last year Green enlisted the well-known broadcaster to host an online music trivia night to support Tomorrow's Voices.
"We had 195 participants, and between the entry fees and the silent auction, we raised about $6,000," Green informs The Local. "It helped us feel confident enough to expand into Saskatoon."
Cross is back on board for another virtual music trivia night on April 28 at 7:30 p.m. Green says as soon as the longtime Toronto radio host's participation was announced, ticket sales began to soar.
"We support the kids' post-secondary education," adds Green. "Some of our fundraising goes toward awards and bursaries to our older kids. We've been able to provide funds to our graduating students to attend Sheridan College and Brock University. And we have a couple graduating this year, too."
Stephanie says her bursary from Tomorrow's Voices was a big help for her first year at Niagara College. Tickets are still available for the trivia night, at https://www. eventbrite.ca/e/tomorrowsvoices-virtual-musictrivia-ft-alancrosstickets-274904866857. Green promises a great night of music trivia covering all genres and all decades of music. And you don't even have to leave home to enjoy it.