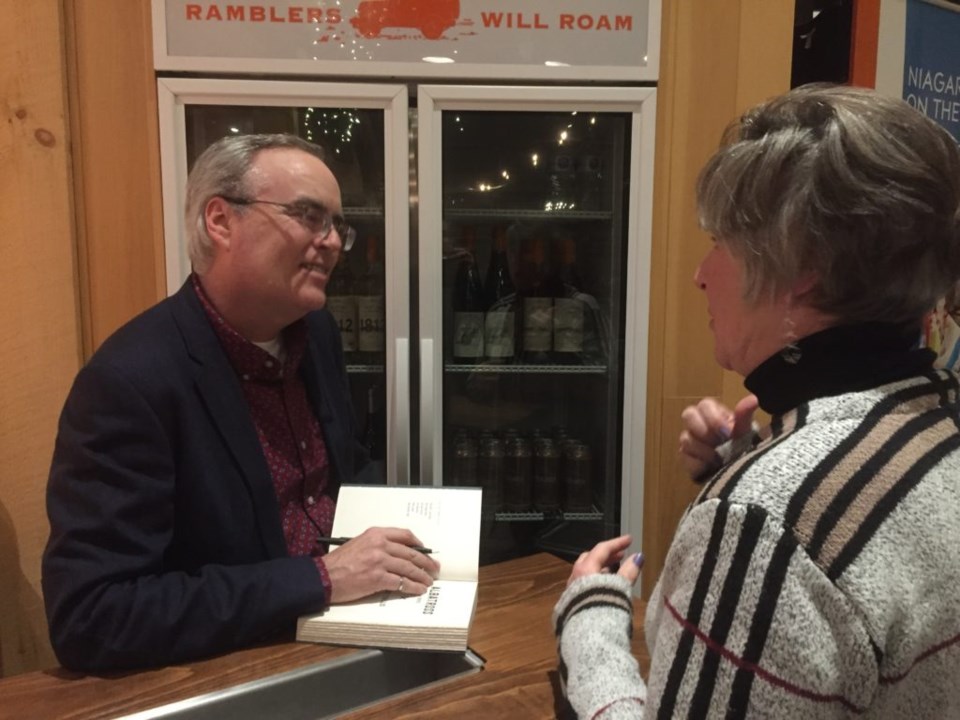 Fountain pens, Lake Temagami, the Burj Al Arab Jumeirah, John Irving, a Swedish kinesiologist, the Masters Golf Tournament, a double eagle and the Toronto Ladies Golf Club all come together in the latest novel by Toronto author Terry Fallis.
The two-time winner of the Stephen Leacock Medal for Humour was at Palatine Hills Estate Winery last Wednesday to talk about and read from The Albatross. It was the second event in the NOTL Public Library's 2019-2020 Wine and Words series.
His seventh novel follows Adam Coryell's reluctant rise up the PGA ranks to become the number one golfer in the world. Though he wants to be a writer, Coryell, through one of his high school teachers, discovers his measurements match the formula set out by a Swedish kinesiologist, pointing to a natural ability to swing a golf club.
The catch, though, is that he can't practise his swing. That would ruin his natural ability, which he nurtures with the help of his teacher. The concept is, of course, total fiction, but one that came to Fallis long before his first novel, The Best Laid Plans, was published in 2008.
"It's sort of rooted in an idea I had as a kid," he said. "I remember thinking, I'm really skinny, surely there is a sport that I would be good at, because I have a body like this. I never really found it. Maybe I would have been a world champion jai alai player if I was able to play that sport."
With his high school teacher by his side, Coryell learns how to play the game at the Toronto Ladies Golf Club. He rises through the ranks of high school golf, winning the Ontario championship. This earns him a scholarship to Stanford University, where he majors in creative writing, all the while winning tournament after tournament in the NCAA. He caps off his collegiate golf career by winning the Masters as an amateur.
Fallis is one of the few authors in the Wine and Words series who comes prepared with a PowerPoint presentation about his novel. He used the slides to explain how he weaves many of his favourite things into his novels.
Coryell's love of fountain pens, for instance, comes from his own hobby. "I am a fountain pen nerd," Fallis admits. "I have a modest collection of fountain pens that I have gathered over the years. I like to write with them. I'm not a collector by nature. To me, it's a tangible link to writers of a bygone age."
Though he uses a computer to type his novels, Fallis says his original notes and outlines for all of his novels are usually written with one of the 14 fountain pens in his collection.
Fallis first took up golf in Grade 8, and says he has spent 45 years trying to work on his own swing. He regaled the audience with stories of his annual men's golf trip with his brother and some friends. The albatross of the title, by the way, has a double meaning. Fallis explained that Adam's talent for the game is the albatross around his neck, but he also chose it for its golf meaning — an albatross is a rare score of three-under-par, or a double eagle. Fallis assured the guests that's an accomplishment he has never achieved.
He revealed that his favourite novel of all time is A Prayer for Owen Meany, and that he once had to turn down a chance to have dinner with its author, John Irving. Irving pops up early in the novel as Coryell and his high school girlfriend travel across town for a reading by the author.
Two pivotal scenes in The Albatross also revolve around experiences from Fallis' own life. He spent much of his childhood summering on Lake Temagami, working as a camp counsellor. His own run-in with a bear while on a canoe trip is recounted as the climax to Adam's solo trip to that very same lake. He is there to contemplate his next move after winning millions of dollars on the PGA tour.
The major turning point of the novel occurs at the Burj Al Arab Jumeirah, the luxury hotel in Dubai. Similar to what Tiger Woods did at the nearby Burj Khalifa, Coryell is asked to hit golf balls off a helipad for a promotion. Though Fallis, of course, did nothing of the sort, he chose the setting after participating in an author's panel at the hotel. He humorously described the frustrating experience of trying to follow along with a discussion that was transpiring in a language he did not understand.
Though The Albatross is about a golfer, Fallis was adamant it's not about golf. Coryell's natural talent for the game earns him scads of money, but his heart is always longing to pursue happiness through a career in writing.
In a way, this is also similar to Fallis' own life. After spending many years working for Liberal MPs and MPPs, Fallis co-founded a successful communications and consulting agency 24 years ago. The Best Laid Plans was published 13 years later, when Fallis was 44 years old. Though he enjoys his consulting work, he admits his own true happiness career-wise comes from writing his novels.
He said of The Albatross that "the moral of the story is we've gotta figure out what makes us happy, and we have to find a way to integrate it into our lives somehow, even if it's not our career, because we're really short-changing ourselves and our lives if we are not pursuing that which makes us happy."
The sold-out crowd at Palatine was enthralled with Fallis' natural sense of humour, and his ease at holding his audience's attention. Debbie Krause, the library's Community Engagement Coordinator, says the session sold out quickly.
"He's a favourite of the community," said Krause. "When they see his name, a lot of people comment on how excited they are to see him." This is his third appearance at the Wine and Words series.
That audience was elated to learn Fallis has signed a new two-book deal with McClelland & Stewart that will bring back Angus McClintock, the reluctant MP featured in his first two novels. The working title for novel number eight is Aye, Angus.
The next event in the Wine and Words Series, featuring Jennifer Robson, is also sold out. Tickets remain available for Samra Zafar in February, Katherine Ashenburg in March, and Guy Gavriel Kay in April.