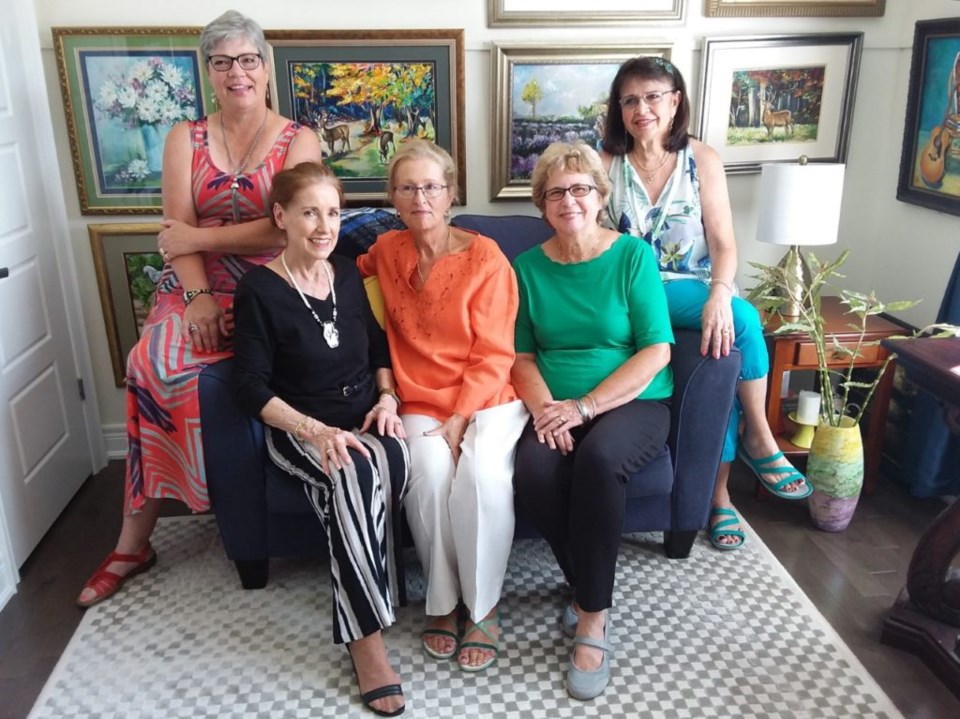 For Lynn Sawatzky, the prospect of publicly displaying her art for the first time is very exciting.
Sawatzky's acrylic paintings, mostly focused on Mediterranean architecture, will be part of a three-week long exhibit at the United Mennonite Church (known as the Red Brick Church) at 1775 Niagara Stone Road.
The exhibit brings together the works of a group of St. Davids neighbours, known simply as the St. Davids Art Group. Sawatzky says there are currently eight members, with all but one of them to have art on display at the church.
The group was started about six years ago by artist Heather McKenna, when she invited three neighbours to get together to work on art. The group has grown, and has expanded geographically to include a member who lives in St. Catharines. It remains an informal group, though, and the members get together Wednesday afternoons to paint while enjoying a glass of wine.
As an established artist, McKenna has become the de facto leader of the group. Her knowledge, experience and encouragement have been valuable to those who are newcomers to the art world.
As a group, Sawatzky says when they come together, everyone focuses on what they primarily love to do. Some of the members have taken to watercolours, while one of the women, she says, has begun working on quilting as her form of expression.
McKenna's milieu includes work in acrylic, oil, watercolour and fabric. She has had exhibits prior to this one, but for the other members, including Sawatzky, this will be the first opportunity for them to publicly display their creations.
Sawatzky is relatively new to the group. Though she says she has an aunt who has an art gallery named after her, Sawatzky never really picked up a brush until about 18 months ago. Some of the artists, meanwhile, have only been painting for around six months. She says you would never guess this once you see the quality of their work.
When Sawatzky first joined, her goal was to paint something nice enough that she could put up on the wall in her St. Davids home. Within a couple of months, she had achieved that goal, and now loves to invite guests to her home to see her art.
That confidence makes her look forward to taking this next step by showing her work to complete strangers.
Sawatzky promises a very diverse showing at the church, with watercolours, acrylics, mixed media, fabric, oils, and quilts. She adds visitors will view stunning works created by new and emerging artists that will lead you to imagine and wonder what they will be creating in the future.
Approximately 30 works will be on display by the seven artists involved. According to the rules of the church, none of the members can make a sale during the exhibit, but if a visitor finds something they like, they should feel free to connect with the artists at a later date.
Works by the St. Davids Art Group will be on display in the church's lower gallery from Monday, Aug. 26 through Friday, Sept. 13.