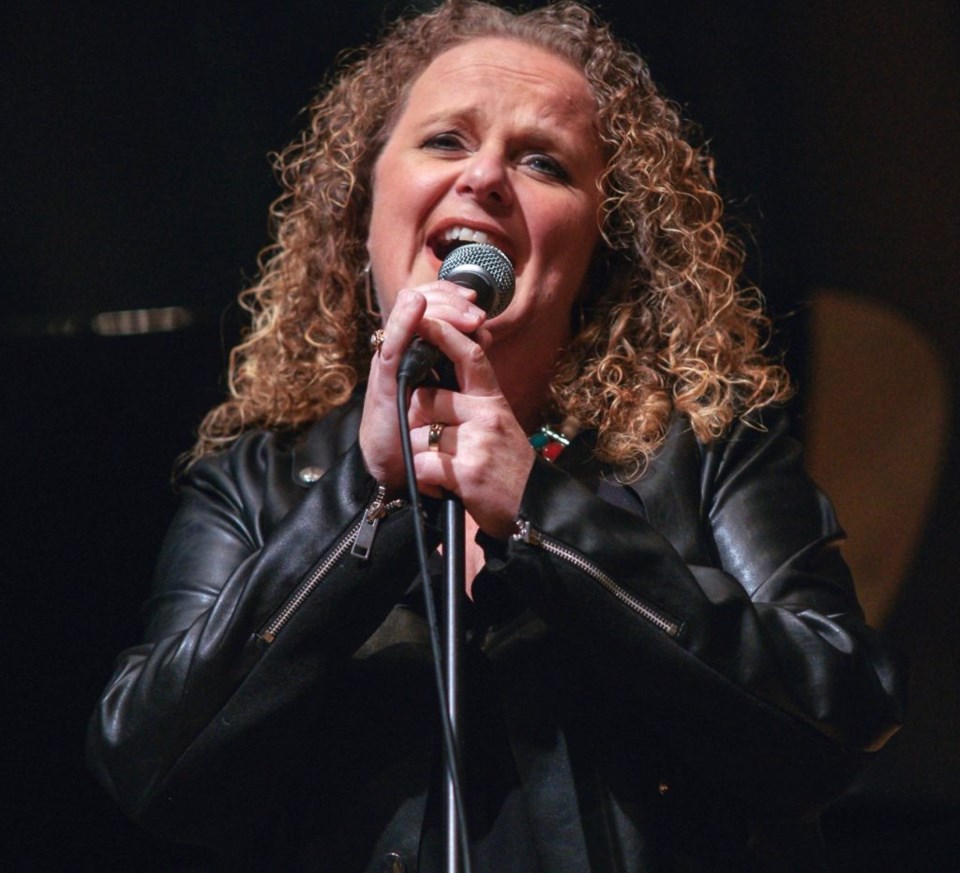 Referring to a woman as a 'dame' might not win one a lot of friends in the 2020s, but 100 years ago it was quite common.
The roaring 20s feel of Lakeshore Road's Spirit in Niagara Distillery is what inspired TD Niagara Jazz Festival executive director, co-creator and artistic director Juliet Dunn to use that sobriquet, dubbing a group of shows headlined by female artists the Dames in the Distillery Series.
But as the local jazz chanteuse explains, it's not the first time she's dusted off that word for a Jazz Festival show.
"It was a show with Heather Bambrick, June Garber and Barb Manitini," Dunn recalls, "the first year the Wayne Gretzky Distillery opened. I wanted a word that goes well with 'distillery' and I thought of 'dames,' as we had three women that night."
Bambrick is back this Monday, March 21 for the second show in the series, following Betsy Tauro's well-attended kick-off at Spirit in Niagara March 7. The Cheri Maracle Quintet completes the troika of Dames in the Distillery performances on Monday, May 30.
Dedicated Jazz FM listeners will know Bambrick from her morning radio show on 91.1 FM. The Juno-nominated singer's voice may also be heard on various television and radio commercials as well as on a number of successful animated television programs, including The Wild Kratts.
Dunn and her husband, Jazz Festival co-creator and artistic consultant Peter Shea, promise an evening of great music and storytelling from Bambrick, whose shows have been described as what happens when Ella Fitzgerald meets Carol Burnett at a Newfoundland kitchen party.
"She's from Newfoundland, and she has a great personality," Dunn explains. "She's a lot of fun on-stage. The storytelling in between is great, and she'll do some east coast-style pieces along with jazz standards. She's really good at swinging hard."
Shea has known Bambrick since their days studying jazz in the early 1990s in the University of Toronto's music program, where they often played together. He has backed up Bambrick on drums for some of her previous TD Niagara Jazz Festival shows.
"We were good friends back in university, and ever since then we've had a kindred connection," adds Shea. "Musically, she's a consummate professional. She's an amazing singer and scats like Ella Fitzgerald. She's hysterically funny, she does impressions. She's very well-rounded."
Shea will be sitting in the audience rather than behind the kit for this one, as Bambrick will be joined by pianist Adrean Farrugia and bassist Ross MacIntyre, both of whom appear on her most recent album, 2019's Fine State.
Farrugia is recognized as one of Canada's finest pianists and composers. He has appeared on more than 40 albums and has been nominated for four Juno Awards, winning one. He is on the faculties of both Mohawk and Humber Colleges.
MacIntyre, meanwhile, has shared the stage with the likes of Matt Dusk, Emilie-Claire Barlow, Guido Basso, Elizabeth Shephard, Laila Biali, Jesse Cook and the Shuffle Demons. His work appears on hundreds of recordings, including 11 that have either won or were nominated for Juno Awards.
Monday's program will include a brief opening set by rising start Jacob Chung. The 21-year old Canadian saxophonist and composer has earned multiple awards for his playing during his studies at the University of Toronto. He has also garnered several non-academic accolades including the 2021 Hnatyshyn Foundation Oscar Peterson Grant and the 2019 Prince Edward County Jazz Festival Rising Young Star Award. Shea will accompany Chung on piano.
The Dames in the Distillery shows are a subset of the festival's Twilight Jazz and Blooz Series: NOTL Edition, all taking place on Mondays at Spirit in Niagara. Food and drinks are available, but not included in the ticket prices.
"What we like to do for these is have theatre-style seating for those who are just coming for the show and drinks, so they can sit like they're in a theatre," Dunn explains. "Those who are going to have dinner can sit on the sides or in the back to enjoy their food. It's like a dinner theatre set-up. It's a great venue — we love it."
The Jazz Festival is also running a concurrent Twilight Jazz and Blooz Series on Sundays in St. Catharines at the Mahtay Cafe. Upcoming shows there include the Jeffrey Arthur Quartet on April 10 and Melissa Lauren's CD Release Party on May 8.
Some may wonder when Dunn and Shea themselves might soon be taking to the stage for a Jazz Festival presentation.
The musical power couple will be bringing their Le Trio Parisien to Stratus Vineyards on Saturday, April 30 to mark International Jazz Day. The fundraising concert will include French hors d'oeuvres and a welcome cocktail with the ticket price, as well as door prizes, a silent auction and a 50/50 draw.
On the fundraising end of things, Dunn is encouraging supporters of the TD Niagara Jazz Festival to consider making a monthly donation to the non-profit through Canada Helps. During the month of March, Canada Helps will chip in an extra one-time donation of $20 for every new monthly donation of $20 or more.
Tickets for the Heather Bambrick Trio, Monday March 21 from 6 to 9 p.m., are $49 plus HST in advance or $59 the day of the show. Musicians, arts workers and students can buy their tickets for $23 plus HST. Visit niagarajazzfestival.com for tickets and information.