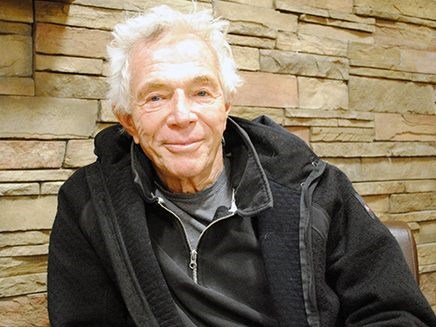 With instant streaming of movies and television shows at everyone's fingertips, going out to see a movie should be an experience. Going out to see a movie at the Shaw Festival Theatre this winter promises to be that, and more.
The theatre itself, of course, is part of the attraction. The Shaw Festival Theatre is definitely not your average run-of-the-mill multiplex. And the films that are carefully chosen by Shaw Film Series founder and director Steven Levy are not likely to be found running alongside the usual blockbusters.
To Levy, the Shaw film experience is more about the community than the films themselves. Most of the regulars have been coming since day one, with many long-time Shaw Theatre supporters also attending the films. As well, a large number of them purchase tickets for multiple movies, if not the entire season.
And most of these regulars arrive early, stake their claim on their seats, then head out to the lobby to enjoy a drink and snacks, provided by Gooddine Catering. This Saturday, Jan. 4, the early birds will be arriving around 1:30 p.m. (the movies begin at 3 p.m.), to renew acquaintances and to share their excitement about seeing the first film, Blinded by the Light, in which a young Muslim man learns about life through the music of Bruce Springsteen.
Peter Barwell is one of those regulars. He's been attending since the first year, and claims to have seen at least 80 per cent of the films in the Shaw Series.
To Barwell, the success of the series comes from the fact that "it's a bit of a town event." He admits that its popularity has led to a higher percentage of film-goers coming from outside of the town's confines, but is adamant that it's still a chance to socialize with other locals on a weekly basis. As he says, "it's Saturday afternoon, in the winter, 3 p.m. What else are you going to do?"
Barwell wouldn't describe himself as a regular film-goer, but puts his trust in the choices made by Levy each year. And Levy never fails to introduce the audience to thought-provoking films they wouldn't be able to see anywhere else.
Levy can't wait to take the stage to introduce the first entry in this year's series Saturday.
He's had a chance, of course, to view all eight films ahead of time, and he's looking forward to the discussions that always ensue in the lobby following each screening.
Three of this year's films, including the season opener, revolve largely around music. Wild Rose (Jan. 11) is the story of a young mother, recently out of prison, trying to make it as a country music star. The Jan. 25 entry, Rocketman, probably the most well-known of this year's films, is the story of Elton John's rise to stardom, told as an epic musical fantasy.
Woman at War (Jan. 18) is an Icelandic/Ukrainian film with subtitles. It takes on the timely topic of eco-activism. The lone Canadian film on this year's slate is The Grizzlies (Feb. 8). It's based on a true story of a group of Inuit youth who come together to form a lacrosse team. "It's a wonderful story about how they turn themselves around to find success," says Levy.
Described by Levy as "fabulous" is the satire Jojo Rabbit (Feb. 15). "It follows a kid during the Nazi times," he says. "It sounds very gloomy, but it's a sweet story that sees things through the eyes of innocent children who get caught up in the events."
For the second straight year, Shaw's decision to offer theatre productions through the Christmas season has resulted in the cancellation of the Documentary Series, which ran alongside the theatrical films in previous years. Levy was able to squeeze one documentary into this year's series, the Feb. 1 screening of The Biggest Little Farm.
It all concludes on Feb. 22 with Quentin Tarantino's Once Upon a Time in Hollywood, featuring Brad Pitt and Leonardo DiCaprio striving for success in Hollywood in 1969. As with other Tarantino films, there is a dark undercurrent to this one, with the rise of Charles Manson and the Tate-LaBianca murders looming large.
Though the films lead to much discussion afterwards, Levy has never scheduled a formal talk following a screening. Though he has no plans for it, the Tarantino film would be an interesting one to start, as Levy himself was starring in a Hollywood production at the time of those murders.
"It was at the height of my acting career." he says. "I was starring in Judd for the Defense, a legal drama. Sharon Tate lived around the corner from me. When that happened, everyone was scared, nobody owned a gun, and all of a sudden, everyone was going out to buy one. I didn't want a gun, but a friend of mine who owned one moved in with me for three weeks."
Reflecting on the many films screened at the Shaw series over the years, Levy says he is "very proud of the quality of the films. Not everybody likes everything, but there is a certain quiet, they're pretty focused, and I rarely see anyone walking out."
Levy, like the few others involved, is a volunteer, and organizes the series for the love of it. Any funds raised go right back to the Shaw Festival. "I get a kick if somebody likes (a film) that I think has gravitas," he says. "When other people get it, that's all I need."
Tickets are $12 per film, or a season pass can be purchased for $80. Information about this year's Shaw Film Series can be found at https://www.shawfest.com/event/film-series/.