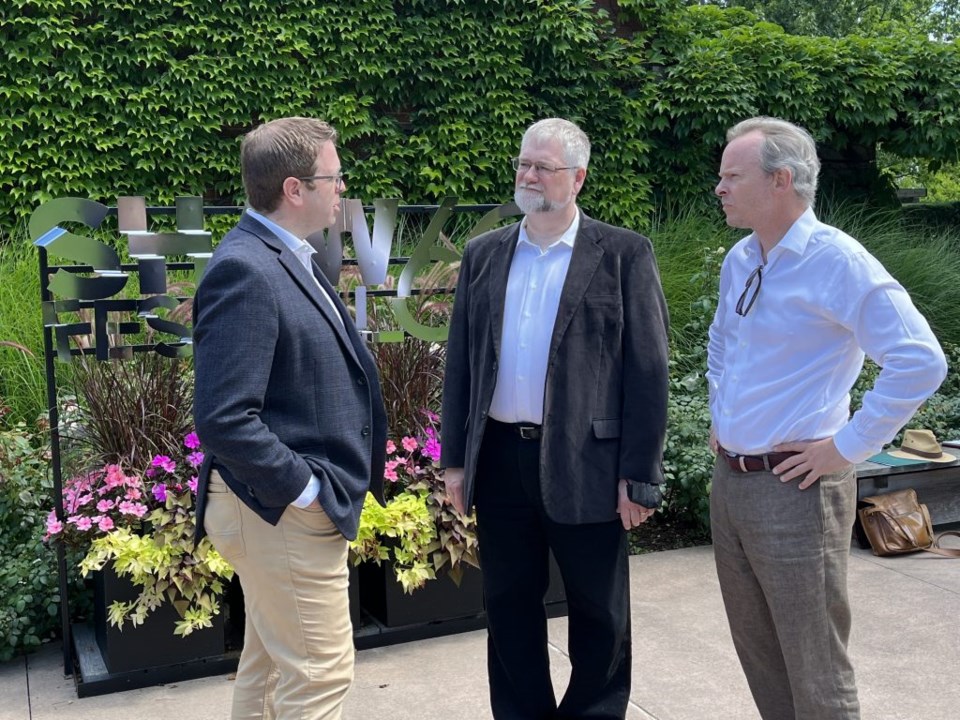 The outdoor stage on the grounds provided the perfect backdrop for an announcement about federal funding for the Shaw Festival.
Speaking on behalf of Helena Jaczek, Minister responsible for the Federal Economic Development Agency for Southern Ontario (FedDev Ontario), St. Catharines MP Chris Bittle announced a non-repayable investment of more than $6 million to support the Shaw Festival's recovery from the impacts of the past two years.
"We all know the last few years have been a challenge, to put it mildly," Bittle said to the gathered crowd Tuesday morning. "Here in Niagara, after the Festival's cancellation in 2020 and the shortened season in 2021 due to the COVID-19 pandemic, it's vital that we ensure these economic and cultural drivers continue to thrive and grow."
Standing beside Bittle on stage, Shaw artistic director Tim Carroll and executive director Tim Jennings both seemed to be holding back tears of joy as the $6 million figure was announced by the MP. The crowd erupted in a raucous round of applause that lasted nearly 20 seconds.
"The investment will support a new concert series," Bittle explained, "and the Fairground and Shawgrounds events, one-hour fairs for the whole family that celebrate the arts and the time period of George Bernard Shaw. Looking around, you can see the important role that these investments have in
supporting a safe return of the Festival."
Carroll thanked Bittle and the minister for the grant.
"It's astonishing and marvellous news," the man known as 'TC' said. "It's going to have an incredible impact both on our theatre and the community that we are in. I know personally that I have had a lot of people coming to me to tell me (a Shaw performance) was the first thing they've ventured out to do in the past two years."
Jennings talked of the infusion of the federal funding's potential to provide much needed support as Shaw moves through its 60th season, the longest and largest in its history.
"On behalf of the 600-plus artists, artisans and arts workers here at the Shaw," said Jennings, "and the thousands of local jobs that are reliant on our
stability for survival, I thank you."
He went on to point out that Shaw is responsible for almost $220 million a year in local economic impact.
"We know that our work generates work for others," he added. "Shaw's patrons anchor long stays in Niagara and Ontario with trips to the Shaw. They often use Niagara as a launching pad for seeing other parts of the province. And arts and culture tourists, according to Destination Canada, spend double what other tourists do locally."
As Jennings explained, some of the $6 million that was announced Tuesday is actually earmarked for the current season. He added that two years ago he began speaking with FedDev Ontario to work out a budget for 65 live concerts in the fall and winter of 2020.
"When the government announced the major festival program (Major Festivals and Events Support Initiative, or MFESI)," said Jennings, "we put in an application last summer. We've been talking with them constantly. They're a partner, and they've been really helpful. In planning for this season, there was a lot of conversation about what we could do together and how it could happen."
Though Shaw is running a full slate of performances this year, the effects of COVID have certainly continued to be felt in
the form of staffing shortages and smaller crowds. As well, whereas about 40 per cent of Shaw attendees normally come from the U.S., that percentage is down significantly due to some reluctance to cross the border.
"We hired six extra full time understudies this year to try to help beyond our normal understudy complement," explained Jennings. "We've been using them every week due to illness. As well, we've lost about 5,500 tickets worth of cancellation in the course of the season related to that."
Attendance is not yet back to pre-pandemic levels, but Jennings and Carroll both look to this funding announcement as a major step toward getting there.
"It is our intent to get back to our pre-COVID attendance and economic impact as quickly and safely as possible," Jennings said. "This significant investment will help us do that. It gives us the optimism to take good risks which will benefit all of Niagara."