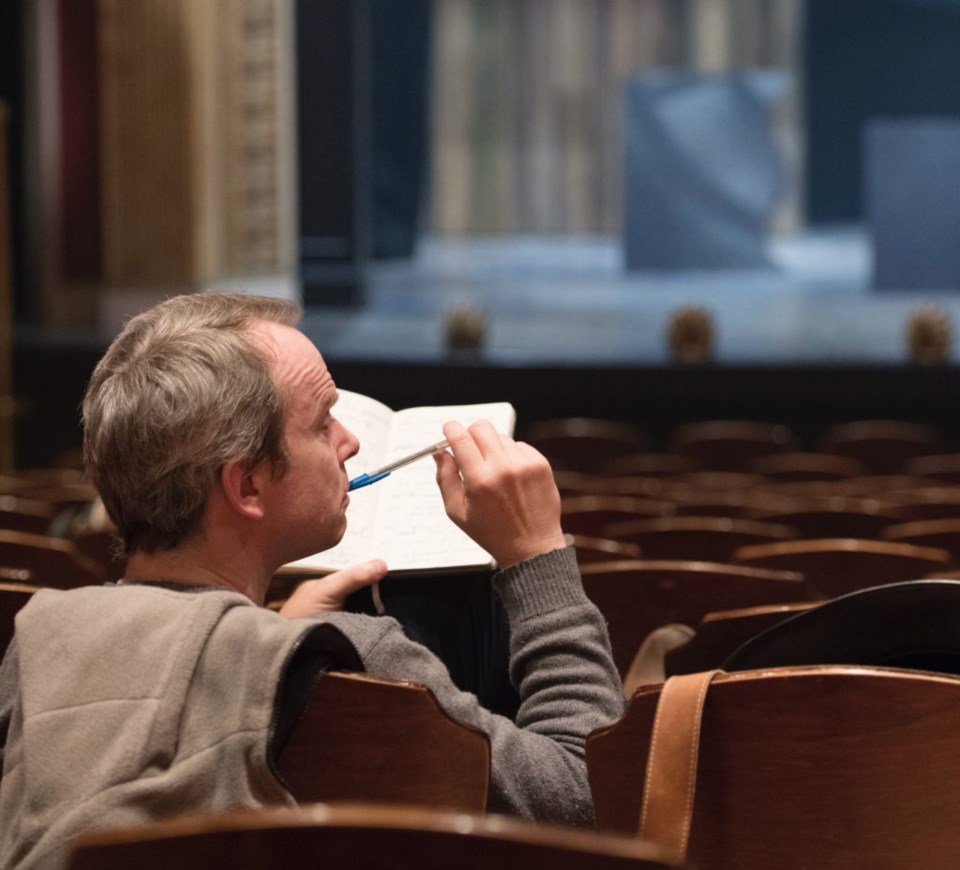 With the announcement of Shaw Festival's 2023 lineup this week, Tim Carroll cements his reputation as an artistic director who is willing to take chances while also honouring the sense of tradition that goes along with a 61-year-old theatre company.
Works by the company's namesake playwright and his contemporaries Edith Wharton and J.M. Synge find space on the playbill next to newer plays by the likes of Tom Stoppard, Helen Edmundson and Selma Dimitrijevic. There's a trip to Narnia with Prince Caspian, three musicals, and a collaboration with Toronto's Why Not Theatre in association with London, England's Barbican Centre.
Noël Coward's Blithe Spirit returns for the first time in 30 years, holiday favourite A Christmas Carol goes into its sixth straight December (if you include 2020, when it was planned to run but cancelled due to COVID-19), and a former artistic director returns to direct a play in the studio theatre that bears her name.
"We step into 2023 with hope and pluck," Carroll stated in a press release last Wednesday. "A mix of classics, real hidden gems, new works and a variety of voices will be seen, heard and experienced in both our indoor and outdoor spaces next season."
The season starts with a bang at the Festival Theatre with Mahābhārata, previewing on Feb. 28. Written and adapted by Ravi Jain and Miriam Fernandes, using poetry from Carole Satyamurti, the play is a modern retelling of a Sanskrit epic that is more than 4,000 years old. The gripping story of a family feud explores profound philosophical and spiritual ideas and is recognized as a text that sheds light on the development of Hinduism.
Shaw's production, in partnership with Why Not Theatre, promises to be a visually stunning spectacle that stars a cast made entirely of performers from the South Asian diaspora and presents a complex hybrid of cultures balancing East and West, traditional and contemporary. It is presented in two full-length parts that takes audiences on a journey through the past in order to write a thrilling new future.
After presenting both The Doctor's Dilemma and Too True to Be Good this year, Carroll has dug deeply into Shaw's oeuvre for two of his less-often seen works.
Village Wooing will be presented at the Royal George Theatre as a lunchtime one-act play, directed by Dimitrijevic.
Last seen at the Shaw in 1999, the story finds two unlikely travelling companions - a writer and a young woman - meeting on a cruise and falling head over heels in love with each other. Similar to the casting of this year's marvelous Everybody, the ensemble members to play each of the characters, known simply as 'A' and 'Z', will be chosen by lottery for each performance.
Also in the line-up is The Apple Cart, the fourth time it will be performed in Niagara-on-the-Lake. 
Eda Holmes directs this one at the Jackie Maxwell Studio Theatre beginning in May. The 1928 play is a witty political satire, focusing on the power struggle between an English king and his prime minister. Originally subtitled A Political Extravaganza, it reveals much about the true nature of governmental power through a series of lengthy monologues by its characters.
It's perhaps fitting that the festival's artistic director emerita Jackie Maxwell returns to the theatre that bears her name. Maxwell will helm J.M. Synge's The Playboy of the Western World, previewing on May 25.
It's the story of a man on the run after allegedly murdering his father. He becomes a bit of a local celebrity as he tells his story, attracting the attention of the women in town, until his father walks in very much alive.
First performed in Dublin in 1907, Synge's play caused riots provoked by Irish nationalist and republicans who viewed it as an insult to the country.
Written in 1901 but not discovered until 2017, Edith Wharton's The Shadow of a Doubt is a three-act mystery/drama by the author of The Age of Innocence and The House of Mirth.
Gypsy was one of the victims of the pandemic in 2020, when the lockdown shut down Shaw's planned season just days before it was to preview. Shaw gets a second chance at the popular musical inspired by the memoirs of Gypsy Rose Lee, the world's most famous strip-tease artist, and her relationship with Momma Rose.
The music of Jules Styne and lyrics from Stephen Sondheim include Let Me Entertain You and Everything's Coming up Roses. Long-time Shaw actor and director Jay Turvey directs Gypsy at the Festival Theatre.
Two other musicals are on the playbill for 2023. Lerner and Loewe's Brigadoon, last seen at Shaw in 2019, returns to the Festival Theatre in November, while Rodgers and Hammerstein's A Grand Night for Singing, a musical revue in one act featuring songs from South Pacific, The Sound of Music and others, hits the outdoor BMO stage in at the end of June.
The puppet show A Short History of Niagara returns for a third year in the outdoor setting next summer, while a new outdoor venue will host Dimitrijevic's Mother, Daughter and Pierre de Marivaux's The Game of Love and Chance. The latter is a comedy about an arranged marriage, directed by Carroll, featuring a different cast for every performance.
Both Mother, Daughter and Love and Chance will showcase the new Spiegeltent installed on the Shaw grounds.
"It's a large historic tent we have brought over from Europe," explained Carroll in the press release, "that was constructed at the turn of the century from exotic wood and canvas and decorated with mirrors and stained glass – a cabaret-style venue and an attraction in its own right."
The Festival Theatre will play host to the popular Noël Coward comedy Blithe Spirit and James Baldwin's The Amen Corner.
Baldwin is one of the 20th century's most profound voices. The Amen Corner is a drama of love and hate that questions the role of the church in the Black community. Though not a musical, director and Shaw associate artistic director Kimberly Rampersad promises a repertoire of rousing songs performed by a gospel choir.
Tom Stoppard's 1981 play On the Razzle, featuring dazzling linguistic gymnastics and playful puns, will take Royal George audiences on a fun-filled romp, while British playwright Helen Edmundson's The Clearing, opening at the Jackie Maxwell Studio Theatre in August, weaves the spectre of Oliver Cromwell's ethnic cleansing campaign against the Irish Catholics into a marriage between an Englishman and his Irish wife.
In all, 16 different productions are planned for 2023 at Shaw.
"We continue to build on last season's momentum," Carroll said. "After these past two years, it's time to further bolster our connection to one another. A heck of a theatrical ride is about to get underway."
The 2023 season casts, creative teams and additional Outdoor @ The Shaw events and activities will be announced at a later date. Tickets will go on sale Nov. 5 for Friends of The Shaw and Dec. 3 for the public. Further updates will also be available at shawfest.com.