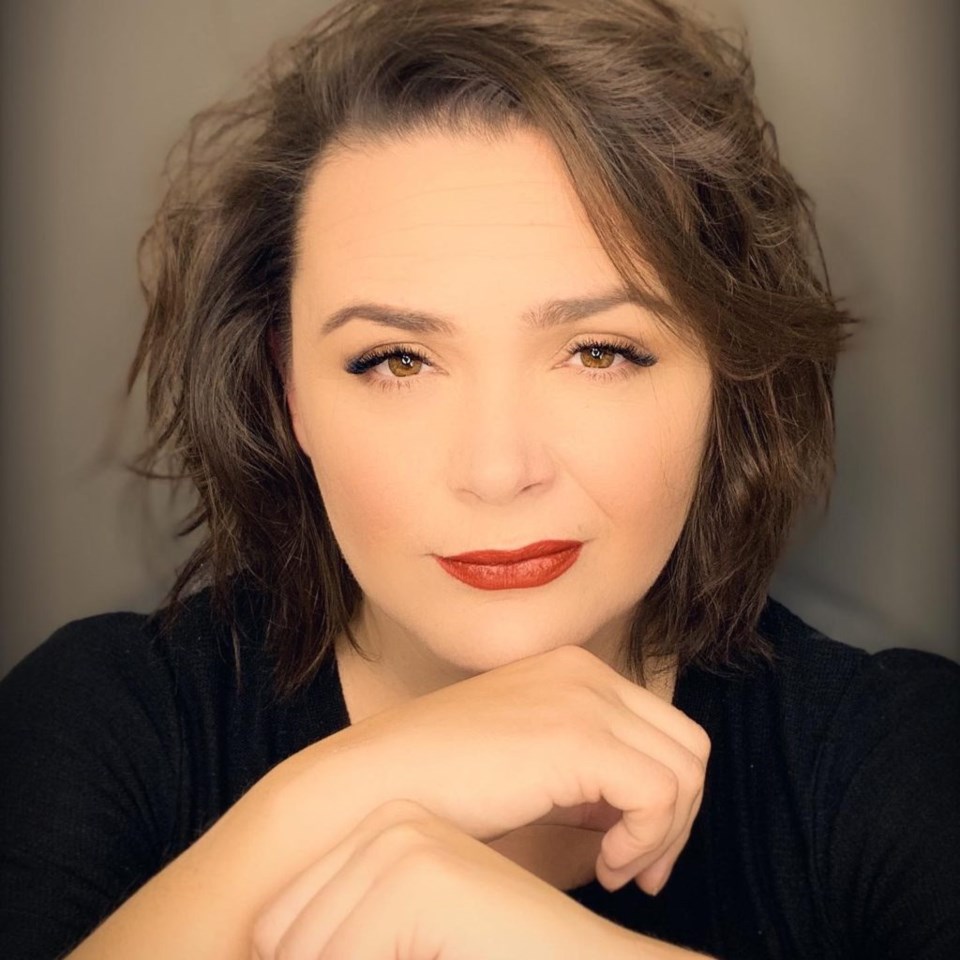 Though she's been making a living portraying some of the biggest names in rock and pop music at tribute shows, one-time Niagara-on-the-Lake resident Angela Seeger knows exactly who she is.
The mother of two pre-teen girls says she's always had a bit of a chip on her shoulder. That chip has served her well, and perhaps it's what has continued to give her the confidence needed to take on the personas of the likes of Janis Joplin, Amy Winehouse, Annie Lennox, Barbra Streisand, Patsy Cline and Agnetha Faltskog of Abba.
On Friday, Dec. 16, she'll be stepping into the shoes, the clothes, the cockney accent and the multi-octave singing voice of British singer-songwriter Adele for a special performance at Ravine Vineyard's Event Centre.
Seeger has been singing for about as long as she can remember.
As a young child she would wow her family by emulating the anthem singers while the football game was on TV. In Grade 2 she remembers playing the white rabbit in Alice in Wonderland.
During her short time living in NOTL, she attended Laura Secord Memorial School in Queenston, where she recalls her Grade 3 teacher Ken Lamb teaching her how to waltz. Lamb is promoting the Ravine show, and is a huge booster of Seeger to this day.
A couple of years later the family moved from NOTL to Niagara Falls, where she attended Simcoe Street Public School. She sang for her music teacher, the late Pamela Robbs, whom she still calls her mentor today.
"She also had a musical theatre production company in the city," says Seeger. "In Grade 4 I walked into her class like the sorriest-looking thing, wearing dirty clothes. When I sang, she told me I was an old soul. She took me under her wing, kept me in during recess to teach me how to breathe. She is the only reason why I'm still singing today."
In Grade 9 at Laura Secord Secondary School, she approached music teacher Dave Sisler, telling him she wanted to enter a music competition. He was skeptical, until he heard her sing. Sisler paired Seeger with a Grade 11 student to play piano, and she won gold in the competition.
She toughed it out after high school in the local bar circuit, playing with local band Blush. Once in a while she would throw in an opera number or two to surprise some of the tough crowds.
Seeger was invited by an agent to audition in Atlantic City, where she says as a Canadian in New Jersey, she had to prove she could be tougher than they expected. She booked herself a year-long residency there at the Tropicana Lounge that turned into an extended eight-year run. 
That's where the seeds of Seeger's specialty as a tribute artist began somewhat accidentally.
She was doing between six and 10 shows a week in the high rollers' room. Seeger describes her persona when she began there as "Michelle Pfeiffer in The Fabulous Baker Boys" crossed with "Jessica Rabbit with a bad attitude."
They wanted a jazz singer, and she delivered. But Seeger got to a point where she needed something different.
"I told my piano player that I just had to be me," she says. "He told me, 'well, then, you do you.' That's when I started doing Janis Joplin. I had played in bars before, so I loved singing rock. I started doing Janis, and everything changed. It went from a jazz show to a rock show. I'd throw in some Otis Redding, even some Metallica, too."
But at the time Joplin was just a big part of Seeger's lounge set, not a full-blown tribute.
In 2010, she left the Tropicana gig and moved back to Niagara. Soon she was married to her husband Christopher and their daughters Ripley and Matilda, born a year and a half apart, arrived quickly.
She was itching to return to singing but realized there was very little money playing the bar circuit, and it took a lot of work to get a band together.
"I wanted to do what I love, and I wanted to control it," she recalls. "I was doing some cleaning one day and I had the music channel on TV. Rolling in the Deep started playing. I had no idea who she (Adele) was. But I knew I could do that voice. So I put together two 45-minute sets and convinced Cat's Kitchen in Niagara Falls to give me their room for one night."
She printed tickets and sold 100 of them herself at $10 each. The show sold out in three days. And the number of people who approached her to ask when her next Adele show would be convinced Seeger she was truly onto something.
At one of her subsequent Adele shows, Garry Lichach, CEO of Burlington-based Bounty Enterprises, just happened to be in the audience. His company produces tribute shows to the likes of Tom Jones, Rod Stewart, Elvis Presley, Ray Charles and more.
"As I'm about to go off for my break," Seeger says, "he tries to stop me. I gave him the look of death. I brushed him off, but my friend got his number. The next day my phone 'butt-dialed' him by accident, I kid you not. And the next thing you know we're having a talk about me performing for him."
That's when she stretched out a bit, trying out the Winehouse and Cline personas, and even doing one show where she performed first as Cline then came out for her second set as Springhill, Nova Scotia's own Anne Murray.
She took on the demands of Streisand's repertoire about four years ago, right after she turned 40.
"I wanted to do something that was more challenging, something that nobody is doing right now," Seeger explains. "I had to wait until I was old enough to sing Barbra. You can't sing her in your 20s. You have to wait until you're old enough to respect what she does."
Seeger laughs and adds that taking on Streisand might also be a shrewd career move for her. After all, the legendary singer and actress is now 80 years old. She won't last forever, but her music will be in demand long after she is gone.
She's not done working up different acts yet. She's performed a James Bond theme song tribute that she would like to revisit, and her big dream is to perform as Queen's Freddie Mercury.
With Bounty Enterprises, she's been very busy portraying Faltskog in their Abbamania show. She performed as Agnetha last Saturday at the Music Hall in London, Ontario. And Lichach has the act playing iconic Massey Hall in Toronto and the First Ontario PAC in St. Catharines, both in January. At the latter show, she'll double up, performing both as Faltskog and as Adele.
Abbamania has taken her across the country. She loves to sing The Winner Takes it All, where she stretches her vocal chops to their limit at the end of the song. She's even learned Don't Shut Me Down, one of the songs from the reunited Abba's 2021 album Voyage.
"I love singing that one," Seeger raves. "There's a feel to it. I like the line that says, 'Now you see another me, I've been reloaded.'"
Seeger has taken her tributes as far away as Dubai, and her Adele show is in regular demand at clubs in Mexico and elsewhere in Latin America.. 
When it comes to Adele, her two favourite songs to perform are All I Ask and When We Were Young, both from the singer's third album, 2015's 25.
"At the time when I learned both of those songs," says Seeger, "I could really relate to the lyrics in my personal life. They bring me to a moment where I really feel it. When I sing those songs you see me in raw form. Sometimes I cry. It's a therapeutic experience for me to sing them."
To prepare for the Dec. 16 show she's brushing up on the Adele accent by watching the BBC television program Peaky Blinders. During our conversation at Balzac's Coffee Roasters, she regularly dons Adele's accent. 
"I drive my husband crazy," laughs Seeger. "I stay in character all day long around the house."
At Ravine, Seeger will be performing in the round, with the audience surrounding her on all sides in an intimate setting. And she emulates Adele's stage banter in addition to singing her songs.
"She is personable," says Seeger, slipping into the star's accent again. "And her music is intimate. With Adele, you're part of the show. If you come to the show you will hear me say things that only Adele would say. Even after the show, I stay in character."
Tickets for the Dec. 16 show are available at ravinevineyard.com. And Seeger is asking that all who attend bring a non-perishable food item for Newark Neighbours.