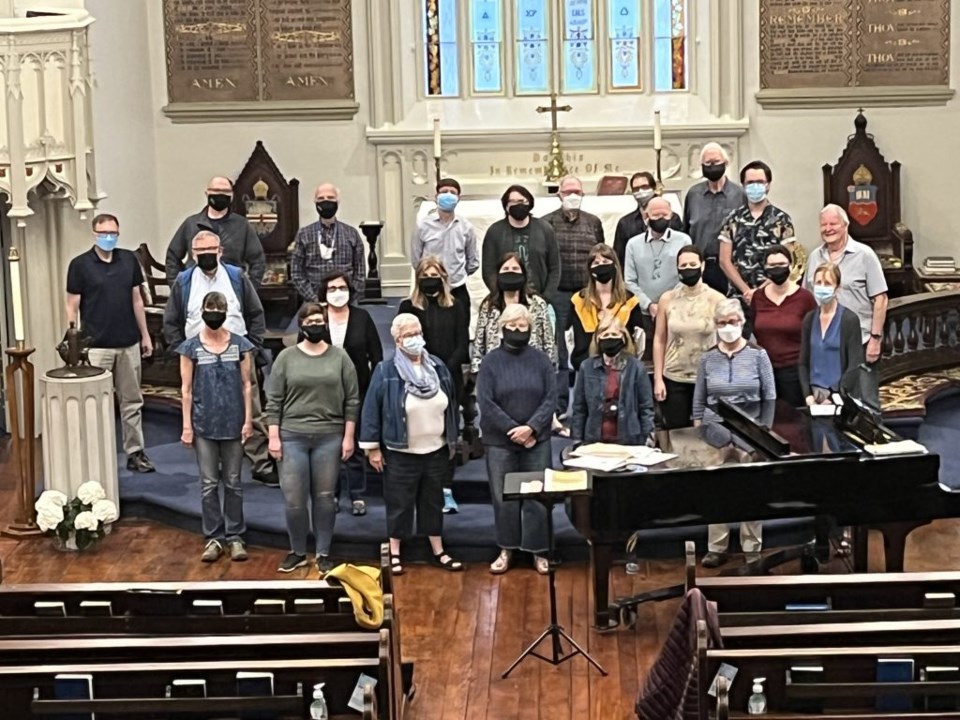 Retired St. Mark's Anglican Church organist and music director Michael Tansley is hoping the upcoming Queen's Platinum Jubilee concert at the church will stand out as something positive, after more than two years dealing with the pandemic.
On June 4, Tansley gathers his Newark Singers with a 15-piece orchestra, including members of the Niagara Symphony, for a loving tribute to honour and celebrate the 70th year on the throne for Queen Elizabeth II.
"That is pretty unique, no one has ever reached that milestone," marvels Tansley. "I felt that nothing locally was happening to celebrate this. We might be the only concert in Niagara as far as I know. This is worth doing, and doing well."
The program will include the four Coronation Anthems written by composer George Frideric Handel, probably best known for his Messiah, a staple of Christmas concerts worldwide.
"He wrote four anthems back in 1727," explains Tansley. "Only one of them, Zadok The Priest, is played with any regularity these days. That will be the most familiar to listeners. But the other ones are celebratory, too. Handel wrote for singers. People identify with his style of writing, and choirs love to pull out some Handel."
All four anthems, including Let Thy Hand Be Strengthened, The King Shall Rejoice, and My Heart Is Inditing, were composed by Handel for and performed at the 1727 coronation of George II.
Since retiring from St. Mark's in late 2017, Tansley has continued to work with the Newark Singers, who call the Byron Street church home. Though the pandemic has meant a drastic drop in activity, he was able to organize a Christmas concert at the end of 2021.
"We did a carol concert with readings, called A Covid Christmas," he tells The Local. "We did two performances, and about 50 people came to each. It was great to be together again."
He explains that there are still some very strict rules in relation to both using the church and to choir singing itself. Members still must be masked, but he is hoping that by the June performance date those rules might change.
"When all this happened I didn't want to stand in front of a choir wearing masks," he remembers. "I dug my heels in, thinking there was no way to produce a good sound with masks on. But I relented for that Christmas show and I was very happy I did."
He was surprised by the quality of the diction and tuning of the choir for those performances, but admitted there were a few limitations that his highly-trained ear could discern. And at times he was loath to stop and correct his singers.
"What one can't do as a choral director is talk to them about quality of sound," he says of directing a masked group, "blending, listening to each other and trying to put some colour into the music. They'll do it innately, but normally the conductor will say 'I'd like you to do this, or do that'. You have to compromise a bit."
The native of Herefordshire, England spent nine years as music director at St. Mark's, working alongside Rev. Bob Wright. Tansley left his role as assistant music director at Tonbridge School in Kent to come to Canada to be the music director at Ridley College. He spent nine years there, then the same amount of time at Albert College in Belleville, before returning to Ridley for another nine-year stretch.
Along the way he was also the organist at St. Timothy's Church in North York and sang in the Elora Festival Singers and the Toronto Festival Choir. He refers to his near-decade at St. Mark's as his retirement job, though as Tansley says, musicians never really retire.
Tansley began the Newark Singers in 2015 as a chamber choir of about 16 singers. Its membership fluctuates higher, though, depending on the works to be performed. Newark's repertoire encompasses madrigals, folk songs, part songs and sacred music, which often involves a double choir.
The Handel repertoire for the Queen's Jubilee concert is one of those where the Newark Singers are augmented with additional members.
Handel's music will be interspersed with poetry readings befitting a coronation. These will be delivered by veteran Shaw and Foster Festivals actor Donna Belleville, and Jamie Mainprize, a film and television actor who resides in Niagara-on-the-Lake.
Concert attendees on June 4 will be required to wear a mask. Tickets are $20 and must be purchased in person. They are on sale at St. Mark's Anglican Church's Addison Hall from 9:30 a.m. until noon on Mondays, Tuesdays and Thursdays, as well as between Sunday church services, from 9:15 to 10:15 a.m., on May 8 and 22.
"It's time to get some good music going," says Tansley. "We need something positive right now."