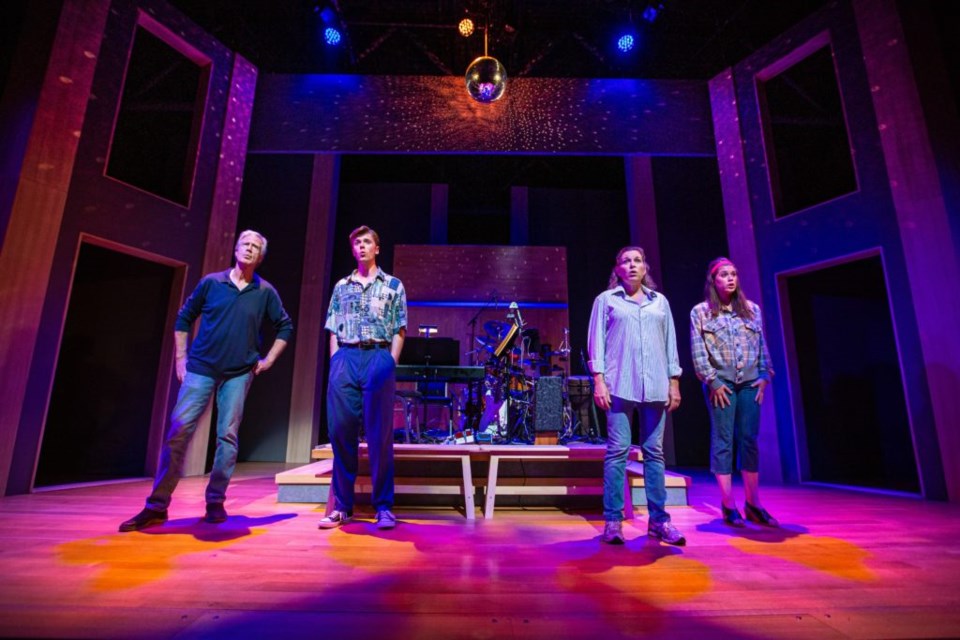 Actor Gabrielle Jones moves around a bit — from the Shaw Festival in Niagara-on-the-Lake, where she lives, to Stratford for its festival, and to many small Ontario towns with a theatre company that produces plays and takes them travelling.
Jones and her husband, Shaw ensemble member Peter Millard, started together at the Shaw in 1987, living in festival rentals and keeping an apartment as their base in Toronto.
They have lived on Oak Drive in NOTL since 2003. Jones says even when they decided to settle here, she thought they would be going back and forth, "but I loved living in NOTL. I walked everywhere. I didn't miss Toronto at all."
At the moment, she is starring in Beside Myself, a Norm Foster musical premiering at the FirstOntario Performing Arts Centre in St. Catharines.
It's interesting that one of Bernard Shaw's secondary plays, Getting Married, is being performed at the Royal George this season. Written in 1908, it's a humorous look at the same subject — the value and pitfalls of marriage.
Foster's Beside Myself, written more than a century later, looks at the debate, again with humour, and the addition of song and dance — only in this case it's a matter of getting married and staying married.
"Writers have been wrestling with questions of relationships for so long — when they're new, and then when they're not new. Foster is such a prolific playwright, and so acute and funny."
Beside Myself begins with a couple dissolving their 35-year marriage, lamenting, in song, "I Wish I'd Never Met You."
Not even the existence of their two adult children seem to have made their union worthwhile — they agree they aren't that fond of their offspring.
But by a strange turn of events, involving time travel that's handled rather cleverly, they meet their 19-year-old selves and have a chance for a do-over. The question is, do they really want one?
Foster is best known for plays that explore family dynamics and dissect relationships, but doing so with a lightness and humour that engage audiences.
"The real comedy, for Foster, is to be found not only in the lines, but the relationships," says Jones.
The popularity of his plays, not unlike Shaw's, are in part because they reflect the reality of relationships, the lovely bits and the messy ones, and provide a reassurance that none of us get all of one without some of the other.
"I'd done Norm Foster plays before, and I was intrigued and excited when the festival first started up in St. Catharines," says Jones. (Artistic director) Patricia Vanstone is an old buddy of mine. We've worked together before — we played two of the three strippers in Gypsy. She's an amazing artist and such a good director. I hadn't worked with her as a director before, and I was so impressed. She is a wonderful facilitator of the creative process."
There are just four cast members in Beside Myself — the couple separating after 35 years, and the younger versions of themselves, cleverly casted with physical similarities. They also share the stage with three musicians, one of them composer and musical director Steve Thomas.
It's a lot of work to stage a premiere, and a musical at that, in a short time, says Jones. "It was really all hands on deck, and it felt a little rushed. It was an enormous challenge, but also great to have that creative freedom of doing a play for the first time."
The cast had "great fun" working together — evident to the audience who shared the pleasure —and will get to continue that for a while longer.
When Beside Myself closes in St. Catharines Aug. 17, the cast and production crew travel to Collingwood for a week of performances.
After that, and a bit of rest and relaxation at home in NOTL, Jones is off to Cambridge to perform in Elf The Musical, Nov. 20 to Dec. 22.
It's being produced by Drayton Entertainment, a theatre company that takes its shows on the road, says Jones, and has as many people as both the Shaw and Stratford festivals. Elf, a Christmas favourite for all ages, is being performed at the Hamilton Family Theatre in Cambridge.