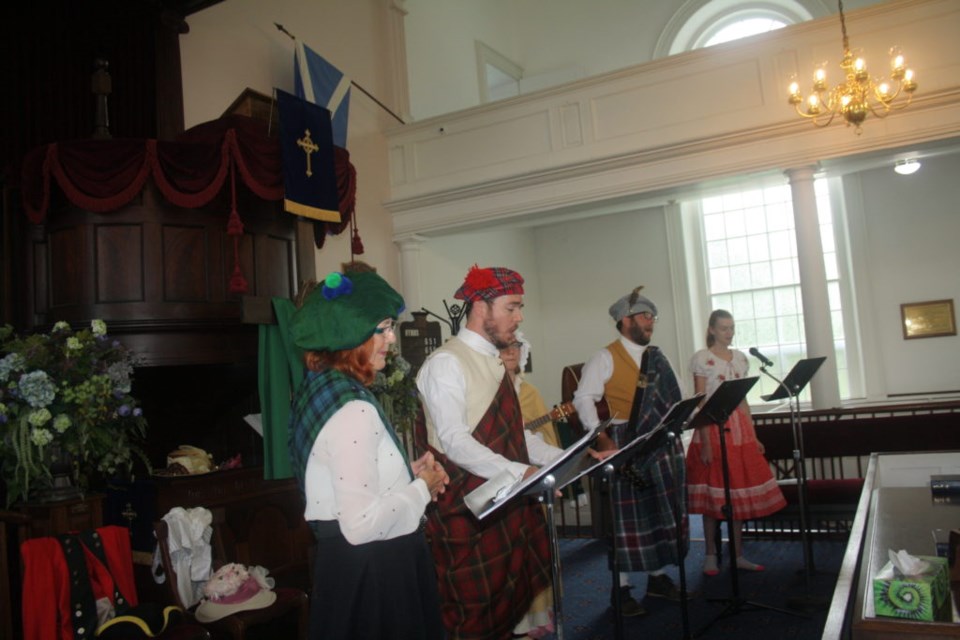 Barbara Worthy has done it again, this time with A Kirk, A Kilt and A Strawberry.
The creator of a musical history for the country's 150th anniversary two years ago has written a short performance for St. Andrew's Presbyterian Church, which is celebrating 225 years of serving the community.
The congregation was established in June, 1792 with construction of the first church building beginning in November of the same year. Worthy tells the story of the history of the church through music, and with a bit of humour thrown in.
With Worthy, Aaron Berger, Edwin Conroy Jr., Laurel Minnes and Dinah Van Egmond, the play was performed at St. Andrew's Friday. It mentions the occupying American army intentionally burning the church down in August, 1813, and for the next 18 years the congregation worshipped in the school house on the property.
Worthy includes the history of the school house, and the important role it played in education, at one point housing the town's library.
The presentation pokes a little fun at Janet Carnochan, as not the only collector of books, and the competition between the Anglicans and Presbyterians, with a rousing rendition of Don't Be So Mean, sung to the tune of Don't Fence Me In. The audience was encouraged to join in.
Names of families that have supported the church — the Elliotts (with two Ts, mentioned often) the Bradleys, Gerry Wooll, and the Hunters with their strawberries were singled out as members of the congregation.
The play will be performed again Wednesday, Sept. 18 at 7 p.m. at the NOTL Public Library, and Tuesday, Oct. 8 at 2 p.m. at St. Andrew's Church.
There is no charge for admission.