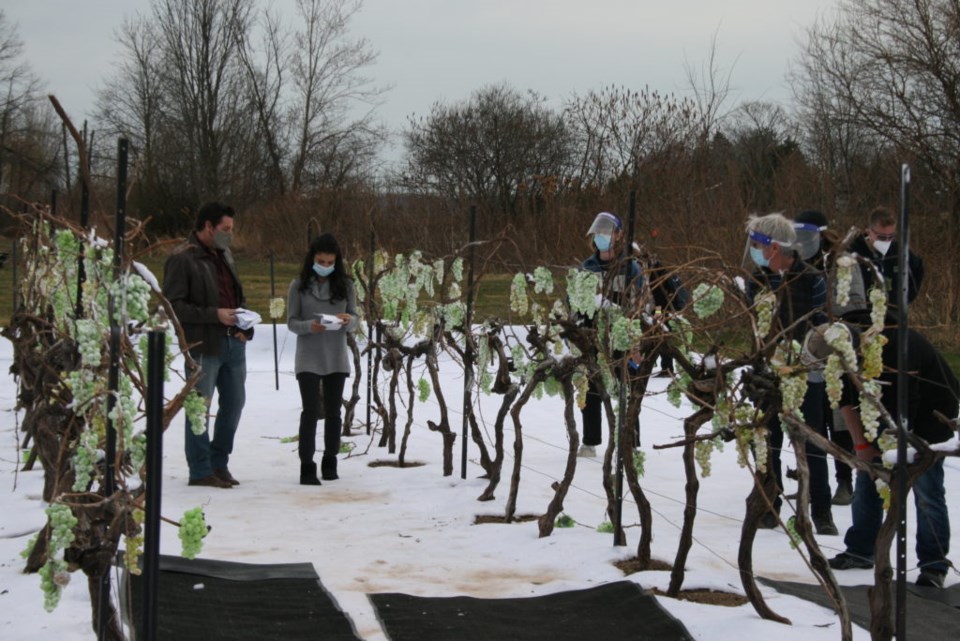 Though they were blocked from shooting scenes on Queen Street this week, a Toronto-based crew of about 45 technicians, builders, caterers and actors spent four days filming a new movie at Peller Estates.
Beginning on a warm spring day last Wednesday, the winery was transformed into a wintry Hudson Valley, New York fictional destination named Hollingbrook Vineyard.
A new sign was hung in the main entrance and a carpet of fake snow was laid on the island roundabout to set the scene for Love and Ice Wine, a Hallmark Channel movie that began shooting Thursday. Produced by Chesler Perlmutter Productions, the made-for-TV film will premiere in winter, 2022.
Love and Ice Wine stars Nazneen Contractor as Cristina, a food and wine writer, who visits a winery she had panned in the past, owned and operated by a single dad, Michael, played by Brennan Elliot. Both actors will be familiar to fans of Hallmark Channel productions. Director Don McBrearty, a veteran of the Canadian television and film industry (Murdoch Mysteries, Heartland, Road to Avonlea, Magical Christmas Ornaments) is at the helm.
Associate producer and location manager Alexander Broughton expressed frustration that plans to shoot along Queen Street this Monday and Tuesday were nixed last week by Niagara-on-the-Lake council.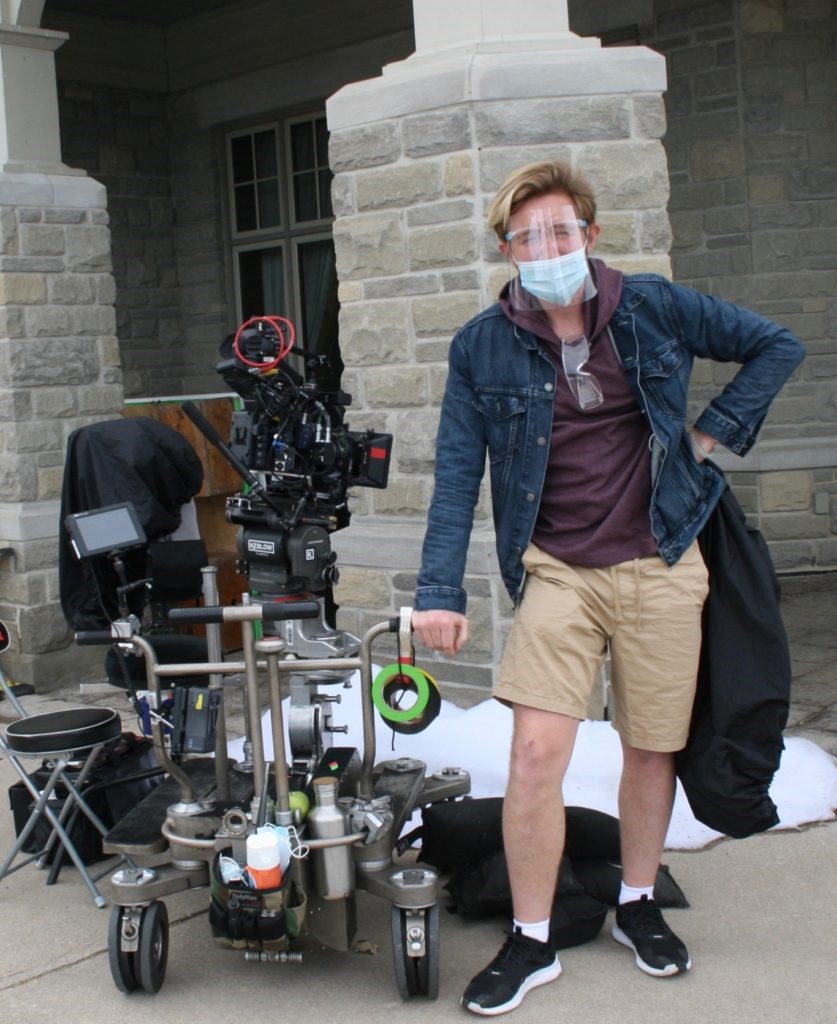 "All the businesses I talked to (Just Christmas, Hatley Boutique, Cheese Secrets)," claims Broughton, "were super happy to have us. I was extremely disappointed, and frustrated. They (council) told me I didn't give them enough time to address all of the COVID concerns."
Speaking to council last week, Broughton said that despite the lower budget for this particular film, a lot of investment was made into COVID protocols.
"We are the second most heavily regulated industry outside of the healthcare industry. There hasn't been a spread in our industry because we take a lot of precautions," he told council. "The amount of regulations that they (local businesses) go through to open up isn't nearly as much as we go through on a regular basis."
Indeed, on a visit to the set at Peller Estates March 25, The Local was required to check in with the company's COVID medic. A series of clearance questions were asked and answered, a mask was required, and a face shield was provided for this reporter to wear. The crew was on a break at the time, and it was clear that physical distancing was in effect. As well, major changes to their craft services means all meals were served individually wrapped.
Despite his assurances, Broughton's request to shoot the outdoor scenes on Queen and Market Streets was turned down. CAO Marnie Cluckie said Broughton's application came through in mid-March, and that these types of requests usually take four to six weeks to review.
"We require a fair bit of information, and it takes time for the various groups at the town to review," explained Cluckie. "We want to make sure the business impact is minimized, that garbage collection is addressed, that there's a fire safety plan with access, road closures are addressed, and a number of other things. At the time that he submitted it, there wasn't adequate time for that circulation."
On Tuesday last week, Broughton moved on to Plan B. He quickly reached out to his contacts in Cambridge, and informed The Local he was expecting an answer in 24 hours from that municipality. By Thursday, Cambridge had given him the go-ahead, and the crew moved there this week.
In the meantime, shooting went on as planned last weekend at Peller. In keeping with the theme of the film's title, rows of artificial ice wine grapes were set up next to the vineyard just northwest of the Peller building. Plump, juicy grapes covered in frost hung from vines, over another carpet of fake snow. Though the scene did get rained on during last Wednesday's storm, the set-up certainly looked convincing.
"The main characters will be walking through, and they'll be picking the grapes," said Broughton. "And we have a night scene tonight, as they usually pick the grapes at night because of the frost. The whole scene will be about eight minutes."
Camera operators, sound technicians, script assistants and sets and props people gathered on the white snow blanket. Contractor and Elliot, both wearing masks, approached the vineyards to block the scene, during which Elliot's character is tutoring Contractor's on the tricky, yet rewarding, details of growing grapes for ice wine. It's clear that, keeping with the title once again, love seems to be brewing between the two.
Executive producer Robert Vaughn was on the set with director McBrearty. The veteran of Hallmark productions, as well as movies for Lifetime, Universal Pictures, and Animal Planet, was impressed with the location Broughton had chosen for the scene.
"It's beautiful, it's (a) huge production value," said Vaughn. "Everybody at Peller Estates has been lovely to deal with. It's completely perfect. It's romantic, it's escapist, it's all of that. It's been a great experience."
On Friday, the production went indoors for a wine tasting scene shot in the cellar room. An outdoor party scene, requiring a number of extras, was also planned for the weekend. Broughton added that a number of local actors had been enlisted to be in that scene, though he was unable to provide any names.
Despite the frustration of having to move the shoot to Cambridge Monday, Broughton, whose position as a location manager involves scouting sites, negotiating with local officials, and scheduling shooting, looks forward to someday returning to town when the situation calls for it.
"Niagara-on-the-Lake is such a beautiful town," he says. "The network, Hallmark, really loved the town, and we (Chesler Perlmutter Productions) really love the town. I have a good relationship with a lot of different towns. But I've had Cambridge pull my permits before when we went into lockdown, and I had to go look for another town. It's about building these new relationships with a town and knowing what my limitations are and aren't."