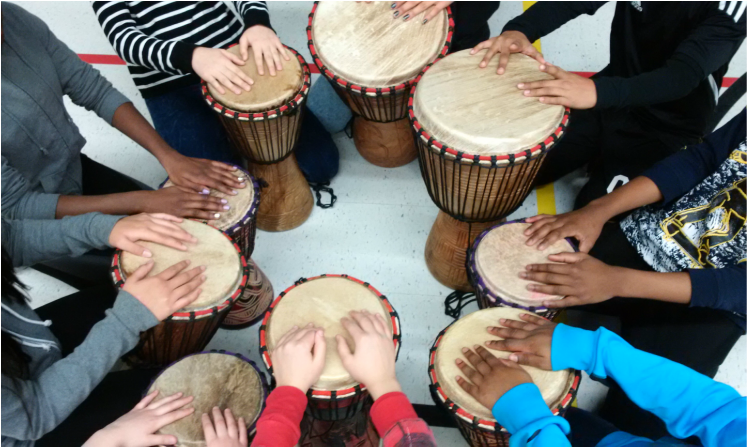 "It's a fun, all-ages celebration of African culture," says Debbie Krause, referring to Tales by Moonlight, half of the library's nod to Black History Month.
The local library's program and outreach coordinator is excited about this multi-media story-telling event, saying, "It will be loud and fun — the way we like it." She's not wrong, given there are djembes (a type of West African hand drum) for the first 80 (yes, eight-zero) people who attend the party — er, workshop.
Babarinde (Baba) Williams is a GTA-based drummer and trumpet player who reached out to the library and offered this program. He says, "I reached out to your library for so many reasons. A small town library will benefit immensely from a culture-focused event like this one. A lot of smaller-town kids need the kind of exposure, entertainment and information that our program brings. Since drumming connects, our goal is to further create a closer-knit community through this drumming/storytelling event."
He will be using the African cultural arts of hand-drumming, dance, and interactive, multi-media storytelling to engage and educate children and adults alike.
"People can expect a lot of drumming, chanting, story-telling, images of animals and vegetation and articles that are not native to Canada. We have a projector that will project these exotic animals and articles to the attendees," says Williams. "There will also be a brief drumming workshop to kick off the event. Participants will be taught actually how to play the West-African Djembe drums together with the history of drumming and the role of drumming in the African society."
"They should expect to be entertained not by me, but by themselves. Just imagine attending a concert but you are the one performing alongside your spouse and children. That is what makes this event unique. Drumming is an inter-generational activity and this event is a very interactive program."
The style is call-and-response, and is designed to get everyone singing, dancing and drumming. Says Williams. "It is very evident that rhythm is the sail that the ship of music rides on. Therefore drumming together promotes a better understanding of rhythms, advanced rhythm (polyrhythm) and timing. It also inculcates in the psyche of the group members the feeling of confidence and freedom."
The tale being told is "My turtle and the pot of wisdom." Williams says, "It is a lesson to encourage our kids that you may not be able to jump highest, run fastest or throw farthest, you can still achieve great things if you put your wits to it."
Tales by Moonlight takes place at the NOTL public library on Saturday, Feb, 16, from 11 a.m. to 12 p.m. Registration is recommended, via the library's website, https://notlpubliclibrary.org/.
The other half of the library's tribute to Black History Month is the screening of local Howard Davis' film "C'est moi" on Feb. 28 at 2 p.m. There is also a dedicated book rack of titles related to Black history featured in the library for the month of February.